Adulting is hard. When you were a child, the most important thing you had to remember was when is rectangle pizza day for school lunch. Tap or click here for a helpful scheduling app.
But when you get older, you have meetings, doctor appointments, kids to pick up from daycare and much more to remember. The good news is you don't have to do it alone. With the help of technology, you can always have a digital to-do list in your hand.
While many to-do list apps are available, some have unique features you'll want to check out. Keep reading for details on five of the best to-do apps.
1. Todoist
The Todoist app was specifically designed for its functionality and ease of use. Its core features are the following:
Craft step-by-step lists for personal and professional development.
Pinpoint priority tasks.
Make lists based on location, date and degree of energy.
Partner with other team members (if applicable) on significant projects.
Convey accurate and relatable data that could be helpful for future plans (personally or professionally).
Todoist is free for iOS and Android, but paid plans are available. Todoist Pro costs $4.99 monthly or $47.99 annually.
RELATED: 14 products to help finally get your home office organized
2. Any.do
Any.do is best known for its high level of organization and time effectiveness. It will surely help you to stay on top of tasks. You can even put in smart reminders and change the theme or look of the app itself to make it seem sharper or more polished.
Here are some of its most valuable features:
Customize your badge: This app easily keeps track of the exact number of tasks you have left to complete without going directly into the app. It will appear on your home screen in the badge's right-hand corner.
Search tasks on the web: This feature allows you to search tasks on the internet via its web feature easily. To access this feature, go to web.any.do, log in and click on the icon that looks like a magnifying glass in the upper right-hand corner.
Set a "moment" for the evening: Setting moments in the evening will likely help you feel more accomplished. For this feature, go to settings > preferences, then Any.do Moment, and set the timer. 
Any.do is free for iOS and Android. Any.do Premium is also available for $9.99 monthly.
3. Bento
Timeliness is a vital feature of this app when making to-do lists. Considered to be more of a task manager, Bento is known for its usefulness and visual design.
The following are qualities that make Bento a natural go-to:
Daily planning: Tasks are separated by large, medium, and small to avoid burnout and improve motivation.
Templates: This feature is a time-saver, given that it utilizes pre-made Bento boxes to help you start at the beginning of each day.
Workflows: Have trouble remaining focused? This feature is for you. Assigning a workflow space to every Bento box enables you to establish an organization for your tasks.
Animated themes: If you have a bit of an artistic or creative side, this feature will appeal to you. Coming in various colors and appearances, you can test your design skills with this feature in particular.
Focus mode: Say goodbye to distractions with this feature. You can pick a countdown timer and one task list at a time.
Bento is currently only available for iOS devices and costs $3.99.
4. Habitica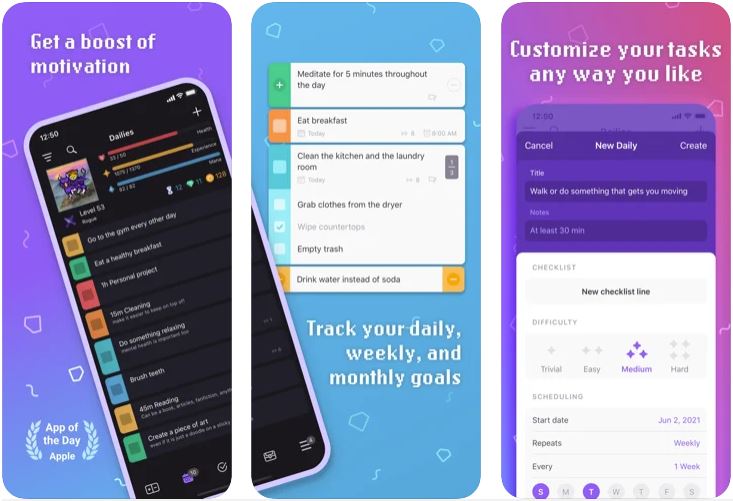 Starting as a web app called HabitRPG, this app offers a sense of productivity with games that mimic real life.
The following are features that make Habitica fun and relevant while also giving you the motivation to make it to the next day:
Avatar: You can choose from various body types, skin tones and glasses to personalize the character to suit your preferences.
In-game tasks and rewards: Have a healthy habit you would like to instill in your daily routine? Whenever you play certain games on this app, there are pre-made habits you can keep, delete, edit, or make unique.
Social and support: If you need advice or guidance from other users, you can share your accomplishments or challenges in a guild group chat. There are also Challenges, which are habits you can potentially work on with others, such as equipment or rewards.
Habitica is free for iOS and Android. It does offer in-app purchases. There are four optional Habitica subscriptions: $4.99 monthly, $14.99 every three months, $29.99 every six months and $47.99 annually.
5. Remember The Milk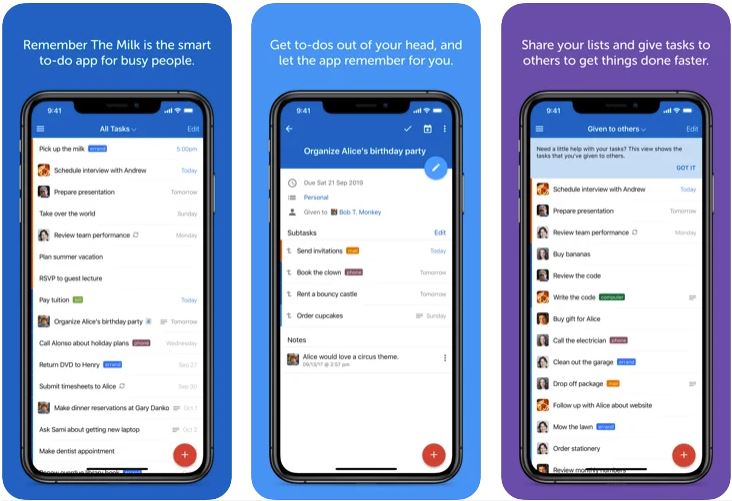 If you're looking for an easy-to-use app, Remember The Milk is the one to choose.
Here are some helpful features to expect:
Functionality: This app is helpful for adding chores, prioritizing and completing tasks, receiving reminder emails, and sharing tasks with friends.
Information architecture: Search your tasks and notes, and save your favorite searches as Smart Lists.
Syncing: Integrates with Gmail, Google Calendar, Twitter, Evernote, and more.
Organization: Organize the way you want to with priorities, due dates, repeats, lists, tags, and more
Remember The Milk is free for iOS and Android, but you can upgrade to a Pro account for $39.99 annually.
You may also like: 10 best travel apps to plan your next adventure