Do you venture onto Facebook multiple times a day? Did you install the app on your mobile device thinking it would make posting and liking easier than going through your browser?
If you downloaded the Facebook app, you might be surprised to find that the app is not only a storage hog but a drain on your phone's battery as well.
While storage and battery issues may not be concerning initially, after long periods of using the Facebook app it will leave your device without enough storage or battery to perform other processes. Thankfully, there are ways to prevent Facebook from consuming your smartphone resources.
Delete the Facebook app
The Facebook app can take up a ton of storage on your phone. Even browsing the timeline adds temporary and cached files to your device which consumes valuable space.
Clearing up these files is simple: Delete and re-install the app. Don't worry, you won't lose any of your data, and all you have to do is sign back in.
To remove the Facebook app on an iPhone, search for the Facebook icon on your iPhone's home screen. Hold your finger over the icon until a box pops up. Tap Delete App and tap Delete App one more time when prompted.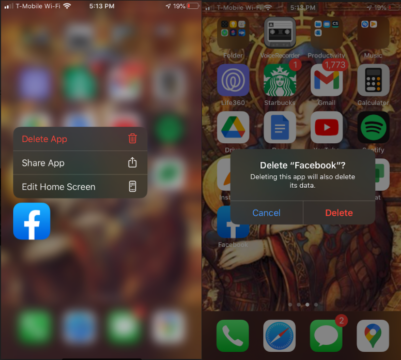 The steps for deleting the Facebook app on an Android are equally straightforward. Go into your Settings and click on the Apps option, then tap the Facebook app.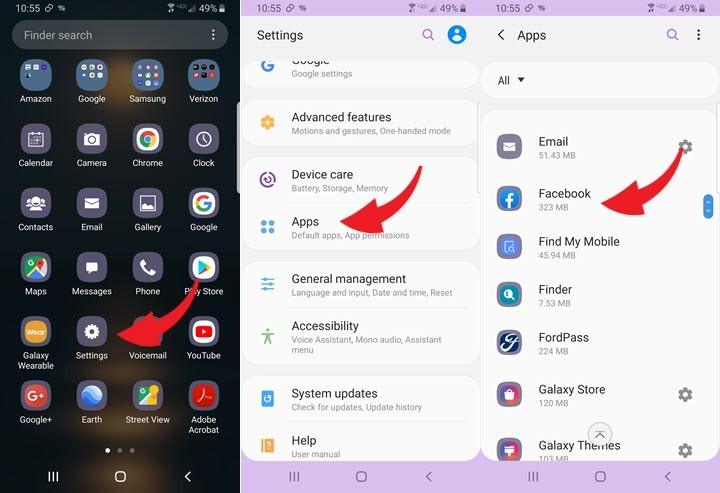 Click Uninstall and choose OK when prompted.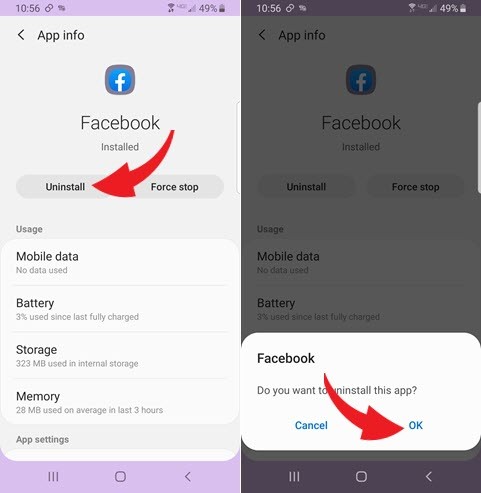 To re-install Facebook on your mobile device, go to either the Google Play Store(Android) or App Store(Apple), search for Facebook and install the application. Once it's back on your device, just sign in and it will be like it never went away.
RELATED: FACEBOOK IS LISTENING TO YOUR AUDIO CHATS-CHANGE THESE SETTINGS NOW!
How to stop the Facebook app from draining your device's battery
In addition to requiring a large amount of storage space on your mobile device, with extended use, the Facebook app will deplete your smartphone's battery. Here are a few tips on how to preserve your phone's battery life.
Disable Autoplay for Facebook videos
The first few steps apply to both Android and iPhone devices. Go into the Facebook app and choose the three-line menu. Open Settings & Privacy and tap on Settings.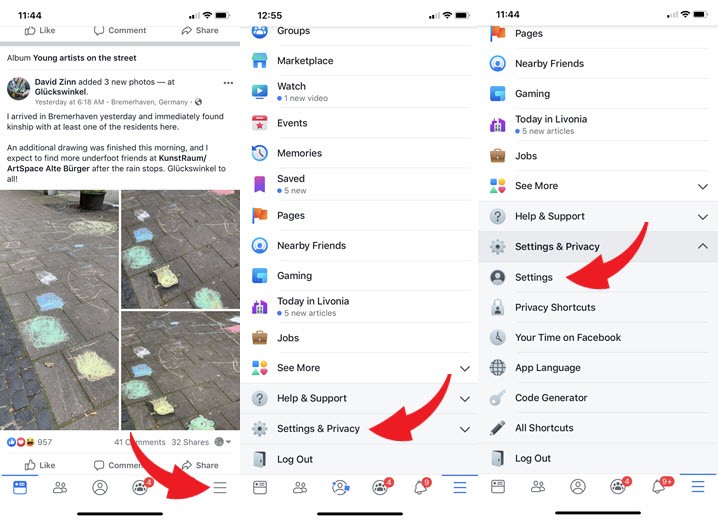 For iPhone users, scroll down and click on Videos and Photos under Media and Contacts. Tap on Autoplay then the Never Autoplay Videos option.
Instead of clicking on Videos and Photos, Android users will tap on the Media and Contacts subheading. Choose Autoplay and Never Autoplay Videos.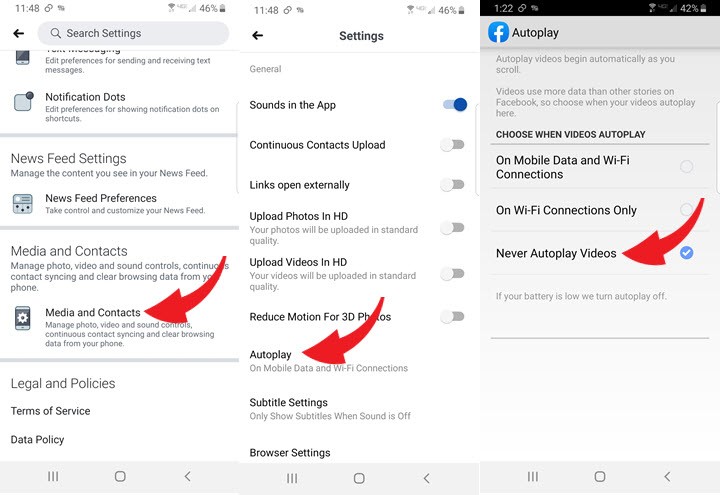 Disable location settings and Background App Refresh
Disabling these settings will further ensure the Facebook app isn't a burden on your smartphone battery. Learn how to turn off location settings on both Android and iOS devices.
To turn off Background App Refresh on an iPhone go to Settings, tap the General option, then click on Background App Refresh. Here you can customize when you want your background to refresh. Options include when using Wi-Fi, Wi-Fi & Cellular Data, or turn off the feature entirely.
Turning off Background App Refresh on an Android is also easy. Tap on your phone's Settings, click Connections, then Data usage. Click Mobile data usage.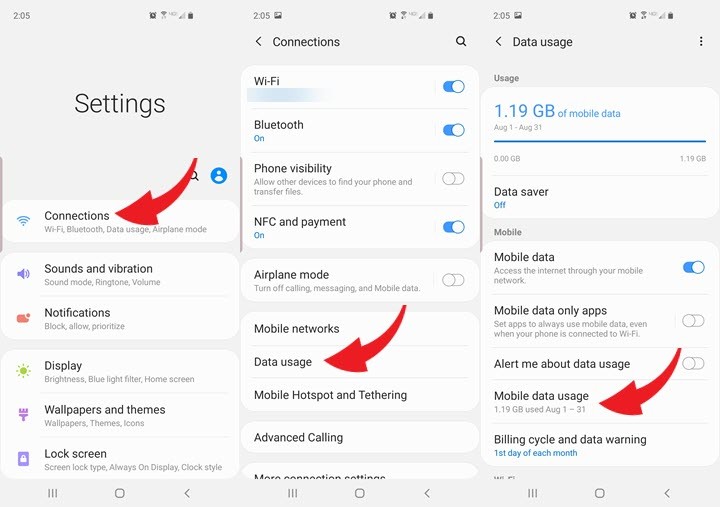 Click on any app you want to disable the Background App Refresh feature. In this case, click Facebook and disable Allow background data usage.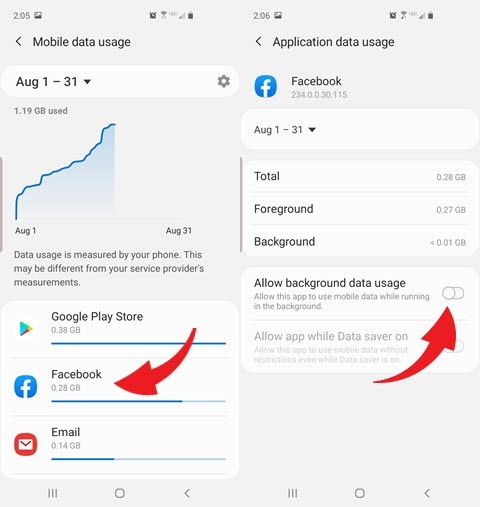 Turn off app notifications
Try limiting the number of apps that use your Facebook account to perform some tasks, including logging you into their service via Facebook verification.
For both Android and iPhone click the three-line menu in Facebook and Choose Settings & Privacy, then Settings. Under the Security option tap Apps and Websites. Click Apps, Websites and Games and turn off the feature.
Turn off app push notifications
For Android and iPhone users alike, go into Facebook and click on the three-line menu. Tap Settings & Privacy and then Settings. Click on Notification Settings under Notifications and choose which notifications you wish to not receive. Options include Push, Email and SMS. Toggle off Push.
The Facebook app is a drain on your battery and storage. Making these changes will not only help you avoid issues with your phone's performance but also help protect your data.