Like most people nowadays, you probably juggle multiple gadgets on a regular basis. You access important files on your office computer or laptop, take family photos and videos with your smartphone, type multiple documents on your tablet and possess maybe an entire media library on your home computer.
Now, think about all this data you can't risk losing. With all of those gadgets, just think about how much data you're creating on a daily basis. Files you may not even realize are important until disaster strikes.
All it would take is one nasty virus or a hardware failure, and you could lose it all. Even something as simple as losing your device, or having water damage that makes your device inoperable. This is why backing up your critical data is so important.
Get more from your backup service
Obviously, backing up a single device doesn't cut it anymore! What about your phone? Your tablet? Your laptop? Your hard drive? And what about the devices for each of your family members?
You need something that protects everything within a single account. That's why we recommend our sponsor, IDrive!
When you sign up for IDrive's Universal Backup, it's easy to protect each device in your household. Simply install the software on the gadgets you'd like to cover and manage your account from a single user dashboard. The data from each device will be organized in individual folders within your account.
IDrive's Universal Backup covers all of the operating systems including Windows, macOS, iOS and Android. Plus, you can take advantage of the social media backup tool and create a safe archive for the posts, photos and videos you've shared on platforms like Instagram and Facebook.
Pro-Tip: Want to learn more? Click here to see the IDrive difference.
Backing up all your devices and social media accounts might seem like an ominous task but it doesn't have to be. Here's how you get started with IDrive:
Creating an IDrive account
Creating an IDrive account is super easy. Just head on over to this link (you get a special Komando.com discount if you do), then enter your account and billing information, select your plan and you're in!
Note: Do you want to test drive IDrive before you commit? You can opt for an always-free 5GB account when you sign up!
Once you have your IDrive account setup, simply download and install the IDrive applications for Windows, Macs, Linux and mobile apps for iOS and Android to get started.
Windows:
When you log in to your IDrive application for the first time, you'll notice that some folders are already set for backup. Since it is an automated backup service, personal folders like Desktop, Documents, Pictures, Videos and Music are already pre-selected.
To add more files, folders and drives to your backup selection, just click the "Change" button then add the desired locations to your backup set.
You can then either backup all the files immediately by clicking the "Backup Now" button or set a day, time and the frequency of your backup jobs via IDrive's Scheduler.
Aside from the application, there's an even easier way to add files and folders to your backup set. Simply right-click on a file or folder and you can "Add to Backup Set" and "Backup Now" straight from your Windows File Explorer.
Mac:
IDrive on Mac works very similarly to the IDrive application on Windows. It will also pre-select your personal folders (Desktop, Downloads, Documents, Library, Music, Movies and Pictures) for automatic backup upon login.
You can likewise change and add files and folders to your backup set by clicking the "Change" button, perform "Backup Now" and set the day, time and frequency of your backup jobs via the Scheduler.
IDrive Mobile:
After you log in for the first time to the IDrive mobile apps for iOS or Android, a "Backup" screen appears. To automatically backup all your gadget's contacts, calendar events, photos, videos, and health data, simply tap "Backup Now."
You can also automatically backup all your gadget's Camera Roll pictures and videos to your IDrive account by turning on "Auto Camera Upload."
All the photos and videos automatically backed up are stored in "My iPhone"/"iPad Backup" >> "Photos"/"Videos" >> "Camera Roll" folder in your IDrive account.
IDrive Dashboard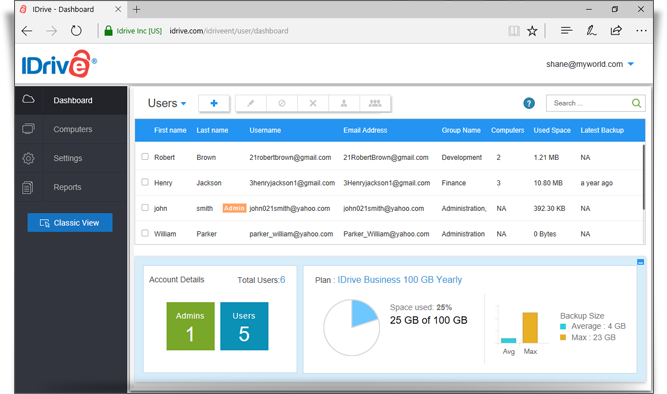 IDrive's Dashboard is a web console where you can manage all your backups, view and monitor your IDrive account activities for all your connected gadgets with ease. You can also manage data backups, restores and application settings on all of your backup computers remotely.
From this Dashboard, you can create new user accounts, view the information about each user's storage space, monitor each recent backup, view log activities and also make changes to backup sets and settings across all devices.
IDrive Video tutorials
For detailed how-to videos on everything IDrive, check out their Video Tutorials page. It has step-by-step video guides on IDrive backups, restores, sharing, syncing and more.
What are you waiting for? Don't procrastinate backing up your digital devices any longer. Check out our sponsor, IDrive, today and back up all your devices into one account and save 50% thanks to Kim!