Account credentials are getting more difficult to protect. Hackers are everywhere and target your online accounts, no matter what they are. Tap or click here for details on a recent data breach that put millions of seniors at risk.
Another recent example was when an American oil pipeline fell victim to ransomware. Thankfully, most companies will notify you when they've had a data breach so you can change your passwords and protect your personal information.
But what if you aren't notified? Thankfully, iPhone has a solution. Here is how to see (and fix) all your compromised passwords on your iPhone.
iCloud Keychain
If you haven't heard of iCloud Keychain, it remembers things so that you don't have to. It auto-fills information — like your Safari usernames and passwords, credit cards, and Wi-Fi passwords on any device that you approve.
RELATED: 5 best iPhone security settings and tricks you haven't tried yet
iCloud safeguards your information with end-to-end encryption, providing the highest level of data security. Your data is protected with a key made from data unique to your device and combined with your device passcode, which only you know. No one else can access or view this data, either in transit or storage.
If you don't have iCloud keychain, here's why you should get it and how it protects you from hackers.
It has another valuable feature. Essentially it watches for data breaches and searches for information on third-party websites so it can notify you when one of your passwords has been breached.
How to view compromised passwords
iCloud keychain typically notifies you about potential data breaches through push notifications if you have them enabled on your iPhone or your iPad. If you don't have push notifications enabled, you can still view the information on the Security Recommendations page in settings. Here's how to find it:
Open Settings on your iPhone.
Scroll down and tap Passwords.
Choose Security Recommendations.
You'll either see a list of things to fix or no issues found on this page. If you find out a password has been compromised, don't panic! It doesn't mean a hacker has gained access to your account. It simply means Apple has found your information in a data breach, and you should change your password immediately.
Security recommendations will be listed in order of priority. At the top will be passwords that have been exposed, and at the bottom will be passwords iPhone views as weak or ones that have been reused, and you should consider strengthening.
If your passwords are weak, here's how to change them: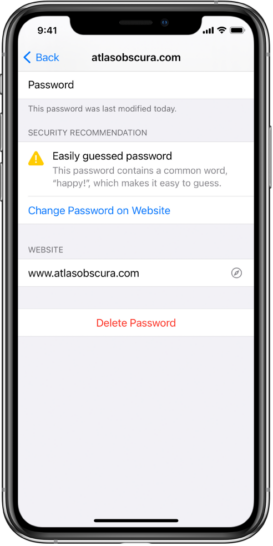 Open Settings on your iPhone.
Scroll down and tap Passwords.
Select Security Recommendations.
Tap the account that's been compromised.
Tap Change Password on Website. This takes you to your compromised account, where you can change the password.
Staying safe
iCloud keychain is far from the only way to ensure that your data is safe. Sometimes companies will notify you of data breaches, but there are third-party websites out there where you can search to see if your information has been part of any widespread data breaches.
RELATED: Easy new way to find your iPhone – even if the ringer is off
HaveIBeenPwned is a free website that scans the Dark Web and will tell you if your information has been leaked somewhere else. For more information on using the helpful tool, tap or click here.