Think about everything we use our smartphones for these days. They're definitely not just for calls and texts anymore.
Now, you can deposit checks into your bank account right from the palm of your hand.
We can also check in for a flight, pay for groceries, order a ride-share, stream movies, take close to professional-quality pictures, listen to music, find your way around an unfamiliar city and so much more.
It's safe to say they are an essential lifeline to the outside world. That makes it vital to have a reliable charger with you at all times.
That's why we're going to talk about chargers that are both inexpensive and reliable. And don't worry, we'll give you options for Apple and Android gadgets.
Why it's important to use a quality charger
Imagine your gadget running out of juice and not being able to make an important business call. You look around and can't find the charger, or the one you do find has stopped working. This is extremely frustrating and could end up causing serious headaches at work.
It's time to get yourself a new one. But not all chargers are created equal, especially some of the really cheap ones. There have been reports of cheaply made charging cables causing smartphones to overheat, sometimes resulting in damaged phones. It's never a good idea to put your thousand-dollar gadget at risk just to save a few bucks on a charging cable.
When talking about Apple gadgets, one thing to look for is MFi cables. That stands for Made for iPhone/iPad/iPod and means the charger is certified by Apple. This is important because MFi certified cables are built with a chip inside that regulates the amount of current being delivered to the battery. So you don't have to worry about overheating and possibly damaging your device.
WHY IT'S A BAD IDEA TO CHARGE YOUR PHONE ALL NIGHT
For Android, you want to make sure that any charger you use is compliant with USB-C specification. Cables that are in compliance prevent the device from drawing too much power from a computer's USB port when charging, which could cause damage.
It's OK, we've done the work for you. Here are some of the better discount chargers available that you can trust.
Discount chargers you can trust – for Apple
Premium Lightning to USB cable
Anker has become one of the more reliable brands around. In fact, one out of every three chargers sold on Amazon is from Anker.
This Apple MFi Certified Lightning to USB cable 3 foot-long two-pack is perfect for anyone needing to juice up quickly. Each cable contains a unique, verified serial number and an authorization chip issued by Apple to ensure 100% compatibility. And you can get this two-pack for less than $15 from Amazon.
Charge your iPhone, iPad, or iPod
The previous cables we talked about were only 3 feet in length, which is fine in many cases.
But if you need a little more length, check out this 6 foot AmazonBasics Lightning to USB A cable. It's MFi certified and can charge your iPhone, iPad, or iPod by plugging the USB connector into your wall charger or computer.
These cables are durable, too. They have been tested to bend 95 degrees, 4,000 times and are backed by a 1 year limited warranty. You can buy one from Amazon for under $8.
Extra long cable for the perfect reach
How many times have you plugged your phone in at bedtime and placed it on the nightstand, only to knock over the lamp when you reach for the phone because the charging cable is too short?
You shouldn't have to worry about that with this super-long, 10 foot USB A cable with Lightning connector from AmazonBasics. It's double nylon braided for flexibility and MFi certified for charging and syncing your Apple gadgets.
This enhanced version is rated to withstand 20,000 bends at 95 degrees. That gives it a five times longer life expectancy compared to the original cable.
Have a charger for every room
If you really want to be prepared, have a charger ready in every room of your home. This TNSO MFi certified 5-pack will do the trick.
And you're covered for all sizes. It comes with two 3 foot cables, two 6 foot cables and one 10 foot cable.
Discount charging cables – for Android
Certified USB Type C cable
Connect your smartphone, tablet and other USB Type C-enabled devices to a computer, wall charger, or battery power bank with this AmazonBasics cable. It's 3 feet in length and works with standard USB Type A enabled devices.
You can put your trust in this charger as it's certified by USB-IF to be compliant with USB 3.1 Gen 2 and backwards compatible to USB 3.0 and 2.0. It also comes with a 1 year limited warranty.
Extend your reach with this charging cable
If you need a little more reach with your charger, this one will do just fine. It's a certified USB Type C to USB Type A cable from Belkin.
This lets you charge your smartphone or tablet as well as sync photos, music and data to your existing laptop. You can buy one right now from Amazon for under $10, but act fast this sale price won't last.
You'll love this tangle-free design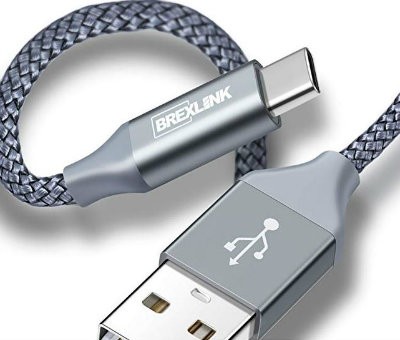 This BrexLink USB Type C to USB Type A is nylon braided for durability and fast charging. It comes in a 2-pack and both cables are 6.6 feet long.
They feature an ultra-durable nylon braided jacket and a reversible connector. The user-friendly design lets you plug into all your USB Type C compatible gadgets without worrying about the orientation of the port.