Smartphones have changed the way we live our lives for the better. They're not just for making calls anymore.
We use these handy gadgets for so many things nowadays. Surfing the internet, mobile banking, checking social media sites and what's happening in the world of news just to name a few.
Think of all the critical data that you have stored on your gadget. Imagine if something terrible happened and you lost everything that was saved on your smartphone. Scary!
With so much critical information at risk, it's important to take precautionary steps to keep your data safe.
That's why you need to know how to recover lost data from your smartphone or tablet.
Continue reading and we'll cover both Apple and Android.
How to recover data on an Apple gadget
Apple products are very user-friendly. Many issues users are having with an iPhone or iPad can be fixed by simply restarting it.
However, there are some complicated issues that could require you to restore your gadget. Doing this erases all settings and content from the device.
To restore all data on your iPhone or iPad after it has been reset via recovery mode, you will first need a backup of your gadget's files.
This backup can either be on Apple's iCloud, saved on your computer via iTunes or, as we explain later, on a complete backup service like IDrive.
Click here to learn how to backup your Apple gadget to iCloud or iTunes.
To recover your files on iCloud, follow these steps:
Pull up iCloud.com in Safari, Google Chrome or another web browser.
Log in to your account with your username and password.
Click on the "Settings" app in the iCloud menu.
Find the Advanced settings section and click the links to restore your files, contacts, calendars, etc.
To restore your files from an iTunes backup, follow these steps:
Open iTunes.
Connect your iOS device to your computer via USB.
iTunes will then recognize your device and it will appear on the upper-left side. Right-click on the icon.
On the Summary tab select "Restore Backup…" button (if backup is available).
Once the process begins, your iOS gadget will display "Restore in Progress" while iTunes will show a progress bar.
Upon completion, your iOS gadget will restart. It's important that you keep your gadget connected while the restore process is underway.
While Apple's default backup and restore process is straightforward and it backs up almost all the data in an iOS, if you want a more secure, complete and cross-platform way of backing up your files, consider IDrive, We'll explain why on the next page.
How to recover data on an Android gadget
Android users can automatically back up their smartphone settings, files, and data on Google's servers for free. Note that not all data can be backed up this way. Videos and photos can be automatically backed up to your Google Photos library while files and folders need to be manually uploaded to your Google Drive account.
Here's a list of your phone data that Google can automatically back up:
Google Contacts data
Google Calendar settings
Wi-Fi networks & passwords
Home screen wallpapers
Gmail settings
Apps installed through Google Play
Display settings (Brightness & Sleep)
Language & Input settings
Date & Time
Settings & data for apps not made by Google (depends on the app)
To turn on your Android phone's Google automatic backup, open your Settings app, go to a section called "Personal" then select "Backup & reset." Here, tap "Back up my data" then toggle it to On.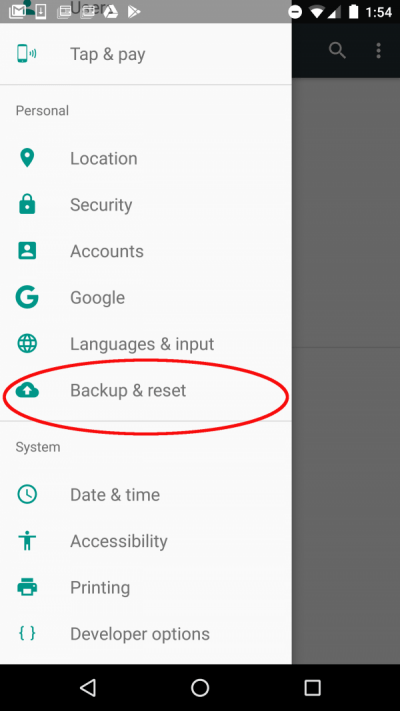 To restore this data after performing a phone reset, recovery or if you're setting up a new phone, just add your Google Account to the device and all the data that you've previously backed up will be automatically restored to the gadget.
If you want to restore your backed up app data and settings, open your Settings app, go to "Personal," select "Backup & reset" then turn on "Automatic restore." Now, when you reinstall the app, its app data and settings will be automatically restored.
A better backup
Important tip: Although backing up to Google Drive is the default way to secure your data on an Android gadget, there's an even better and more private way of backing up your data and files – it's called IDrive. With IDrive's Android backup service, not only can you backup your photos, videos and music, you can even backup all your texts, call logs, and every app with a single touch – features that Google Drive doesn't currently support.
With IDrive's Universal Backup, you can also backup up to five devices under one account and with cross-platform compatibility, you can backup your Android files and restore them on a completely different device – say, an iPhone or an iPad or even a computer.
You can also view, access and sync all your linked devices' backup data from anywhere on a computer or a mobile gadget. IDrive even maintains 10 previous versions of all your backed up files so you can go back to a previous version of a document if needed.
Other IDrive features that you can't do with other backup services include social media content backups (Facebook and Instagram videos and photos), secure Smart Docs and file sharing via Facebook, Twitter or email.
If privacy is of utmost importance, you'll be thrilled to know that IDrive's data is encrypted with 256-bit AES with an optional user-assigned private key so your data remains secure and away from prying eyes.
Check out IDrive's Android app on the Google Play Store and iOS app on the Apple App Store.
Ready to take your backups to the next level? Click here to save 50% on 1 TB of  IDrive cloud backup storage.
More tips you can't miss:
How to stay powered up while off the grid
How to turn your phone into a body cam