We're so connected to our devices and accounts that you have to wonder what happens when you pass away. What happens to all our stuff?
You can manage your digital affairs, and it's not very different from doing the same with your house and belongings. Leave it in the hands of someone you trust. Facebook has an option to set up a legacy contact who can manage your friends, posts and tags and even close the account. We included the feature in our report on critical security checks. Tap or click here to learn more.
Jerry from Pennsylvania is a widower who's going on 89-years-old. He's been preparing for the future with long-term care insurance, a final will, an end-of-life living will and has entrusted two family members with co-powers of attorney. He recently heard about Apple's Legacy Contact feature and wants to know if it's safe and otherwise worth using.
Plan ahead
Apple's Legacy Contact is safe and worth using. The feature debuted with iOS 15.2 as a safe and secure option to give someone access to data stored in your Apple account after you're gone. The data includes photos, messages, notes, files, apps, device backups and more.
Some information such as movies, music, books or subscriptions you purchased with your Apple ID and data stored in Keychain (payment information, passwords) can't be accessed by a Legacy Contact.
You can add more than one Legacy Contact, and all of them will be able to access the account to make decisions.
RELATED: How to leave behind a digital legacy
Qualifications
If you've been added as a Legacy Contact and want to request access to an account, here's what you'll need:
The access key created when you were chosen as a Legacy Contact.
The death certificate.
You have to be over 13-years-old to be a Legacy Contact.
Apple reviews access requests from Legacy Contacts and will approve access to a deceased person's data only after verifying the above information. You get a Legacy Contact Apple ID to access the data if you're approved. You'll receive an email with more details and instructions.
The deceased's Apple ID will no longer work, and Activation Lock is removed on any devices that use their Apple ID. Access to the legacy account is limited to three years from the date you're approved. Following that, the legacy account is permanently deleted.
The key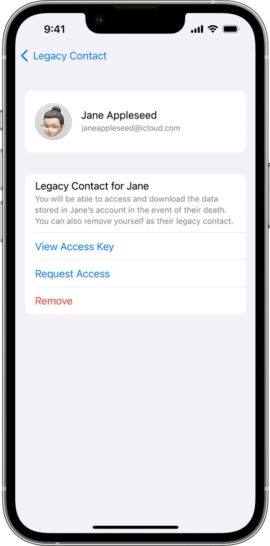 When someone adds you as a Legacy Contact, they create an access key to share with you, which works whether or not you have an Apple device.
If you have an Apple device running iOS 15.2, iPadOS 15.2 or macOS 12.1 or later and someone in your Family Sharing group adds you as a Legacy Contact, or you receive a Legacy Contact request, the access key is stored automatically in Apple ID settings on your device.
If you're running older software, you'll receive a Legacy Contact notification and you'll need to update your device to save the access key.
If you don't have an Apple device, you can get the access key directly from the person who wants to give it to you. Make sure you keep it in a safe place.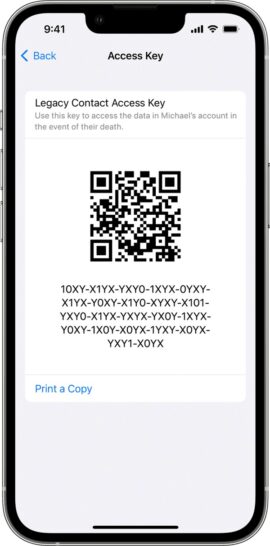 Adding a Legacy Contact
You need to be at least 13-years-old and have two-factor authentication to add a Legacy Contact. Here's how to set it up on your iPhone:
Open Settings and tap your name.
Go to Password & Security > Legacy Contact.
Tap Add Legacy Contact. You may have to use Face ID, Touch ID or your passcode to authenticate.
If you're in a Family Sharing group, you can choose a member of the group. Or you can tap Choose Someone Else to add someone from your Contacts.
Select the person from your Contacts. Tap Continue.
You'll be asked how you want to share your access key. Select Print Access Key or Send Access Key.
If you choose to send the key digitally, Apple will create a message letting your contact know you've added them as your legacy contact. Tap Send.
You may also like: 7 important iPhone security settings to change right now