In case you didn't know, Apple's latest version of its flagship product is now available! Despite its $1,000 price tag and news of production issues, it appears to be as popular as any iPhone ever released. Yesterday, I got to unbox my very own iPhone X unit and show you what exactly comes in the box.
Now that we had a chance to use and play around with the iPhone X for a few days, we're starting to form our own unbiased opinion about it.
Is Apple's newest flagship phone, the iPhone X, really worth the money? Here's what we think:
You won't miss the Home Button
The biggest change for the iPhone X is the elimination of the traditional Home button, a hardware component that has graced the iPhone since its inception.
Since the Home button has been an integral part of the iPhone experience for years, removing it requires a whole new system to replace its function. For this, Apple implemented a whole new set of screen gestures to compensate for the loss of the Home button.
With the iPhone X, instead of pressing a button, a user will have to swipe up from the bottom to go back to the Home screen. This gesture is also used for unlocking the iPhone X with Face ID and holding that gesture will open the app multitasking screen. Within the app multitasking screen, simply swipe across the screen to switch between all your running apps.
Another new multitasking feature is the introduction of a persistent line on the bottom of the screen. Within an open app, you can simply swipe on the bottom edge of the screen to jump around your recent apps. Honestly, this line can be quite distracting especially when browsing the web but fortunately, it fades away when you're watching a video. Let's hope Apple will give us an option to auto-fade the line across all apps in the future.
Learning all the new gestures may take some time and a bit of muscle training but all the important ones are intuitive enough that they become second nature after a short while.
One gesture that's a little bit annoying to pull off with one hand is the "swipe-from-upper-right-corner" action for the all-new Control Center. The new Reachability gesture (slight downward swipe on the bottom of the screen) is tricky to pull off.
With all these gesture gymnastics going on with the iPhone X, there's a real danger of dropping it often and repairs for it can get too expensive, so get a protective case for it as soon as you can.
The Notch
One thing you will notice about the iPhone X is that it doesn't really have a true edge-to-edge display. Unlike the Samsung Galaxy S8's display, for example, where the sides curve to get rid of the side bezels altogether, the iPhone X is still surrounded by thin black bezels all around.
Which brings us to the iPhone X's notch – the black enclosure located at the top of the display that houses the front-facing camera and various sensors. Some people may find this notch distracting or a weird design decision but whether you like it or not, it has become the distinct characteristic – a trademark, if you will – of the iPhone X.
It's still early in the iPhone X's development cycle so many apps are still not optimized to take advantage of the notch. Unoptimized apps will simply run with black borders on the top and bottom.
The notch can also get distracting when you play full-screen videos since it can obscure parts of the screen. Thankfully, video apps like Netflix and YouTube now have zoom options that can minimize videos to accommodate the notch.
Face ID
Since the Home button is gone, Apple also ditched the Touch ID fingerprint sensor on the iPhone X and replaced it with an all-new biometric system called Face ID.
Face ID is Apple's 3D facial recognition system that's touted as more secure than Touch ID or other comparable facial recognition systems on other smartphones (read: it can't be fooled with a 2D picture).
Setting it up easier than Touch ID too (at least in my experience). All I had to do was point the iPhone X directly at my face and rotate my head in a circular fashion. It is definitely quicker than Touch ID's multiple finger scans.
Since Face ID is replacing Touch ID, it will be used for biometric security functions like phone unlocks, Apple Pay, app authentications and logins. When it works, it's actually quicker than Touch ID and unlocking the phone instantly with your face feels like magic. It even works in the dark and learns your facial changes through time.
The downside I've seen so far is that it's particular with angles and distance. If your iPhone X is laying flat on a table, you'll have to lean forward to stare directly at it to unlock it. You can't be too close or too far away to use it. (The recommended distance is around 10 to 20 inches). This can be an issue if you're using Apple Pay on a register or in other situations when you can't look at your phone head-on.
That OLED screen is beautiful
This is the first time an OLED screen has graced an iPhone and boy oh boy, the iPhone X display is gloriously beautiful. Compared to the LCD screens that older iPhones have, the iPhone X's OLED screen has deeper blacks, more vivid colors and better contrast.
Compared to the earlier iPhone Retina HD displays, the iPhone X also has a higher 2436 by 1123 resolution with a sharper 458 pixels-per-inch (ppi), enough to be dubbed as a Super Retina display.
The iPhone X's display also incorporates Apple's TrueTone technology. When enabled, this automatically adjusts the screen's white balance, contrast and saturation, depending on existing lighting conditions to render accurate colors all the time.
Comparing an iPhone X and an iPhone 8's screen side-by-side, the differences are striking. Webpages, videos, text, apps – everything on an iPhone X just looks so much richer and sharper. And due to its TrueTone display's warmer tint, it's also easier on the eyes.
Additionally, the iPhone X's display supports Dolby Vision HDR content so compatible HDR videos from iTunes, Netflix or Amazon should look better than ever.
Although the iPhone X has a bigger 5.8-inch screen, it's actually taller and thinner than the iPhone 6 Plus, 7 Plus or 8 Plus 5.5-inch displays. It's easier to hold than the Plus and bigger than the regular iPhones, for sure, but some of the Plus' big screen tricks, like the landscape home screen or split-screen views in Settings and Mail are missing. Thankfully, the Reachability feature, which brings the top section of the screen halfway down is still available on the iPhone X.
Best cameras on an iPhone yet
The iPhone X has the best cameras on an iPhone yet. Similar to the iPhone 8 Plus, the X has a rear dual-camera system – one is a wide angle lens and the other is a telephoto lens, both 12-megapixels. Both lenses on the X, however, have Optical Image Stabilization, which allows for sharper pictures even while zooming in on an object.
Due to the Face ID sensors that join the front-facing camera, the iPhone X also supports Portrait mode and Portrait Lighting with selfie shots.
Build quality
What can I say? The iPhone X's build quality is just impeccable, worthy of its premium $999 and beyond price tag. Apple used stainless steel this time around to wrap the iPhone X's sides and covered its back with glass to accommodate for Qi wireless charging. It's a little heavier than the iPhone 8 but it feels like one solid piece of glass or a polished stone in your hands.
Since it's heavier and covered with glass, I would assume the iPhone X is more susceptible to cracks than prior iPhones, especially when dropped from even a moderate height. Make sure you always have a case and ample screen protection.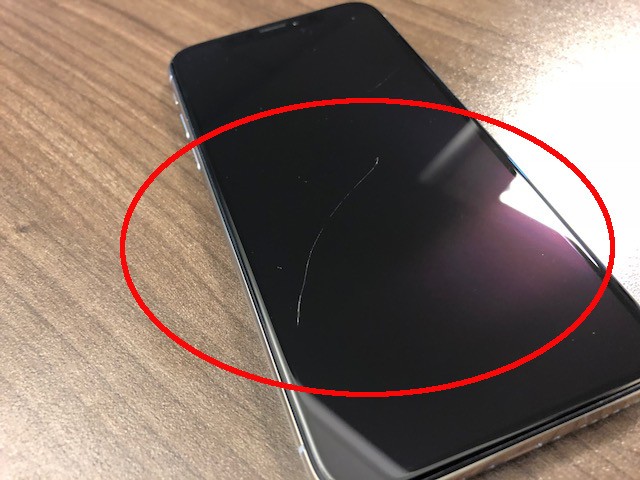 Update: So much for the OLED screen's durability. After a mere few days, Kim's iPhone X's screen already has a prominent scratch. The source of the gash is a mystery. She did not drop it but she did carry it in her laptop bag. So, let me repeat: aside from a case, better get a tempered screen protector for your iPhone X too.
Just another iPhone
At the end of the day, once you get past the missing home button, Face ID, and the vivid OLED display, the iPhone X is really just another iPhone, but it is the best iPhone experience your money can buy right now.
The changes may not be as impressive as the other iPhone generation jumps since we've seen already seen these new features in other smartphones but the iPhone X is certainly the iPhone of the future. We're expecting Apple to move on with this design direction for years to come.
5 uses for your old iPhone
Are you planning on ditching your old iPhone for the latest iPhone 8 ot iPhone X? Don't throw that old phone away! Here are 5 uses for your old iPhone.