Big Tech developers release regular updates to their software that introduce new features, boost security and more. These incremental updates are supplanted by major releases that sometimes overhaul entire systems. Like it or not, the hype keeps current users interested while attracting new ones.
Apple updates its iOS operating system and macOS annually. The latter is up to its 12th incarnation and has been dubbed Monterey. The latest macOS brings updates to FaceTime, Safari and other familiar apps while beefing up security and introducing new ways to browse your photos and the internet. Tap or click here for more about Monterey and how you can try it out now.
The Cupertino Company also announced iOS 15, and while there are plenty of new features to come, we'll focus (no pun intended) on the new Focus tools. Read on for more information and find out how you can test drive the beta version of Apple's latest iOS.
Stay Focused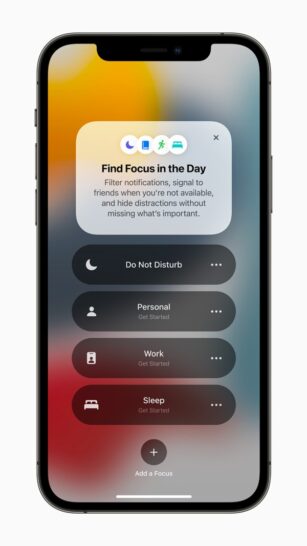 Your iPhone will always be a distraction. Whether it's incoming texts and emails or countless notifications, your device makes it a point to keep you posted on everything it can. While you can fiddle with notification settings, iOS 15 makes it easy to control and customize notifications for different situations with the new Focus feature.
Let's say you're at work. You can create a custom Focus that hides your text and social media applications. You can also have a status that informs people trying to contact you that you're not available. Remember away messages?
Letting people know you aren't available to respond to texts is easy. When Focus is set to block incoming notifications, your status is automatically displayed to others in Messages, reflecting that you are not currently reachable. That's it. You no longer need to worry about offending someone for not responding quickly.
Suggested Focuses lets you choose which people and apps are allowed to notify you. These suggestions are based on your work or sleep hours. The Focuses you create are applied to all of your Apple devices. Tap or click here to check out other changes coming along with iOS 15.
Avoid temptation
If you feel tempted to check notifications, a customizable Home Screen will show you only the relevant apps for a particular Focus. So you can see notifications from Mom when you're getting ready for bed, but save the meme-focused group chat texts with your friends for the morning. Tap or click here to see why sleeping next to your phone is not a good idea.
Your Custom Home Screen also contains the apps and widgets you may need for that situation. Add your podcasts and meditation apps to your bedtime Focus.
Me time
You don't have to have a set time or environment to use Focus. Why not create one for general use?
Create a personal time Focus that only lets certain people and apps disturb you. Turn off social media and endless texts and just let a few notifications in. Turn on the Focus status to let people know you're busy. They can opt to reach out to you anyway if it's urgent.
Focus statuses work with your apps and third-party messaging systems. Think of this as an advanced Do Not Disturb mode.
Notifications overhaul
Notifications themselves have been overhauled with contact photos and larger icons for apps. This makes it easier to see who or what is disturbing you at any given time.
Notifications can be arranged based on how you use each app, with the most important ones moved to the top. You can mute any message thread or app for a set amount of time. This all works in conjunction with Focus to reduce distractions.
Ready to take iOS 15 out for a spin?
The new iOS 15 will be available for iPhone 6s and later models this fall, but you can try out the features right now. Apple's Beta Software Program gives you access to pre-release versions of iOS, iPadOS, macOS, tvOS and watchOS. Your feedback could be instrumental in the formation of the final product.
Before you sign up, be aware of a couple of things. Beta software can be very buggy and could cause problems for your device. Apple itself says you should back up your device before installing any beta software. Use a device that is not critical to your work or other important parts of your life.
Support for CarPlay will not be available with the beta version, so take this into account. Grab your iPhone or iPad and use the following instructions to get started:
Go to the official Beta Software Program Site and sign in with your Apple ID or iCloud account.
Select iOS on the Guide for Public Betas page.
Tap enroll your device in the Get Started section.
Tap Download profile in the Install profile section.
Tap Allow to download the profile, then Close when you see the window.
Now open Settings on your device and tap Profile Downloaded.
Tap Install and enter your passcode.
Read through the Consent and tap Install twice.
Tap Restart when you see the window for it.
After restarting your device, go into Settings > General > Software Update.
Tap Download and Install for the iOS 15 Public Beta.