Have you ever wondered if your iPhone has a secret menu similar to what Android smartphones have? This trick may not be as useful as the user interface or graphical tweaks that the Android operating system (or for that matter, jailbroken iPhones) provide but this secret menu is interesting nonetheless.
Tap or click here to learn how to access an Android gadget's secret menu.
It even has a cool graphical tweak that some iPhone users may find extra useful.
Gaining access to this iPhone secret menu is pretty easy. Keep reading to learn the simple steps!
iPhone's "secret" field test menu
Dial this number out (as if you're making a phone call):
*3001#12345#*
Then hit the green call button.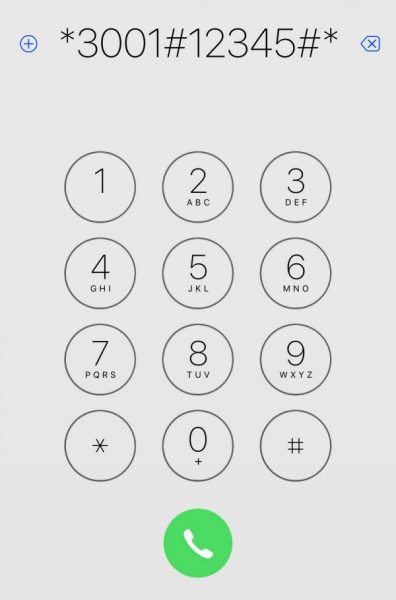 This code opens up a secret menu filled with your iPhone's hidden field test data. Once it's successfully processed, it will display information about your iPhone's cell connection, its quality and even your mobile IP address.
If lovely terms like "Neighbor Measurements," "Connected mode LTE Intra-frequency Measurements" or "Serving Cell Info" all sound like geeky gibberish, don't worry, this menu is not really meant for average users.
Since it's filled with detailed statistics about cell towers, it is more than likely meant for engineers doing field tests or cell site surveys. (For example, PDP Context Info has information about your carrier's Access Point Name APN and your mobile IP Address.)
Keeping the numerical signal indicator
For the casual iPhone tinkerer, the most useful feature on this secret menu is the use of a numerical signal strength indicator instead of the standard signal bar.
With this, you'll see a decibel value (for example, -115 for a weak signal or -50 for a good one) in place of the signal strength in the upper-left corner of your screen.
If you want to keep this numerical value instead of the signal dots, do this:
While in the Field Menu, hold down your iPhone's power button until the "slide to power off" screen appears.
Now, release the power button then hold the Home button until your iPhone goes back to its home screen.
Congratulations. Your iPhone's signal bar is now a numerical value.
To restore your signal bar back to the standard dots, just enter Field Test mode again and simply exit out of it (by pressing the home button) or you can reboot your iPhone.
Note: for accurate cell tower readings, it is recommended that you turn your iPhone's Wi-Fi off.
A word of caution. Although the Field Menu items are read-only and are unchangeable, this testing mode is meant for professionals and in some cases, may have the potential to disrupt your cell service.
Note: For the field test menu of Android phones, dial this code instead:
 *#*#7262626#*#*
Bonus: More codes you can try
Do you want more secret codes you can play around with? Here are a few:
iPhone Codes
| | |
| --- | --- |
| Function | Code |
| Field test mode (provides info about cell signal) | *3001#12345#* |
| Check call forwarding number (you can assign another number to forward calls to when your phone is busy) | *#67# |
| IMEI number | *#06# |
| Enable call waiting | *43# |
| Disable call waiting | #43# |
| Enhanced full rate (EFR) mode — This mode can exchange improved reception for battery life | *3370# |
| Anonymous call (Your number will be hidden on the receiver's caller ID) | Input *67 before you enter a phone number |