Viruses and malicious programs used to be limited to desktop PCs. However, as the popularity of cellphones began to rise, and as smartphones began offering high-speed internet access that is comparable to many of today's home connectivity options, some cyberattacks began focusing their efforts on the world of mobile apps.
If you're following the Happening Now section of Komando.com, then it should be no surprise you that fake apps are popping up all the time. Especially, if you use an Android device. And that doesn't even count the number of legitimate apps that are found to be collecting your information. Even Facebook has been accused of using its app to spy on users.
To prove our point that downloading new apps to your phone or tablet is a risky business, here's a handful of stories we've covered in the last few weeks alone:
It's headlines like these that make following the advice we're about to give you so important. To combat these emerging threats, all smartphone users must verify the safety and legitimacy of any apps before downloading them.
If you're unsure, look for any one of the warning signs listed below to help spot potential threats and malicious utilities.
1. Find out how the app uses your personal information
Information like your email address, phone number and mailing address should all be kept safe and confidential.
If a particular app is sharing this information with other sites or services, it could be a malicious program. Any utilities that use your data in this manner should be avoided at all costs.
It's important to note here that even legitimate, safe-looking apps can have ulterior motives for your data. The Dictionary.com app – which has been downloaded more than 100 million times – was recently caught spying on its users so it could sell that information to advertisers. Is this app on your phone? Click here to get the steps you need to immediately delete it.
2. Understand when and why the app will track your location
Some apps have a legitimate reason for tracking the user's physical location.
But poor coding within many of these programs makes it possible to take advantage of this feature for nefarious purposes. Most smartphones come with the option to disable location tracking, but this often results in the loss of functionality or other useful features.
Note: To find the information for items 1 and 2, you're going to need to slow down on your download. This information should be listed in the Terms of Agreement or License details. Of course, that means you'll need to read through them before you hastily tap Accept. Only agree to an apps terms and conditions if you're comfortable with all of the details.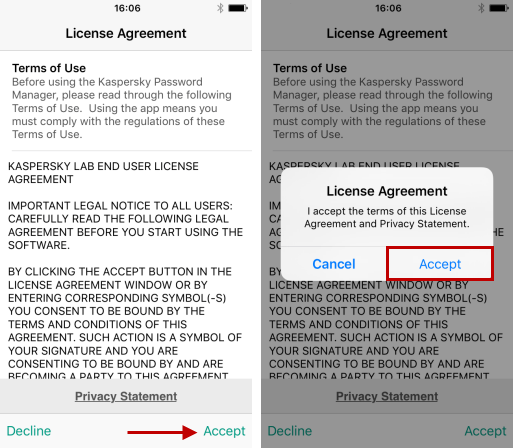 3. Be wary of apps that ask for many permissions
It's common for modern smartphones to allow apps to boost their functionality by accessing various internal systems – data storage, call logs and even your phone's camera are just a few examples.
Although many apps use these options to offer new features and usability, an unsafe app might try to delete files from storage, capture the contact information of your friends or take pictures of you and your surroundings without your knowledge.
Avoid giving access to any app that asks for too many permissions, especially if the app isn't from a reputable developer.
Bonus: Pay attention to an increase in ads
Is your phone suddenly displaying too many pop-up ads? These ads commonly appear in disreputable apps and services, but they're not always a sign of a hack or cyberattack. They could be the result of the app developer practicing something called "targeted advertising."
Targeted advertising isn't necessarily a bad thing. However, it can be. If the developer of the app you're using is collecting your data and selling it to third parties, your private information may not be as secure as it should be.
Although they may not be malicious, these ads certainly are annoying – and they can even slow your phone down to a turtle's pace.
You're better off avoiding these apps in favor of higher quality ones that don't bombard your phone with spam.
For apps like Facebook, you can also adjust your settings to stop targeted ads in their tracks. Click here and we'll show you a quick way to stop Facebook from tracking your online behavior.
An extra layer of protection
Even when you have the best intentions, there's still a chance that a bad app might slip through the cracks. In case this ever happens to you, there are some precautionary steps you should take right now.
First, if you're an Android user, you need to update your device to the latest version so it will include Google Play Protect. This software update is Google's response to all of the fake apps that have found their way into the Google Play store. It checks apps to make sure they're clean as you download them, and also runs in the background to watch for anything that changes with future app updates. Click here for more details on Google Play Protect, and how it can work to your benefit.
Android users should also be aware of the risk of installing third-party apps. There's a right way and a wrong way to install these apps onto your devices, and if you don't follow these steps carefully, you could wind up with a virus. Learn how to safely sideload apps onto your Android gadget by clicking here.
Finally, let's talk about the positive side to the increased amount of malware and ransomware that's targeting mobile devices through apps: Reputable developers are stepping up to the plate to combat the threat. Numerous apps exist today to automatically check your newly download apps for such issues. Apps such as Avast can catch any malicious software that winds up on your devices, so there's no excuse to leave your smartphone exposed to these threats.
More from Komando.com
How to properly secure your Android to keep snoops out
5 good habits that immensely improve your online security
Common security risks every smartphone user should know about