Are you planning on taking that well-deserved vacation? A few days off work here and there, or even maybe a week or two.
At work, if you're using email as your main form of communication, it's important that you let your workers, colleagues, and clients know that you are on your vacation and you can't reply right away.
This is commonly known as the "out-of-office" message and this feature is used to automatically to send out an email reply on your behalf if you are not actively checking your work email.
Turning on your work email's "out-of-office" mode while you are at the office is easy enough that it's just a few clicks away but what if you're on your smartphone?
Well, it's not as straightforward as it should be. However if your work email supports it, you can definitely turn on and set your "out-of-office" message while on the road, all through your smartphone.
Here are the steps for iPhone and Android.
On iPhone:
Important: Only Exchange accounts support the automatic reply feature on the iPhone's Mail app.
1. Go to Settings >> scroll down, then tap Accounts & Passwords.
2. Tap the Exchange email account you want to set the automatic reply from.
3. Scroll down until you see "Automatic Reply" then tap it.
4. Toggle the Automatic Reply switch to "On."
5. Once it's on, you can specify the End Date and type in an Away message. You can also turn on External Away Message for emails sent outside your company's Exchange server.
Note: Read on and learn how to turn on Gmail's Vacation Responder on both iOS and Android.
On Android:



1. Open your Mail app and select your Exchange email
2. Tap the Menu button then select "More"
3. Tap "Out of Office"
4. Your phone will then retrieve your Out of Office settings from your Exchange Server
5. Choose "I am currently: Out of the office"
Bonus: If you have a Gmail account, you can turn on Vacation Responder within the Gmail app, on both iOS and Android.
Turn your Gmail Vacation Reply on or off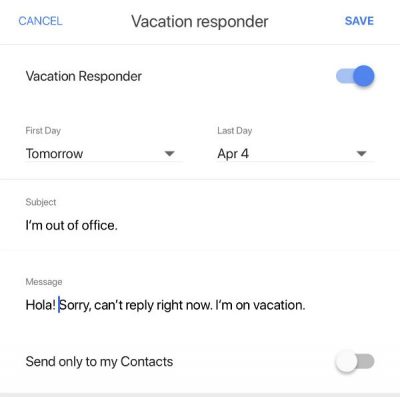 1. On your iOS or Android gadget, open the Gmail app
2. In the top left, tap Menu
3. Scroll to the bottom, then tap Settings
4. Choose your account
5. Tap Vacation responder
6. At the top, turn the "Vacation responder" switch On
7. Fill in the date range, subject, and message
8. Tap Done
To turn off your vacation reply, simply switch "Vacation responder" to Off.