If you own an iPhone or iPad, there's a good chance you have visited the App Store quite a few times. There is pretty much an app for anything, many of which are free and most of which do not cost all that much.
Depending on how long you have owned your phone or tablet, the number of apps you have downloaded could be quite high. Some you may use often, while others may not have been opened in years.
Maybe you are hoping to find an app you used once a long time ago or are simply curious as to what all you have downloaded. Maybe you are trying to backup your phone. Whatever the reason for looking, there is a way to see every app you have ever purchased.
You can see it all
It's actually quite simple, and the process begins with tapping on the icon to open up the iTunes App Store. Once opened, find your profile photo in the upper-right corner and tap on it.
That will lead you to a page that looks like this:
Tap on "Purchased" and the next page will display a list of all apps that have at one time been downloaded onto your device, as well as the date on which they were downloaded. You can type in a name in the search bar to quickly find it, or scroll down the list to see them all.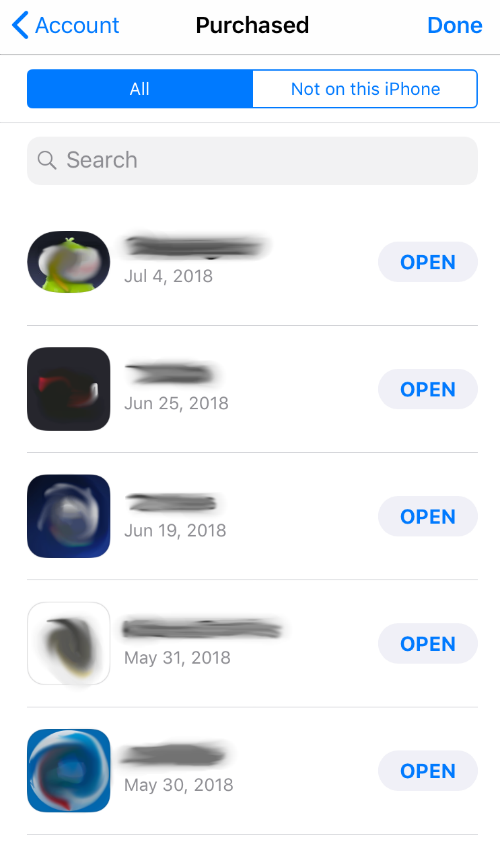 While scrolling, you will see many apps that have an "Open" button to the right, as well as some that have a cloud with a downward arrow. The former means they are on your device, while the latter signifies they are not.
Tapping on the cloud would lead to downloading it onto your phone or tablet.
If you want to see just a list of apps that were downloaded at one time but are not on the device, just look toward the top of the screen and tap on the tab that says "Not on this iPhone/iPad."
That will bring up a similar page, only with every app having the cloud icon.
Whether you have interest in downloading any of them again, it's at least a fun glimpse into the past.