Apple announced it's collaborating with the U.S. Department of Veterans Affairs to make veterans' health records available "quickly and privately." What does this mean, and what do veterans need to know? Well, that's not quite clear, but here's what we do know.
Apple says Health Records on iPhone will be available on the Health App, and will include records from the Veterans Health Administration, the single largest medical system in the country, serving 9 million veterans in more than 1,200 facilities. Apple doesn't say when this will be available or how veterans will be able to opt in or out of the feature.
"When patients have better access to their health information, they have more productive conversations with their physicians," said Apple COO Jeff Williams, in a statement. "By bringing Health Records on iPhone to VA patients, we hope veterans will experience improved healthcare that will enhance their lives."
Update 3/5/2019: According to a press release from the US Department of Veteran Affairs, veterans can look forward to the new health record features being rolled out at some point in summer 2019.
How health records on iPhone works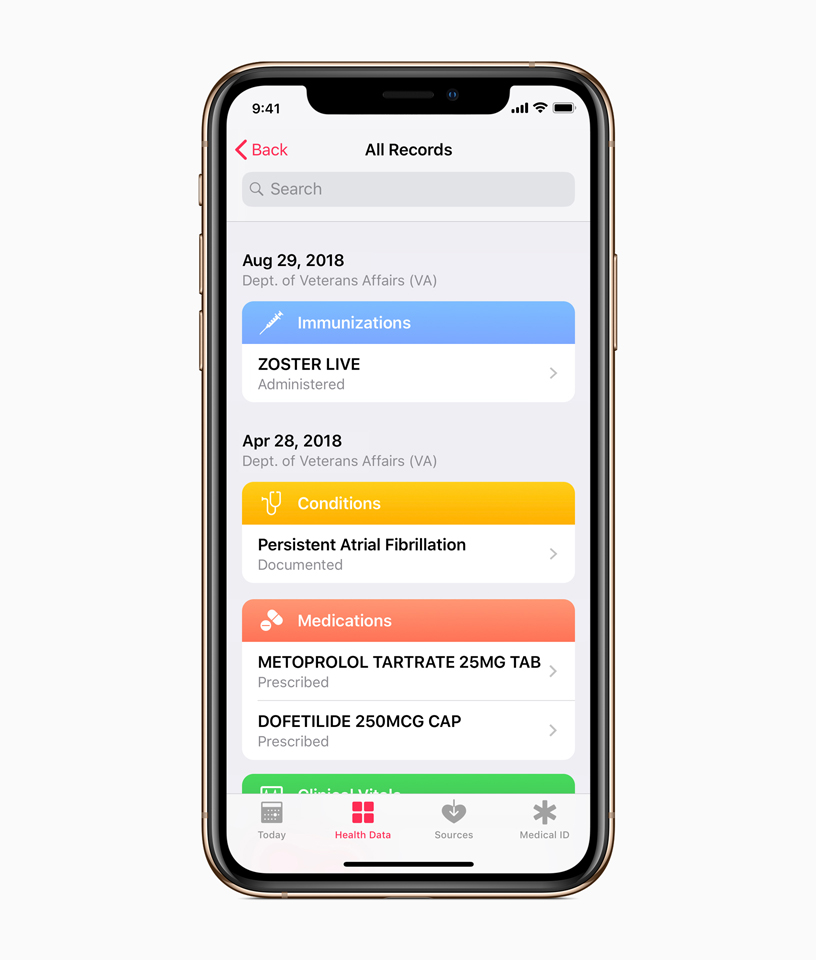 Veterans' and their doctors will be able to see medical records from the VA and dozens of other participating medical institutions. They'll access their health records from Apple's Health app, which comes standard installed on iPhones. Medical records include immunizations, prescriptions, vital statistics, procedures and allergies.
All iPhone owners can customize and connect health records to the Health app, and there are already several health care companies that have connected to Apple's Health app (LabCorp, Dignity Health, Cleveland Clinic and Scripps, to name just a few). It's where you can input your personal information and general information about your health. This is where you can input medical emergency information, such as allergies and medical conditions. You can also input emergency contact information.
Apple says your health records are safe
Apple says your health records will be encrypted in the iPhone Health Records app. Apple's goal is to provide your doctor and you with the vital medical information you need, but keep it out of the hands of hackers. You should still take steps necessary to secure your iPhone (and all your connected devices).
Encryption is when your digital profile and data are scrambled, so no one can decipher it. And that's if they can get past your passcode or biometric like Apple's Touch ID or Face ID.
"Our goal is to empower people to better understand and improve their health, enabling them to view their medical information from multiple providers in one place easily and securely," said Apple VP of Technology, Kevin Lynch, in a press release.
When you can get health records on iPhone
Apple announced this upcoming service for U.S. veterans earlier this month. Keep reading Komando.com for more information as it becomes available, including the launch date of Health Records on iPhone for vets.