You probably know that Big Tech companies like Google, Apple and Amazon are chasing your every click. It's an excellent way for them to pinpoint your preferences so they can chuck personalized ads your way. But you may not know just how these companies are tracking you.
That's all thanks to cookies — and we're not talking about the kind you'd find in the bakery. Cookies are small data bits that track your online activity as you move from site to site. Tap or click here to delete all those annoying tracking cookies on your PC.
You'll find cookies on your smartphone, too. They can save your passwords and help you log on quickly, but they can also collect so much data it can feel stifling. That's why we made this helpful guide so you can crumble those cookies once and for all.
How to clear up your cookies
First, you'll have to go to your smartphone's Settings. From there, scroll to the list of apps. Whether your browser of choice is Safari, Chrome or DuckDuckGo, we've got every step you need to take.
1. Start with Safari
If you use the Safari browser a lot, that's an excellent place to start your cache-clearing adventures.
If you have an iPhone, here's what to do: Pop into Settings and tap Safari. Tap Clear History and Website Data. Apple will tell you, "Clearing will remove history, cookies, and other browsing data." Your screen will look like this:
Then, tap Clear to go ahead. By clearing your cache, you've freed up a ton of storage. This helps with slowness or other browser issues, which means your phone may run faster than before!
Unfortunately, there's no official Safari browser on Android. There are copycats, but we don't recommend them. If you're more of a Chrome fan, here's what to do.
2. Kick cookies out of Chrome
If you're a Chrome user instead, the process is slightly different. For iPhone, open the Chrome browser. Then, tap the three dots in the bottom right corner and tap Settings.
Now tap Privacy and then Clear Browsing Data. Check Cookies, Site Data, but uncheck the other items. Here's what your screen will look like: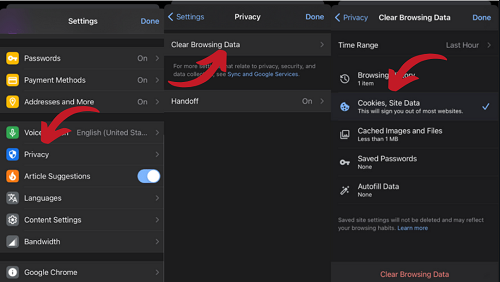 Then, tap Clear Browsing Data and tap Done. This is also a great way to check which data you want to clear. Notice the option for Cached Images and Files. Make sure this is checked, tap Clear Browsing Data and then confirm your choice.
Got an Android? Just follow these steps:
Open the Chrome app on your Android phone or tablet. Tap More, which is right of the address bar.
Click Settings and tap Privacy and Security.
Next, hit Clear browsing data.
Select Cookies and site data. You can also choose the time range to narrow down which cookies you want to delete. (For example, you can hit All time or Last hour.)
Select Clear data.
Next, let's look at another popular mobile browser.
3. Fend off cyber stalkers with Firefox
Firefox's creator, Mozilla, puts privacy at the center of its operations. This browser blocks tracking cookies by default. It's a popular option for folks who don't want third-party advertisers collecting their data.
Here's a caveat, though. Firefox does allow first-party cookies, which are stored by the website you're visiting.
These cookies let website owners collect analytics data, remember your language settings and so on. They're all about personalizing your user experience. If you want to clear them out, though, here's how to do it on an iPhone.
For iPhone, open your browser and tap on the three horizontal lines in the lower right corner. From there, tap on Settings. It will look like this:
Scroll down to the Privacy section. Click on Data Management. There, tap Clear Private Data at the bottom.
You'll get a warning dialog box. If you want to clear all the selected data, tap OK. Just remember, this will also clear history from your synced devices.
If you use an Android, follow these steps to clear out your cache:
First, tap Menu
Then, click Settings.
From there, tap Delete browsing data.
Select Cookies. Then, hit Delete browsing data. Now, you're all set.
Here's another browser you may not know about. Opera was the first web browser on the market to offer a free built-in VPN service. It's no longer the only one, but it's still popular with users.
4. Put your privacy at center stage with Opera
This popular browser encrypts your data. It also offers a crypto-jacking protection feature, which lowers your iPhone's risk of overheating or running out of battery when browsing the web. It also provides a built-in and optional ad blocker, which blocks intrusive ads.
If you're an Opera user, here's how to manually delete cookies. Open your browser on your Android or iPhone and tap the Opera icon in the bottom right corner.
From there, hit Settings. That will take you to a new window. Scroll down and select Clear Browser Data. You'll then have the option to delete cookies and site data, clear your browsing history and even change your site settings.
Tap Cookies and Site Data to delete all your cookies. You'll see a new option at the top of the window emerge next to the Clear Browser Data header. Tap the Clear button and you're good to go!
For good measure, tap Cached Images and Files to empty everything slowing down your browser. Then, tap the Clear button.
That's how you can manually clear out cookies from the most popular web browsers. But what if you didn't have to take this step? Luckily, you don't always have to take the time to delete cookies. There are browsers out there that will automatically clear out your data cache.
Browsers that do it for you
If you want a browser that prioritizes your privacy, look no further. These browsers are solid Google replacements that don't track your IP address or search history. You'll be completely anonymous while surfing the internet.
1. DuckDuckGo
One of the best browsers for privacy-minded users is DuckDuckGo. It doesn't track or target your IP address or search history, so you don't have to worry about targeted ads. That means you'll get more results!
Tap or click here to find out how DuckDuckGo is changing the game by putting user privacy first. It's basically the anti-Google: no cookies, no stalking and no personalized ads.
Best of all, you don't have to download a separate browser app to use it. You can use it through the Safari or Google Chrome app on your phone. Just set it as your default browser and you're good to go!
2. Aloha Browser: private VPN TOR
Like Opera above, the Aloha browser offers VPN services. The free and unlimited VPN blocks trackers and protects your browsing history. It also uses an optimized rendering engine, which is a fancy way of saying Aloha lets you surf the internet at lightning-quick speeds.
It blocks spammy ads, offers a built-in media play with VR support and stores downloaded files in its easy-to-access manager. Although it's free to start with, you can unlock premium features with a paid plan. The lowest option is $2.99/month.
Want to save money? Check out this next option, which lets you drift through the internet like an invisible ghost.
3. Ghostery
This free and open-source browser is dedicated to privacy and security. Ghostery prevents third-party companies from following you from site to site, and its anti-tracking feature cuts advertisers off before they can collect a clear profile of you. Tap or click here for details on this safe browser.
When researching privacy browsers, you'll find a lot of websites that say they "block cookies." That still lets the browser with your IP address communicate with the webserver. When you use a browser that claims it blocks cookies, some of your data is still going away.
Ghostery tells a different story. Instead of blocking cookies, it intercepts those requests and never lets the data transmission happen in the first place. With this web browser, you don't have to worry about cookies.
4. StartPage
StartPage isn't a standalone browser, but the "the world's most private search engine" is worth checking out. The Netherlands-based company recognizes that when it comes to search, it's hard to beat Google. That's why they use the power of Google without passing along user tracking.
StartPage pays Google for the use of its search algorithm but strips out the tracking and advertising that usually comes along with it. You get a Google-like experience, along with the promise that your data will never be stored, tracked or sold. No cookies are found here.
Test it out at startpage.com. You can also set StartPage as your browser's default search engine.
Ask yourself: Are cookies worth the cost?
There's a reason why so many people use browsers that track you through cookies. They can be convenient. After all, cookies contain your logins, plus fun personalizations that improve your user interface.
Instead of remembering each password for every site, your browser can take some of the mental load off your shoulders. Of course, you could always use a password manager, which is a great way to fight against potential hackers. Tap or click here for the scoop on this critical cybersecurity tool.
When it comes to cookies, you have to take a good, hard look at your priorities. Do you prefer the convenience of Google Chrome or the privacy of DuckDuckGo? It's a tricky balance to strike, but from now on, you have one more easy trick to put your privacy first.