Getting enough sleep each night is one of the best things you can do for your body. Your iPhone and Apple Watch can actually help you keep track of your sleep through Apple's Health app. You can even use your gadget to do a lot more than simply keep track of your sleep.
If you have an iPhone, you'll want to make sure you update to iOS 14, the biggest iOS update in years. Tap or click here to see what you should do before installing iOS 14.
Do you ever struggle to get to sleep, or wish you would get more quality sleep? Fortunately, Apple's Health app can track your sleep, set sleep goals, and even help you to wind down before bed, all with just a few taps. Read on to see how you can start using Apple's Health app to sleep better today.
What you can do with Apple's Sleep
Apple's set of Sleep features for iPhone and Apple Watch let you do a few key things:
Set sleep goals: set a schedule for how long you'd like to sleep every night.
Set your bedtime and wake up time.
Automatically enter Sleep Mode. At bedtime, your iPhone can turn on Do Not Disturb as well as dim the lock screen to help cut down on distractions.
Wind down before bed. Create shortcuts to Home scenes, chill playlists or a favorite app as part of your daily wind down.
Track your sleep. Get a detailed record of how much sleep you get and how well you sleep each night.
You can even create multiple sleep schedules, one for weekends and one for weekdays, as well as customize everything on the fly on either your iPhone or Apple Watch. So no need to feel boxed into a goal or bedtime when it can be easily adjusted.
Looking for more synergy between your iPhone and Apple Watch? Tap or click here for smart ways your Apple Watch and iPhone can work together.
How to set up Sleep on Apple Watch and iPhone
Setting up Apple's Sleep on either your iPhone or Apple Watch is incredibly simple and Apple walks you through the setup when you first access it. Here you'll be asked to input your goals, bedtime, wake up time, turn Sleep Mode on and off, customize your Wind Down Shortcuts and turn on sleep tracking.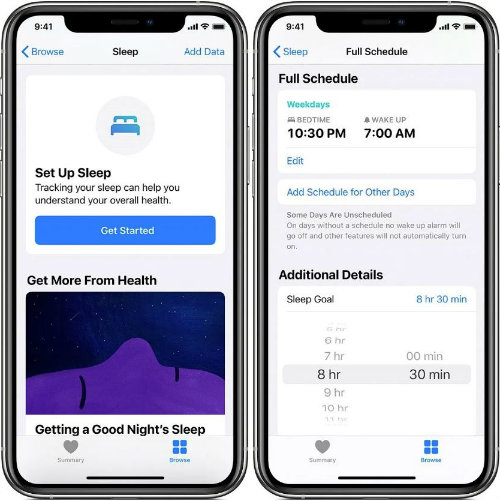 Set up your own sleep schedule in just a few taps:
On iPhone, open the Health app, tap Browse, tap Sleep, and tap Get Started under Set Up Sleep. Then follow the onscreen prompts to set up Sleep.
On Apple Watch, open up the Sleep app and follow the onscreen instructions.
Once you've set up the Sleep feature, viewing your sleep history is easy. Whenever you return to the Sleep section in the Health app on iPhone or to the Sleep app on Apple Watch, you'll be greeted with charts of your weekly and monthly sleep history.
Tracking your sleep is an excellent use for a smartwatch, but there are loads of other uses, too. Tap or click here for 12 must-have apps for your Apple Watch.