Apple Maps is far from Apple's most popular app. In fact, it tends to be outright deleted or ignored while users turn to third-party apps like Waze or even Google Maps.
We understand the lack of love for the app — to a degree. Some apps have some pretty crazy features! Tap or click here to learn about navigation apps with celebrity voices. But there are plenty of perks in Apple Maps; they're just not that well-known.
Here are a few tricks to get the most from the iOS app. Let's begin by talking about touring cities using a special feature called Flyover.
1. Tour a city before you get there
Interested in traveling to a major city? Get the lay of the land first with Flyover mode.
Search for a city, then tap the Flyover or the Flyover Tour button that appears on the info card. It won't be available for all locations, but large cities generally have the option.
Once you tap it, you'll be taken to a 3D, overhead view of the city. You can move your phone around to look at your surroundings, or slide your finger around to travel and find major landmarks.
Flyover will even take you on a tour if you just let it run without interfering, or simply tap the Start City Tour button. Use this to see places you might like to visit and figure out if they're near each other so you can better plan your next trip.
2. See where you're going from all angles
Maybe you'd like a three-dimensional view of more places so you can know in advance if a walk is going to be especially strenuous. Lucky for you, Apple Maps has a 3D viewing mode.
You can see a 3D map with a button in the top right corner. Just tap that 2D/3D button when you're zoomed in enough to see building outlines and your view will suddenly angle, revealing how tall those buildings are. To exit this view, simply tap the 2D button.
3. Know you're going in the right direction
Say you're camping, hiking or you need to head north. Tap or click here to learn about the best gadgets for your outdoor adventures. You can always use the compass app on your phone, but if you need a map at the same time just add a compass to your Apple Maps screen.
To add a compass, tap on the location icon (the one that looks like an arrowhead) in the top right corner of your screen. The icon will fill in, and Maps will show you where you're currently located. Tap on the location icon a second time and the compass will appear.
As you move, the compass will adjust itself to keep pointing north, keeping you on your trail, or helping you know if you're heading uptown or downtown. If you want to send the compass away, just tap it and it will disappear.
4. Always know where a rest stop is
On a long road trip, sometimes you need an unplanned bathroom break or a quick bite to eat. Apple Maps can help you find stops that won't take you too far off your path.
While following directions in Apple Maps, swipe up on the panel at the bottom of your screen. You'll see buttons labeled Gas Stations, Breakfast (or whatever meal is appropriate that time of day) and Coffee.
Tap the button you need, and Apple Maps will show you the closest places that fit the category. Tap on one of the locations that pops up and Apple Maps will navigate you there, as well as navigate you back to your original route.
5. Drive the way you want to
If you want a more scenic, leisurely drive on your next trip, or if you want to keep costs down by avoiding tolls, Apple Maps can be adjusted to help. It automatically gives you the quickest route, but to turn this feature off, head to your Settings. Tap or click here to learn about other creative ways drivers avoid tolls.
In Settings, go to Maps, then Driving & Navigation. Turn the Tolls and Highway switches off to avoid them, and on to use them. You might have to change these defaults for each trip, but at least you have the option to do so.
6. Plan on one device, navigate on another
Ever plan a trip on your computer then have to re-navigate through your phone later? You can still print directions, but you're better off saving ink and sending those directions right to your phone or tablet instead.
When you're in Apple Maps in macOS and have a route you like, click the share button at the top of the window (the one with an arrow pointing up out of a box), and click Send to [phone or tablet name] from the menu that drops down. This will be an option so long as both devices are logged in to the same Apple ID.
Your phone or tablet will then prompt you to accept the directions. Accept them, and your route will be right there in your mobile Apple Maps.
7. Let people know where you are
It can be hard to let a friend know if you're going to be late meeting them without calling or texting, which is horribly unsafe when you're driving. Tap or click here to learn about the tragedies of texting while driving. Thankfully, Apple Maps has a trick to help.
You can share how much time is left in your Apple Maps navigation by swiping up on the info panel, and tapping the Share ETA button. Maps will pull up your five most recent contacts, and a Contacts button that lets you access your contact list.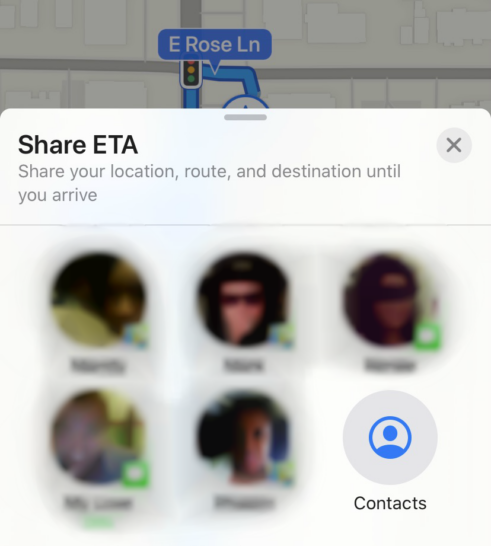 Tap on the person, or people, you want to send your ETA to, and they'll receive the information as a text message. They'll be able to see your ETA as it updates until you tap them again, or reach your destination.
Set this up before you hit the road to avoid using your phone while you're driving. It's just safer.
8. Always know where you parked
If you navigate by connecting your iPhone to your vehicle's Bluetooth or CarPlay, you can always know where you parked with Apple Maps. Tap or click here to learn 3 ways to add Bluetooth to older cars. You just have to enable two functions on your phone to do it.
First, you have to turn on Significant Locations in your Settings. In Settings, go to Privacy, then Location Services and System Services, then tap the Significant Locations menu to turn it on. You may need to use your passcode to get in).
Next, go back to your general Settings, and go to Maps. Make sure the Show Parked Location switch is turned on.

The next time you park and disconnect your iPhone from Bluetooth or CarPlay, Maps will mark the location of your car. You can edit this location by tapping on the Parked Car icon (the white car with a blue background) and moving it around. You can add a photo of your parked car here, too.
If you lose your car in a large parking lot, open Apple Maps and tap the search field, then type "Parked Car," or simply select the icon. Apple Maps will give you directions to find your vehicle.
Apple Maps is full of surprises! Who knew it offered so many features? So maybe next time you hit the road, consider trying it out with some of these tips.