Your Android smartphone is capable of a wide variety of things, but chances are there are a lot of things you had no idea your powerful little pocket PC could do.
From quick and simple ways to change your wireless network to an easy way to cast your phone screen to another device, we've got an assortment of things you probably didn't know your Android phone could do.
These 10 cool abilities will have you showing off your abilities to your friends and having them ask you where you learned it all – you can link them here and share the knowledge, of course!
1. Cast your phone screen to your favorite TV
All you need to share what's on your phone's screen with your television is a Chromecast or a television that's set up to work with Android devices and you can mirror what's on your screen there. This comes in handy if you want to share pictures or videos on your phone to someone else, watch YouTube without having to use an external app, or even play your favorite mobile games on a larger screen.
Go to the Quick Settings menu and choose Cast. Your device will pop up the Chromecast that's set up, or the television of your choice (if it's a smart TV) and you can start casting. It's very simple, and quick to set up.
2. Lock people out of specific apps
We've all been there – someone's asked to use our phone, and we've scrambled to hide certain pictures and information we don't want others to see. There's actually a way with Android devices to hide this with a few button presses so anyone you lend your phone to for a few moments will only be locked to one area until you enter your phone's lock screen code. That way, they can't use parts of your phone unless you put the code in again.
Go to Settings, then Security, and turn on Screen Pinning. When turned on, open the app that your friend or loved one needs to use. Open Overview with the square button below the phone screen. You'll see an icon that looks like a pin in the lower right corner. Tap it, and it'll remain pinned to the front. Voila! Now that's all anyone can use until you enter the password.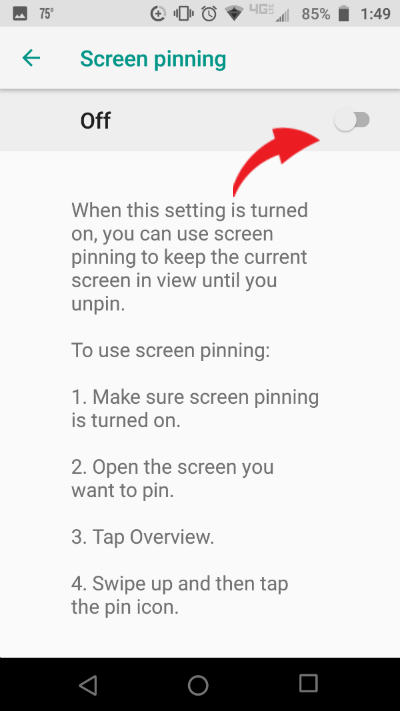 3. Enable one-handed mode
Some Android phone sizes can be particularly unwieldy, depending on the model you use. Luckily, you can opt for the special one-handed mode on most Android phones using one quick shortcut. It's on Google's keyboard, which you'll need to get if you don't have it. You'll likely have it already as your default option if you use a Pixel or Nexus phone, but if you use a Samsung or LG phone, you'll need to download the keyboard to get things ready.
When you download the keyboard, open it up and tap and hold the backslash key. Pull up to the right-hand icon to turn on one-handed mode. There will be an arrow here that lets you position the keyboard from side to side and reposition it. The icon on the top will let you restore the keyboard to its full size. Now the keyboard can be used with one hand if you so desire.
4. Change out wireless networks quickly.
Sometimes you may need to swap between wireless networks in an expedient manner. Perhaps you're on the wrong network at a hotel or you want to use a friend's signal instead of your hotspot. Instead of going to Settings and then Wi-Fi, simply swipe down twice from the top of your screen and open the Quick Settings menu. Press on the name of the network you're connected to and you'll be given an entire list of networks all around you. You can now swap to an eligible network from there.
5. Swap into Priority Mode
You may never have heard of Android's Priority Mode, but it's an extremely useful feature. It lets you put your phone in "Do not disturb" mode while still letting certain notifications come through that you select. Essentially, you'll be able to choose who can bother you while everything else is snoozed.
Start by going to Settings, then Sound & Notification, then Do not disturb. From there, change up the settings and notifications that you still want to let through. You can turn it off and on quickly via Quick Settings, but it will let through important folks, and that's what makes it so cool.
6. Read through notifications you accidentally closed
It can be easy to flippantly swipe away a notification that you meant to read. It's simple to bring one back, but your phone doesn't make it obvious. You can see all of your recent notifications if you'd like, actually. Just tap and hold on an empty part of your home screen. Select the Choose Widgets option, then look for Settings. Drag the icon to a space on your home screen and you'll see a list pop up. Select Notification Log, and then tap the icon. You'll now be able to scroll through all of your device's notifications.
7. Clear your default apps
Sometimes, you'll open a link that prompts the corresponding app to load, such as YouTube, Facebook, or Twitter, when you meant to load it in the browser. You can clear the default app listing and keep this from happening in a very simple way so you can continue browsing without having to switch out apps when you didn't mean to in the first place.
Go to Settings, then Apps, and look for the app you want to stop opening up. Find Open By Default when you've located it, and choose Clear Defaults. No more pesky app loading!
8. Enable Smart Lock
Keeping your phone secure is always a priority, but when you're home and lounging around maybe you're not as interested as locking everything you can. You might want to try out Smart Lock, which takes away the requirement to use a keypad lock when in a trusted area like your house. You can opt to use your face, wireless networks, GPS locations, and more to prevent your phone from locking. This way you don't have to enter your password each time.
Go to Settings, then Security, then Smart Lock to get it set up, and bask in the light of simple phone usage when in trusted zones.
9. Change independent volume settings
When you go to change the sound on a certain aspect of your device, you're probably accidentally always turning one part down, but not the one you meant to, right? Maybe you turned down the phone's volume entirely, but you meant only to adjust your ringtone's volume.
Instead of relying on your volume buttons, tap the physical volume buttons on your phone, and look for the volume setting to show up on your screen. Look for an arrow on the box, tap it, and check out the volume sliders here to manually adjust the ones you want to change. Now you can do this quickly and easily.
10. Encrypt your phone's data
It's always a good idea to keep your data safe, even if you don't house much private information on your phone. You can actually manually enable encryption on your phone, which will make it unreadable by outside parties without a PIN or password to decrypt it. It's very simple to turn on: Go to Settings, then Security, then choose the Encrypt Phone option.
It can take a while to enable if your phone wasn't previously encrypted, and could potentially cause your phone to slow down if you're running an older version of Android, but it's an invaluable step to take if you want to protect the things already on your phone.