Are you just starting your own business or thinking of doing so? Or perhaps you're running a business and you need software solutions for various projects. When we're looking for ways to improve our processes and the things we produce, everyone here at Komando.com knows exactly where to turn.
Because when you type in "best tools for [fill in the blank]," you get a slew of solutions and it's hard to know whom to trust. Wouldn't it be convenient to find what you're looking for in one central location without all the extra digging? Tap or click here for the ultimate tool to find the right GPS tracking software for your business.
That's where Capterra comes in. Capterra.com is the best go-to site for your business software needs.
How do I compare software solutions?
To start, simply login to Capterra.com and type in your search for the software you're looking for. For this, we'll search "Membership Management" Software. What you'll find is as you type the query in the search box, it will automatically pull up the category and products, and tell you how many results they have.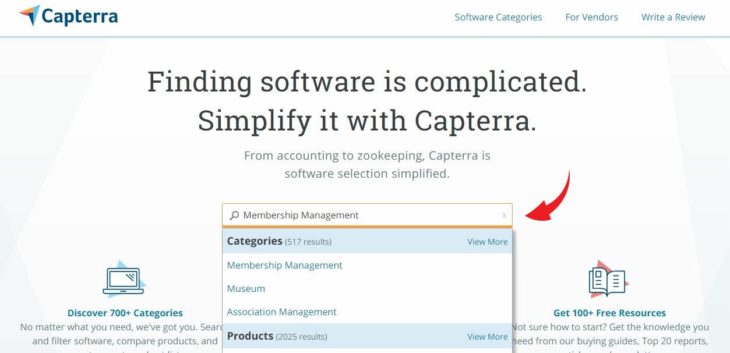 Once you click on the search term you're looking for, it will bring you to a webpage of results. The page allows you to decide whether you'd like All listings, the Categories, Products or Resources associated with your search.
Once you've made your selection, whether, by category at the top or selecting the overarching keyword below, it will give you your results.
Filter results and compare features
Tap or click here to visit Capterra, which brings up all the software associated with your search and gives you plenty of options to make comparisons easy. You may want to search very specifically within the parameters of the results to weed out particular ratings or user reviews. That may take some time, right? Not necessarily.
What options are available to filter down thousands of results?
Product Ratings
User Reviews
Deployment (Operating System/Device)
Features
By Sponsored, Highest Rated or Most Reviews
What if I want to compare products?
If you're unsure about selecting one particular product over another, or just plain need to know which one fills the exact needs of your business, this can help you out. The comparison page gives you the ability to see each piece of software side-by-side, and you can compare up to five products at a time.
This page gives you the best information on how this software would apply to your needs and the size of your customer database. It will explain whether you can get a free trial, if it's free or if there is a single cost or monthly charge to use the software.
Other features include how it breaks down the platforms in an easy to understand visual style and having highlighted product features.
Getting the best bang for your buck
If you're looking for ease of use, and a good search for business-related software, Capterra is the best go-to site for your needs. Get the best software for your business today at Capterra.com/digital.