The more you sell, the better your business does. It's the simplest rule of business out there. But, as many business owners will attest, dealing with credit card payments can be a major headache.
Luckily, technology is making things easier. Several services are popping up that make processing payments a cinch so they show up quickly in your bank account. But with so many services to choose from, how do you know which is best for your business?
1. Square
Chances are, you've seen Square being used by many merchants and retailers. These handy card readers plug into your smartphone or tablet and sync with the Square app. Square also has the ability to accept EMV chip payments and payments from Apple Pay. There's also available software that can be downloaded for online transactions.
Click here to learn more about Square transaction options >>
Click here to see how Square compares to other payment services >>
2. Stripe
For those with businesses that need to go beyond credit card payments, Stripe is a good option. It allows you to accept payments through ACH debits, Alipay and even Bitcoin. Stripe is also known for its simple code, which can be easily tweaked to customize the shopping experience for your business' specific needs. Another perk is that Stripe lets you manage any reoccurring payments for your business, such as membership subscriptions.
Click here to see how Stripe compares to other payment services >>
3. ProPay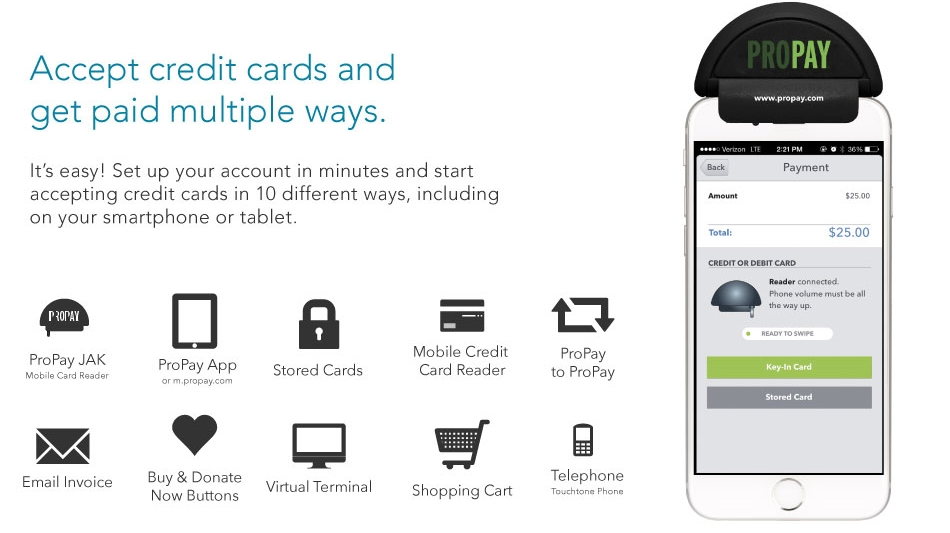 ProPay offers 10 different ways to accept payments for your business: ProPay JAK, the ProPay app, stored credit cards, mobile credit card readers, ProPay to ProPay, email invoicing, donation buttons, virtual terminals, a web shopping cart, and even payment via telephone. Another advantage is that it comes with a prepaid MasterCard that can be used to access your funds when you need them.
Click here for more details about ProPay >>
Click here to see how ProPay compares to other payment services >>
4. PayPal
When you think of PayPal, the first thing that comes to mind is buying and selling on eBay. But many don't realize PayPal offers extensive business payment solutions. When you set up a merchant account you can accept in-store payments as well as web payments online or through your company's mobile app. Invoicing is also another option for online customers, in addition to special options for nonprofits, education, political campaigns, governments and enterprises.
Click here for more details on PayPal merchant solutions >>
Click here to see how PayPal compares to other payment services >>
5. Authorize.net
Authorize.net has worked hard to build a reputation for security. Merchants using this service can add the Authorize.net Verified Merchant Seal to their website as a way of building consumer confidence. There are more fees associated with this service; however, there are also free features built-in such as Advanced Fraud Detection, Automated Recurring Billing, eCheck, as well as a Sync for QuickBooks feature.
Click here to learn more about Authorize.net >>
Click here to see how Authorize.net compares to other payment services >>