Nobody expected the robot revolution to happen like this! Rather than seeing our streets flooded with silver-faced androids or flying drones, our phones and email inboxes are flooded with automated calls, messages and spam that push our patience to the limit. Click or tap here to learn just how much web traffic is malicious and automated.
But our emails and phone calls aren't the only thing that's fake these days. New research has revealed a startling percentage of online reviews are artificial — and come from both human-run and automated accounts!
When we shop online, we trust reviews to help us make sound buying decisions. If the reviews are fake, how can we know whether the products we're buying are good or not?
Millions of online product reviews are totally bogus
According to a report from researchers at BestSEOCompanies, nearly 40% of online product reviews appear to be phony, automated or artificial.
Using dedicated analysis tools, the researchers were able to determine significant portions of online marketplaces, like Amazon, feature sellers marketing their products based on false testimonials — with some even written by the merchants themselves.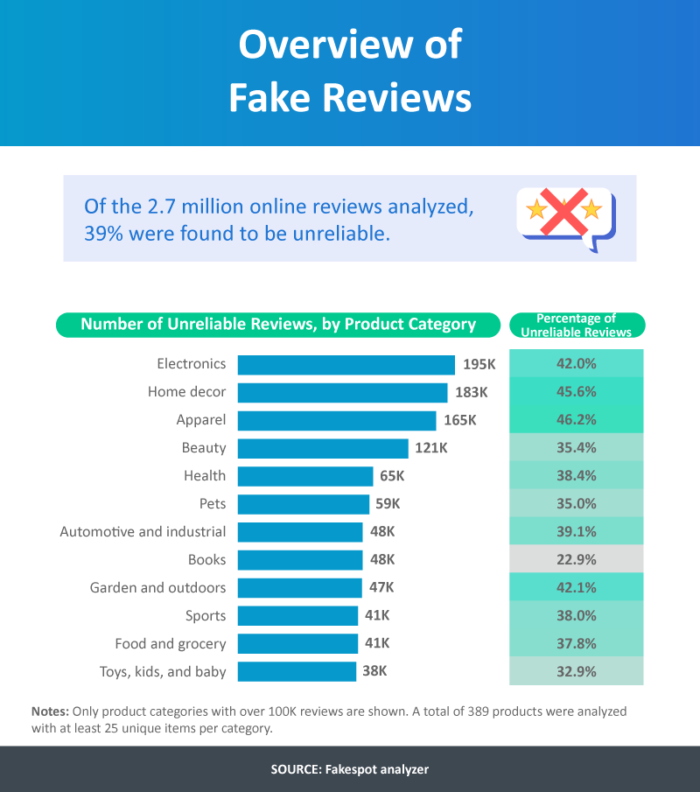 The researchers broke down their findings into categories to get a better idea of which products have the most deceptive reviews. Electronics dominated the field with more than 195,000 fake reviews. This constituted around 42% of all electronics reviews analyzed.
But electronics wasn't the category with the highest ratio of fake to real reviews. That dishonor goes to apparel, which pulled a staggering 46.2% of fake reviews. That means nearly half of all clothing reviews are fabricated or misleading.
Why does this matter?
To put it into perspective, consumer choices are often dictated by testimonials. It's the reason so many people turn to Rotten Tomatoes for movie recommendations before venturing off to spend money on movie tickets. Interestingly, Rotten Tomatoes has unique review issues of its own. Click or tap to see what Rotten Tomatoes scores really mean.
According to the research, 70% of people surveyed would "pay more money for products or services with higher review ratings." And this isn't isolated to online shopping either. But if reviews are rigged — whether by bots, paid stooges or the merchants themselves — how can anyone make accurate decisions when shopping online?
How to tell if a review is legit
BestSEOCompanies relied on a free piece of software called Fakespot to determine which reviews were real and which were not. Fakespot uses machine learning to scan and assess the accuracy of online reviews, and tests for various criteria like suspicious activity patterns and incentives.
But Fakespot isn't just some obscure piece of software only academics can access. It's free for anyone to use, and once you're familiar with it you can plug in the web addresses of any review to see if it's real or not.
Click or tap here to learn more about Fakespot, and start fact-checking your reviews before you check out.