Have you started making holiday plans yet? Thanksgiving is just a few short weeks away, after all.
The holiday season doesn't just mean it's time to get together with family and friends. It's also shopping season, which gets real serious on Black Friday. Crooks are always out in full force this time of year too. Tap or click here to learn about some Black Friday scams to watch out for.
Now that you know how to avoid scammers, it's time to get out there and shop. If you're looking to upgrade some electronics, Target and Best Buy are good places to start, but which one will better fit your needs? Don't worry, we'll give you some pointers.
Who gives you the most bang for your buck?
Best Buy and Target are major players in the world of retail when it comes to electronics. PCMag recently compared Black Friday deals from last year at both retailers and found them to be very similar.
Since Best Buy carries more big-ticket home theater options, it'll most likely out-duel Target in that market. So, if you want to upgrade to a mammoth 75-inch or larger TV, Best Buy is the place to go. If it's smaller ticket items, like electronic toys for kids, Target will be your go-to retailer.
Target is expected to release its Black Friday ad soon — very soon, maybe by the end of this week. Best Buy will most likely wait until next week to reveal its sales.
The good news is you don't have to wait until Black Friday to score some great deals. If you can't wait for those Black Friday specials, here are some great deals you can get right now.
No need to wait for Black Friday
Upgrade your home theater with a new TV
It's a good time of year if you want to replace your old TV with a newer, bigger screen. Here are a couple of smoking deals on TVs you don't have to wait for Black Friday to get.
Target has a super nice 55-inch LG 4K set on sale for under $700. That's $300 off the regular price. It comes with LG's ThinkQ AI technology that listens, thinks and answers.
Tap or click here to take a look at it and a selection of other 4K TVs Target has on special right now.
Need a little more screen with your 4K? Best Buy has a 75-inch TCL 4K Smart TV on sale for just $699. Again, that's $300 off the regular price.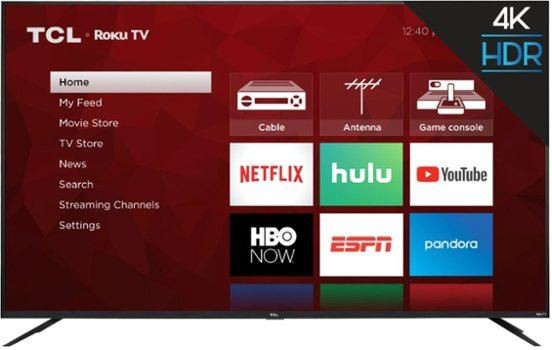 Tap or click here to see this amazing TCL TV along with other 4K TVs Best Buy has on sale.
Now's the time to jump on the smart speaker bandwagon
Retailers are going to have big discounts on smart home items this Black Friday, which means you might finally start turning your place into a smart home. And why not? The technology is amazingly convenient.
Once you have smart lights, you no longer have to search in the dark to find the light switch. Just turn them on with an app on your phone. Even better, get yourself a smart speaker and you can control all of your smart appliances with your voice. It really is the way of the future.
Here are a few smart speakers you can choose from. Grab one, or several, and place them throughout your home.
You can buy a Google Home smart speaker with Google Assistant right now from both Target and Best Buy for under $100. Tap or click here to get it from Target. For Best Buy, click or tap here.
If you want to start a little smaller, get a Google Nest Mini. You'll save a little coin, too. Both retailers have them for under $50 right now. Tap or click here to get your Nest Mini from Target. For Best Buy, click or tap here.
Now, if Amazon is more your style, you'll want to go with an Echo or Echo Dot. For the full-size Echo, it's gonna cost just under $100 from both retailers. Tap or click here to get one from Target. For Best Buy, click or tap here.
Like with the Google Home, Amazon has a smaller version of its Echo called the Echo Dot. You can pick one up for under $50. To buy one from Best Buy, tap or click here. To get one from Target, click or tap here.
Don't forget the kids
The holiday shopping season is all about the kids. What's better than seeing their faces light up Christmas morning as they tear open all those gifts?
And what child isn't going to be excited about a new video game to play with? Here are some systems to choose from.
The Nintendo Switch is built for personal, handheld play. Perfect for keeping the youngsters happy during road trips. You can get one from both Target and Best Buy for under $200.
Tap or click here to get your Switch from Target. For Best Buy, click or tap here.
For the more traditional video game system, check out the Xbox One. It's not just a gaming system, it also works as a 4K Blu-ray player. You can buy one from both retailers for under $400.
Tap or click here to get an Xbox One from Target. For Best Buy, click or tap here.
Komando.com may receive a commission for purchases made from product affiliate links that are contained in this article.