What can $11 dollars get you? Well, if you're lucky, it can get you a couple cups of coffee from the shop down the road. Or, it could buy you an inexpensive lunch on the run. It may even cover the cost of a cocktail at happy hour.
It seems like $11 should stretch further than that, but it doesn't. Most of our purchases come with price tags that are much steeper than $11 — especially when it comes to practical products that can make your day to day life easier. Find yourself shopping online more? Tap or click for Kim's DIY security tip for online shopping
Fortunately, not all useful products are costly. I've been digging around Amazon and found some steals on products you need in your life. From dust cleaner that really works to the K-cup coffee cleaner you never knew you needed, the products below are game-changers. You can put them to use right out of the box, and they'll make your daily tasks easier without breaking the bank.
1. Universal dust cleaner that really does the job
It doesn't matter how clean you are. If you use a computer or a device with a keyboard, you're going to collect dust in the cracks. I steer away from most dust cleaners — they never work right — but I am intrigued by this dust-cleaning product that's less than $8.
This ColorCoral universal dust cleaner caught my eye because it actually works. This cleaning gel can pick up annoying dust and other particles that are left behind on electronics. It doesn't leave any residue behind and it can be used anywhere — keyboards, car vents, cameras, printers, telephones, calculators, speakers, air conditioners, TVs, and any other appliance.
2. I use these for a quick brow cleanup
I don't always have time to make it to the salon for eyebrow maintenance but I've found a quick alternative that works. This Schick Silk Touch-Up Multipurpose Exfoliating Dermaplaning Tool is both affordable and a quick way to clean up my brows.
Dermaplaning has become pretty popular over the last year, and these Schick tools do it all. You can use them to remove the fine hair on your face or swipe them across your brow for fast eyebrow cleanups in between salon visits. They're disposable, easy to use, and will save you a visit to the waxer. That's a win to me.
3. A drone landing pad? Yes, protect your drone's camera and electronics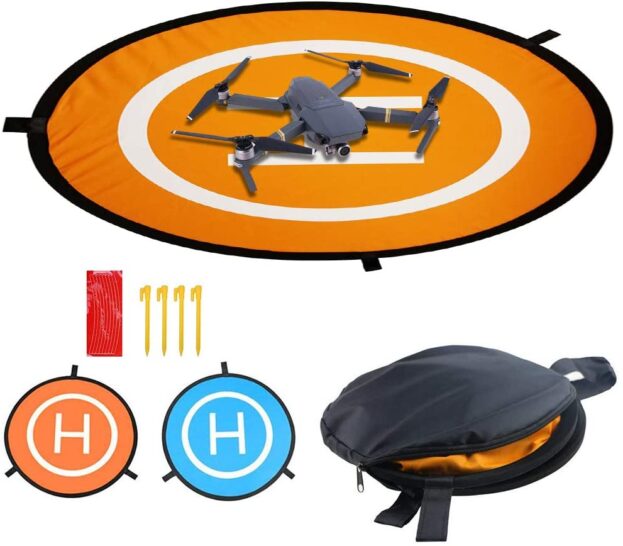 Trying to hone your drone landing skills? This YANSHON drone landing pad may help. It's made specifically for drone landings and at under $9, it's a steal. Waterproof nylon material? Reflective landing strips? Check. Landing nails? Check.
This landing pad is portable, lightweight, and easy to spot when night flying or flying in inclement weather. The landing nails keep it from getting lifted by the wind, and the bright orange color will help you easily locate your drone, wherever you place it. It's a great, inexpensive gift for any drone owner, or you can splurge on it for yourself instead.
4. When's the last time you cleaned your K-Cup coffee maker? I thought so.
Can you remember the last time you cleaned your K-Cup coffee maker? Tsk, tsk. You need to do that on a regular basis, you know, or it could cause serious issues with your machine.
You might want to remedy that issue ASAP, and you can do that with this Urnex K-Cup Cleaner. It works with all Keurig single-cup machines to help prevent flavor from transferring from different pods you're using. It also keeps your Keurig in tip-top shape and makes your coffee taste better overall, which is important to those of us who rely on coffee to get by.
5. Don't scratch your valuable phone, monitor and TV screens
Remember the first time you noticed a scratch on your new phone display? That isn't a great feeling. I hate seeing scratches on my electronics or valuables, which is why I like these Endust for Electronics surface cleaning wipes.
These wipes are super easy to use and can remove dust and dirt that cause scratches on your electronics. They can also remove those stubborn smudges, fingerprints, oils, and other annoying residue left behind from swiping or tapping your electronics. Clean and protect? That's my kind of product.
6. I put this sauce on EVERYTHING
If there's one sauce I keep on hand at all times, it's this Terrapin Ridge Farms Sriracha Aioli. Seriously — I put this sauce on everything.
It's a creamy aioli with Sriracha sauce, and the flavor is perfect. The combination of the heat of red chiles, the dash of sugar and hint of citrus are a perfect mix for sandwiches, chicken, fries, or just about anything else. At about $6, it's worth every penny and you should grab some. You can thank me later.
7. I use these to clean the dishwasher every other week.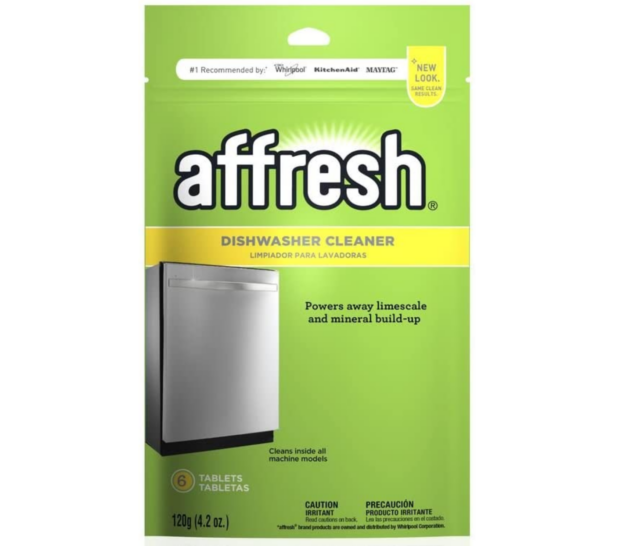 Your dishwasher may get your dishes clean, but it can't clean itself. If you aren't regularly cleaning your dishwasher, you're going to end up frustrated by the old specks of stuck-on food and grime that are left on your dishes after a full cycle in the dishwasher.
I like these Affresh Dishwasher Cleaner tabs to get the job done. They're easy to use, inexpensive, and dissolve easily to remove odor-causing residue in your dishwasher. All you have to do is toss them in the dishwasher once a month and let it work its magic. For under $6, they're worth the investment — especially since you won't have to use any elbow grease to get things clean.
8. Let's just say you know you need this in your home
Bathrooms can smell terrible. We all know this, but not everyone takes the time to try and cut down on those issues. You should, though — and this Poo-Pourri Before-You-Go Toilet Spray can help out.
You need this spray in your house. All you have to do is spritz the bowl before-you-go and no one else will ever know. It comes in a ton of different scents, but I like the original scent, which is citrus-based and made with a blend of lemon, bergamot, and lemongrass natural essential oils.
9. I am obsessed with these reusable cable ties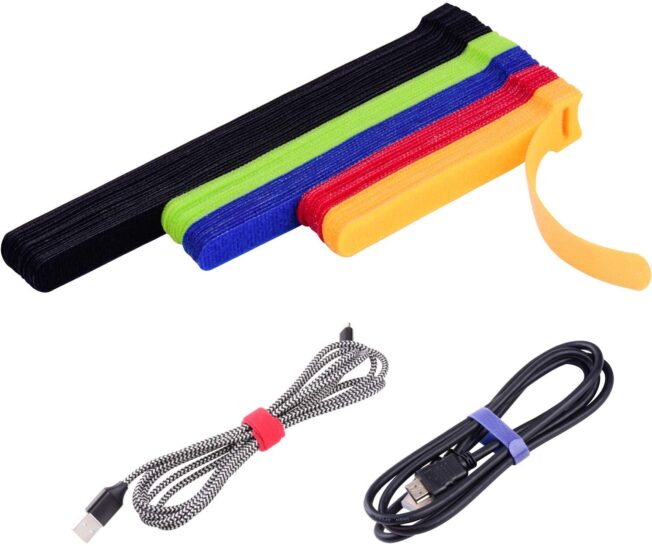 Have you been using disposable cable ties? I've been minimizing the waste with these OneLeaf 60-piece reusable cable ties and it has been a complete game-changer for me. I'm officially obsessed with them.
These cord fastening cable ties help keep all of my cables tidy for my electronics. No more tangled cords for me! This bundle comes with a number of different sizes and colors, too, so you can use them on cables of all sizes. They don't fray or come loose, and you can use them again and again. At under $10, they're a steal.
10. The ultimate way to make salmon, chicken and steak
Grillmasters: I've found the best way to make any protein you want on the grill. Have you seen these Wildwood Grilling Cedar Grilling Wraps? These grill wraps will infuse your food with the smoky flavor of cedar and take your meals to the next level.
What I like about these grill wraps is they not only add an immense amount of flavor to food, but they're versatile and can be used in the oven or on the grill. They pair well with just about anything: salmon, chicken, seafood, vegetables, or anything else you can dream up.
11. Functional universal car vent mount for hands-free driving
You need to go hands-free while using your phone in your car. There may be laws in your state prohibiting you from holding your phone while driving, but even if there aren't, it's the safest way to go.
I found this Car Phone Mount Air Vent Cell Phone Holder with a price tag of under $9 that will help you go hands-free for the price of a couple cups of coffee. It's made of non-slip silicone and easily attaches to the air vent in your car to secure your phone. Plus, it fits most newer phones, including Samsung Galaxy phones and iPhones.
Bonus: Smart stickers let you know what's really inside the box
Trying to figure out what's in the box? These ToteScan Pre-Printed Peel & Stick Labels make it easy to keep your storage bins organized without having to use a permanent marker or other methods to label them.
All you have to do is add one of the sticky labels to the outside of your storage container or box and then scan the label. You can add notes about what you stored in the box, making it easy to locate what you're looking for. Need to find those Halloween decorations in a sea of storage containers? Easy. All you have to do is scan the labels until the right one pops up.
By clicking our links, you're supporting our research, as we may earn a very small commission. Recommendations are not part of any business incentives.