We already know it's best to stay inside nowadays. That's why so many people are ordering essential items online, from toilet paper to pills.
Ordering prescriptions online can be a huge time-saver, too. No one wants to waste an hour in a small, cluttered pharmacy full of strangers who might have been exposed to the virus. Luckily, you have many fast and easy options for delivering drugs to your doorstep.
From Walgreens to CVS, big-name pharmacies are offering efficient ways to order your medicine from the comfort of your computer. Tap or click here to find out how. But if you really want to save big, consider branching out. Here's how you can stay safe navigating the world of online medicine.
Red flags to watch for
While looking for prescriptions online, make sure you don't get tricked by fake pharmacies. If you aren't careful, you can get counterfeit pills that could worsen your condition. Here are some signs you're shopping at an illegitimate website:
The prices are too low to be true. Chances are if the pills are priced far lower than you would usually pay for them, that's because the website is selling pills with wrong or harmful ingredients.
You don't see a pharmacist's contact information. All online pharmacies have a U.S. state-licensed pharmacist whom you should be able to contact. Look for a 1-800 number.
It doesn't require your prescription information. Legitimate pharmacies need to get proof from your health care provider before they can sell you prescriptions.
There's no licensing information on the pharmacy's web site. This is a surefire sign that the website you're browsing could be illegitimate. Verified pharmacies will include licensing information.
The pharmacy is located outside of the U.S. Scammers often claim they're based in Canada. In reality, they could be in an entirely different country. That's why it's crucial for a website to have a valid American street address.
In order to avoid scams or counterfeit pills, a good rule of thumb is to stick with well-known websites and pharmacies. Also, you should always look for the VIPPS seal of approval. That symbol represents Verified Internet Pharmacy Practice Sites, which has strict criteria for online pharmacies.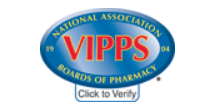 If you see this symbol on a website, that means the pharmacy is in the U.S., has a confirmed physical location, and gives FDA-approved medication to patients with verified prescriptions.
Now that you've trained yourself to recognize potential scams, here's what you can do to get affordable medication online.
What are my options?
Luckily, you have many options when it comes to ordering prescriptions through the web. No health insurance? No problem. Each of these sites offers coupons and other ways to save money on the medicine you need.
GoodRx
GoodRx is a free website that finds the lowest prescription prices. All you have to do is go to the website and search for your medication. You'll come to a new page with a drug description. Scroll down and you'll see free coupons, savings clubs, and mail-order options.
Here's what it looks like:
Click on "Mail Order," and you'll see a list of prices. Hit "Buy Online" and start the checkout process. You'll have to log on and ask your prescriber to send the Rx through e-prescribe or fax. From there, your pills should arrive within 1-5 business days.
GoodRx has already helped one of our writers save money on prescriptions.
Blink Health
Blink Health is another option that helps you compare drug costs. It's a discount prescription service you can use in three easy steps:
Type your prescription name and dosage in the search bar.
Pick your price and delivery option.
Pay and provide your prescription information.
After that, your medication will be delivered in 4-6 business days.
There's one unique factor that makes Blink Health stand out: its telemedicine services. Blink Health has online medical doctors you can connect with who can prescribe you treatment for acid reflux, cold sores, hair loss, high cholesterol and more. According to the website, your first consultation only costs $5.
RELATED: The CDC says to stockpile your meds – here's tech to help
SingleCare
SingleCare is another website that tracks prescription prices by area. It also offers free coupon cards you can save by text or email.
When searching for prescriptions, you'll see a home delivery option right under the drug description:
Click "Get Started," and you'll be taken to a new page with empty fields for patient info, medical history, prescription status, shipping info, and payment details.
After your pharmacy or health care provider has verified your prescription, you should get your order within one or two days.
RxSaver
Similar to GoodRx, RxSaver finds free prescription discounts. When you search for medication, you'll see a "Get Delivery" option. Click on it, and you'll be prompted to create an account. From there, you can input your shipping and prescription information to get your pills delivered to your home.
If you want to stick with this option for the long term, RxSaver offers a RxAdvocacy Program that claims it will save you thousands of dollars on drugs. For $50 a month, you'll join the ongoing program, which provides necessary medications like Cymbalta, Nexium, and Lyrica on an ongoing basis.
As with the other options on this list, RxSaver can't be combined with insurance, but its prices can be cheaper than a co-pay.
RELATED: If you forget to take your prescription pills, Alexa can now remind you
You'll find a range of different prices depending on the drug you're looking for. Here are the delivery prices for a few common medications:
As you can tell, some sites won't deliver certain medications. If you're ever having trouble filling a certain prescription online, try another site — you're bound to find it somewhere.
Tips for getting the best deal
Shop around. Different sites will offer the same drug at different prices.
If you have multiple prescriptions, you might be better off getting one from one site/pharmacy and another elsewhere. It's not as convenient but could save you money.
Be smart about using your insurance. In some cases, you may find your medication for a cheaper price not using insurance.
Compare coupon prices on different websites.
Switch to generic medications, since they are often cheaper than brand-name drugs.
In today's world, the last place you want to visit is a pharmacy where there could be tons of sick people. Instead, take advantage of the options we've given you in this article and you can get all of your prescriptions safely, without having to leave home.