Many of us are still working from home due to the pandemic. That means most meetings and calls are still being done remotely, too.
While there are tons of video meeting platforms to choose from, most people are using Zoom to get work done during the pandemic. Zoom skyrocketed in popularity recently because of how easy it is to use. Easy doesn't always mean secure, though. Remember Zoom bombing? That was just one of the issues that popped up after the pandemic hit.
Nobody wants to deal with the Zoom bombing or the other security issues that can come with using the platform — especially in a business capacity. Luckily, a new feature that was just rolled out for Zoom that might help curb some of those problems. Let's take a look at what it is.
Finally, a way to keep Zoom bombers out
Zoom has finally rolled out end-to-end encryption for its video meeting platform, and it includes free calls. Plans to add this feature were first announced back in May, but the actual encryption capabilities finally rolled out this month.
Known as E2EE, Zoom's end-to-end encryption is available for free right now across the board. Whether you're using a free Zoom account or a corporate account, you'll have access to the E2EE meetings for free for the first 30 days as part of a technical preview.
You can host up to 200 participants in an E2EE meeting on Zoom and it will provide increased privacy and security for your sessions. You have the option of using E2EE from Zoom's desktop client or mobile app or from a Zoom Room.
Prior to this rollout, Zoom was using transport encryption as a security measure. But it didn't support end-to-end encryption for video and audio content in the traditional sense.
Unlike transport encryption, E2EE will prevent the interception of decryption keys that could be used to monitor meeting content — which is huge for users who are concerned with security and privacy on Zoom calls.
According to a recent blog on the rollout, E2EE can be used whenever you want to enhance privacy and data protection for meetings. It adds an extra layer to mitigate risk and protect sensitive meeting content — but you may want to pick and choose when it's appropriate because there is a trade-off.
If you opt to use E2EE, you won't have the same features you're used to on Zoom calls. While E2EE provides added security, it limits Zoom functionality quite a bit. If you enable Zoom's E2EE in your meetings, you'll be disabling the ability to join the meeting before the host.
You'll also negate the option for cloud recording, streaming, live transcription, Breakout Rooms, polling, 1:1 private chat and meeting reactions, too. That's a pretty big catch.
RELATED: Zoom adds 2FA — here's how to enable it
Still, the E2EE trade-off could be worth it for some — especially if you're dealing with sensitive or proprietary information during meetings. And this is just Phase 1 of 4 for the E2EE rollout, too.
Some of the lost features may be added back in down the road. In fact, Zoom already has plans to roll out better identity management and E2EE SSO integration as part of Phase 2, which is tentatively road mapped for 2021, according to the blog.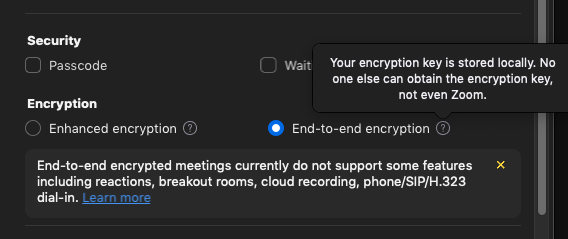 Setting up E2EE on Zoom
To enable E2EE Zoom encryption for both desktop and mobile:
Sign in to the Zoom web portal. (You'll have to do this for both desktop and mobile because encryption can't be enabled through the Zoom app.)
In the navigation panel, click Settings.
Click the Meeting tab.
Under Security, verify that Allow use of end-to-end encryption is enabled.
If the setting is disabled, click the toggle to enable it.
Under Security, choose the default encryption type.
Click Save.
Verifying Zoom encryption:
Once you've joined a meeting, check for the green shield icon in the upper left corner of the meeting window.
The meeting host can also read the security code aloud and participants can verify their codes match.
That's it, your Zoom meetings are now protected with end-to-end encryption. There's always a chance cybercriminals will find their way to mess with any online programs but E2EE is a great protector to start with. Hopefully, it keeps those Zoom bombing creeps away for good.