As we pack our homes with smart devices, many of us may not realize that they are just as vulnerable to viruses and malware as our computers and phones. With one tweet, Samsung woke up a whole lot of people to that possibility.
In the now-deleted tweet, Samsung advised people to scan their Samsung smart TVs for viruses and other security threats. That set off a frenzy on Twitter. Did something happen? Were Samsung's smart TVs being hacked? Were viruses running amok on smart TVs?
The answer was no, but it did start a discussion about the overall vulnerability of smart devices in our homes.
Samsung tweet startles smart TV owners
In its now-deleted tweet, Samsung stated that Wi-Fi-connected smart TVs were susceptible to viruses. It then gave a link to a video showing its smart TV users how to scan for viruses.
The tweet caused a mini-storm of concern on Twitter from Samsung smart TV owners that only increased when the company removed the tweet.
Later, when a user asked through Twitter whether a threat had prompted the warning, a Samsung customer service rep said the link to the video had been posted to educate customers and help them with troubleshooting.
In an email to Komando.com, Samsung explained why the original tweet was posted and later taken down.
"We want to clarify that this was simply a way to educate consumers about one of the features included in our products and was only posted because we believed that consumers would find it informative," Samsung stated.
The video is still on Samsung's website and checking your smart Samsung TV is pretty easy.
Using your remote, go to the settings menu and click General.
From there, click on System Manager.
Scroll down and click Smart Security.
Then click Scan.
The TV will quickly scan for any viruses.
And you'll get your Scan results. That's it.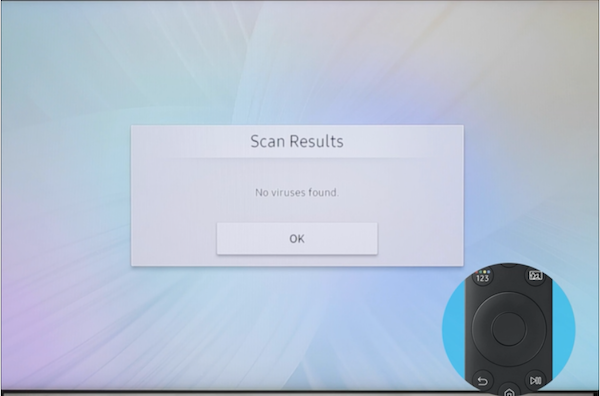 If you own a different model of smart TV, be sure to check your settings to see how scanning is handled. Or, you could go to the manufacturer's website or talk to a customer service representative.
Related: How to stop your smart TV from spying on you
Yes, all your smart devices are vulnerable
So how could your TV possibly be hacked? Most smart TVs are Wi-Fi enabled with a built-in wireless adapter. Wi-Fi networks, even the one in your home that you think is secure, are vulnerable to hackers.
Because of that vulnerability, all of your home wireless devices — smartphones, tablets, computers and voice assistants — are at some risk of being maliciously hacked. So what can you do to protect yourself?
The most important step to take is checking your router's security.
When you buy a router, it comes with a default password. Make sure to change that. Also, keep your router's software updated and check your DNS settings. You can find more information on protecting your router at Komando.com.
How worried should you be about your smart TV being hacked? Some experts say it's more likely to happen on older smart TVs, but if you own a newer model, there's not much to worry about, Samsung's tweet notwithstanding. In fact, Samsung was criticized by users for putting the responsibility of securing the TV on consumers instead of running automatic scans.
If you're still worried about your smart TV being hacked, some experts say that for peace of mind you can simply disconnect the TV from Wi-Fi and use a streaming set-top device such as a Roku, instead.