The heart of your home is taking a seriously cool turn. The kitchen is already your most prized room.
It's where everyone gathers, whether you're toasting waffles for the kids or entertaining dozens of friends for the holidays. That's why people are spending thousands of dollars to upgrade their kitchens.
You may have spent loads of money on a granite counter top or wood-looking tile floors. You may be one of the first people with a Wi-Fi-connected refrigerator. Those are particularly useful for technicians to remotely diagnose problems with it.
That's nothing, though. The next wave of kitchen upgrades is here and you'll be really proud to show off these internet-connected appliances. They are beautiful, unusual and really good at what they're designed to do, whether it's to keep food fresh, to cook or keep your dishes clean.
Most of Samsung's Chef Collection appliances are wall mounted, like your TV. So, they're sleek and fashionable. Some are also connected to the web.
Bonus: 3 crazy smart home gadgets you won't believe exist
Microwave Ovens That Can Bake
Traditional microwave ovens have their limits. You can heat up a mug of coffee or last night's dinner. But you typically don't use it to cook something, like meat. Unless you like your chicken a grayish white and flavorless.
Samsung's new microwave ovens can heat things up about 30 percent faster than a typical microwave. They can also toast food, like a crispy piece of fried chicken. They can grill meat and bake a cake.
Note: Samsung's new Chef Collection is available in stainless steel and black stainless steel (below).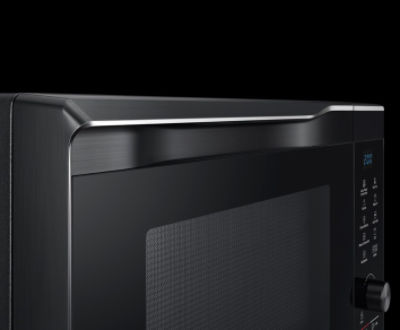 Refrigerators Designed Just for You
Kitchen appliances are evolving so fast that connected fridges with internet displays on the door feel old hat, even though they were unheard of just a few years ago. Now, Samsung's Chef Collection has a slew of new innovations.
Those include stainless steel interiors that help keep your food cool. It also includes see-through glass interior door-in-door designs. You can open the door and not let the cold air out. Instead, you look through a glass door to see what's in there.
You can also switch between refrigerator and freezer, in a four-door design, with the touch of a button. See below.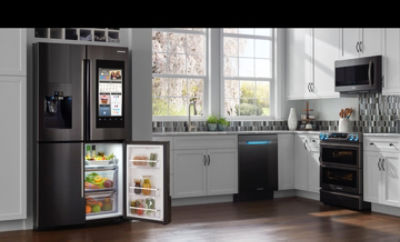 Look Good When You Cook
A beautiful stove and oven? Who would have thought we'd be talking about beautiful ranges a few years ago?
But Samsung's new stoves and ovens are just that. They'll also make your life a lot easier.
For example, you can bake two dishes in your oven at two different temperatures. Everything is digital, too, whether you cook with gas or electric. Among the innovations that chefs and home cooks will love: digital, precise temperatures.
Shown below: Virtual flame. It lets you cook with electric but gives you the visual clues of a gas flame.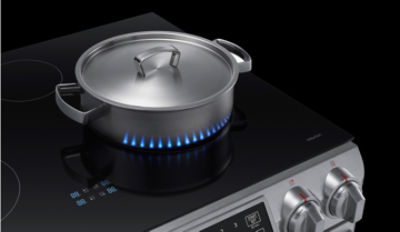 Dishwasher with Corner-to-Corner Washing
The best part about cooking is eating. The worst part? Doing the dishes, of course.
Despite innovations in dishwashers, it's still a hassle to load and unload the dishes. That won't change much with Samsung's Chef Collection. However, you won't have to re-clean dishes or pre-soak dishes as often as you do now.
Some of the coolest innovations include a waterfall-type cleaning. The water flows down in sheets all the way to the corners of the dishwasher. You can also set zones, like hotter and stronger, within the dishwasher for harder-to-clean pots and pans.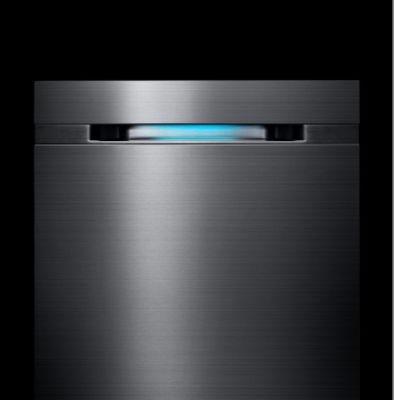 More stories you can't miss:
5 ways to upgrade your old car with new tech