Tap or click to listen to the latest from Kim in just one minute.

Do you still answer calls when you don't recognize the phone number? With the amount of robocalls skyrocketing, just picking up on an unknown caller can be risky.
The Federal Trade Commission (FTC) said that it received 400,000 robocall complaints every day last year. Depressing, isn't it!?
Sadly, mobile carriers have the power to help stop these annoying and unwanted calls but have yet to do so. Until now. Verizon is finally stepping up to the plate to take a swing at robocallers.
Verizon to roll out spam and robocall blocking features
Over a year ago, Verizon added call and spam screening for wireless customers at no additional charge. The customer just needed to subscribe to Verizon's Call Filter service.
This service identifies spam calls and unknown numbers and shows a risk meter, displaying the level of spam risk associated with a call. If the call meets the company's spam criteria, it will show up on the phone labeled as spam.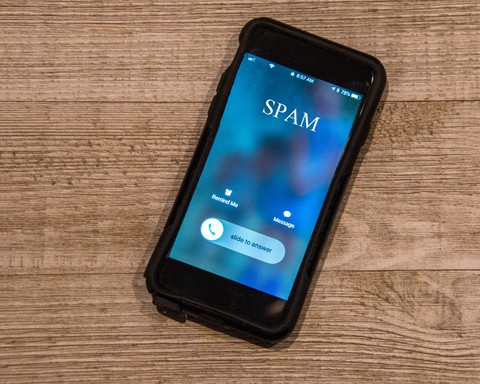 But that hasn't been enough to stop this epidemic. Which is why Verizon is upping its robocall blocking game.
The company announced a couple months ago that it's been working on new spam and robocalling features. It's expected to make a formal announcement by the end of this week on how customers can receive and use the new tools.
Verizon said it's already identified nearly 300 million numbers associated with spam and robocalling. The new features will work for both iPhone and Android gadgets that support them.
Let's wait and see if they will help put a major dent in the number of spam and robocalls we receive every month. Until then, there are ways to take matters into your own hands.
More ways to fight robocalls
Don't answer calls from unknown numbers – This is the most obvious and simplest precaution. Let unknown calls go to voicemail. If it's from a real person and not a scam, they will leave a message and you can get back to them later.
Subscribe to the Do Not Call Registry – This is one of your first moves to make. Tap or click here to get your number into the National Do Not Call Registry. After your number is on the registry for 31 days, you can report unwanted sales calls. Unfortunately, the Do Not Call Registry is not the end-all-be all call blocker that we'd like it to be.
Hang up – If you answer and the caller (often a recording) asks you to hit a button to stop receiving calls, just hang up. Scammers often use these tricks to identify and target live respondents. There's even a "can you hear me" scam that you need to know about.
Block specific numbers – If you're constantly getting spam calls from the same phone number, block it. Many mobile carriers these days give you the option to block specific callers.
With most carriers, you just tap on the information icon next to the number in your recent calls list and you'll see a block this caller option. If you don't see it, check with your mobile company to find out how the process works with them.
Use a call blocker – Ask your phone service provider if it offers a robocall blocking service. If not, encourage your provider to offer one. You can also visit the FCC's website for information and resources on available robocall blocking tools to help reduce unwanted calls.
Stopping all unwanted calls is nearly impossible. Even after you've registered your number with the Do Not Call Registry, you may still receive calls from certain organizations. Charities, political organizations and telephone surveyors are allowed to call, for example. Tap or click here to see FTC rules on who may still call you.
However, taking the steps in this article will help cut back the number of spam calls that you receive. It could save you from falling victim to a scammer. Remember to share this article with your friends and family so they can block those annoying calls, too.