There's no getting around it: Your personal information is floating throughout cyberspace. If you shop online or are merely browsing, your information is quietly being gathered.
Many companies then sell that information to data brokers who use it to build reports on you based on public records and the data they purchased. If that's not scary enough, anyone can buy a report on you.
But you can opt to have your data removed from the data brokers' sites. We'll show you how you can pull your information out of one popular search site and provide you with some workaround tips.
Opt out of this site ASAP
Companies that send emails to the general population can avoid being categorized as spam by making sure there is an unsubscribe link at the bottom of the message. For data brokers to operate they must provide the public with the option to opt out of their databases.
But these sites can make it hard to find where you can opt out. One of these tricky sites is Peoplefinders, which is among the nation's most popular people search sites.
Related: You won't believe why the DMV is selling your personal data
Finding the opt-out option takes a few steps. First, go to Peoplefinders' home page, peoplefinders.com, and scroll to the bottom. Once there click on FAQs.
Note: Can't find the FAQ link? Click or tap here to go right to the FAQ page.
Scroll down until you get to the Privacy section and click "How do I remove information from your website?" Click that link and you'll see more information but just head straight to the "Click Here" link.
Finally, you're on the opt-out page. We'll make it a little easier for you: Skip all those steps, and tap or click here to go straight to the opt-out page.
When the instructions don't work
On the opt-out page, you'll see an illustration of how to get the URL you will need to correctly fill out the form under the illustration.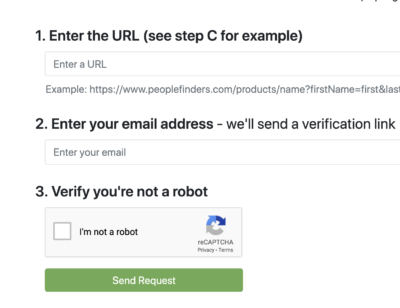 We tried deleting information using the illustrated instructions. Step A is easy, just plug in your name. But Step B? Not so much. We were supposed to see a green button that simply said "View." Instead, our green button was labeled "View Details."
We clicked on that button and it began running a report on us. We needed the "View" button because that's the only way to get to Step C, which holds your information page's URL. We needed that link in order to complete Step 1 of the opt-out form below.
Finally, we got the idea to hover our cursor over our name and then we right-clicked our mouse and selected "Copy Link Address" from the pull-down menu.
With fingers crossed we pasted what we had just copied. The URL was configured like the example below the Step 1 box. Then we simply put in our email address, assured Peoplefinder that we weren't robots and hit "Send Request."
The site told us to look in our inbox for an email confirming that we were opting out. When we received the email we clicked the "Remove Profile" link that contained our name and in 48 hours we were out!
Related: How to opt-out of the most popular people search sites
Some data broker sites are easier to navigate than others, for example, their instructions are correct. Some take a quick phone call, while others end up asking you for more information to "verify" who you are.
And sometimes, you opt out of one site and find you've been opted out of other sites because they are connected. Yes it takes time and it can be frustrating, but remember, you're fighting for your right to privacy.