Your personal information is up for grabs by anyone who wants it. People search sites gather data from public sources such as court, census, marriage and military records.
Anyone from a jealous ex to a scammer can use people search sites to find out more about you. It's a free for all. Fortunately, you can fight back. Tap or click here for our growing list of people search sites with detailed instructions on opting out.
For this entry of our weekly Opt-Out Tuesday series, we'll show you how to remove yourself from TruePeopleSearch.
Here's the backstory
Don't ever pay for any people search service. Most of these sites are scammy in nature. You may think you're paying for one report and find that you've been roped into recurring charges.
And never pay to remove your information from any site. This process must be provided for free.
But be careful which links you click when opting out. They're often ads that lead you to another site that requests payment. We'll provide accurate links to remove yourself from these sites with each Opt-out Tuesday report.
Do you have older relatives who may not know about these sites? While you're opting out yourself, why not do the same for them? Just type in their information as you would your own, and follow our steps to completion.
RELATED: Safe Search: 3 ways Incognito mode can save you
100% free, 100% invasive
TruePeopleSearch has a mission statement on its website: "Create the most powerful people search service in the world and give it away for free." How nice of them.
This site offers access to billions of records, including full names, addresses, phone numbers, email addresses, known associates and more.
You'll want to get yourself off this people search site ASAP.
How to delete your information from TruePeopleSearch
Go to truepeoplesearch.com/removal.
Fill in your email address and check the box confirming your request to be removed.
Complete the CAPTCHA.
Select Begin Removal.
Fill in your name and city/state, then hit the search button.
Find your record in the list and select View Details.
Scroll down and select Remove This Record.
You'll be taken to a page informing you that an email was sent to you with a link to complete your removal request.
Open the message in your inbox and tap or click the link.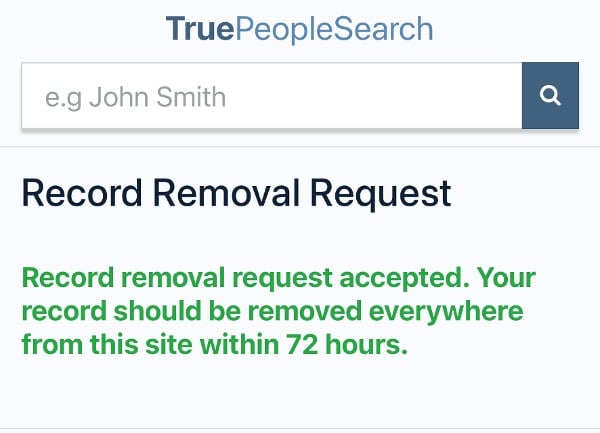 You'll be taken to a final confirmation page informing you that your record will be removed from the site within 72 hours.
Fill out the contact form at truepeoplesearch.com/contact if you need more help.
This simple Android location setting saves your privacy
Privacy Warning: What Gmail, Yahoo and Outlook get for providing you with a free email account