It's a fact that Big Tech companies collect your data to build an online profile and track your shopping and browsing habits. It doesn't end there, however. Other companies sell your information to anyone interested.
People search sites scour public records to get information on you. This includes your full name, address, phone number, family history, police records, relationships, employment information and more. Tap or click here for our growing list of invasive people search sites. We're at over 30 entries and counting!
For this week's entry in our Opt-Out Tuesday series, we'll show you how to remove yourself from Social Catfish.
Here's the backstory
Don't ever pay for any people search service. Most of these sites are scammy in nature. You may think you're paying for one report and find that you've been roped into recurring charges.
And never pay to remove your information from any site. This process must be provided for free.
But be careful which links you click when opting out of people search sites. Links they provide are often ads that lead you to another site that requests payment. We'll provide accurate links to remove yourself from these sites with each Opt-out Tuesday report.
Do you have older relatives who may not know about these sites? While you're opting out yourself, why not do the same for them? Just type in their information as you would your own, and follow our steps to completion.
RELATED: Here are the five worst and best tech gifts when it comes to privacy
Helping others find you
Social Catfish has a mission: To help you stay safe online by managing your data or letting you confirm if a person you're talking to is who they say there are.
This is laughable since the site lets anyone find information on you through a search of over 200 billion records. A scammer, hacker or jealous ex can use this site to discover your residential and business phone numbers and addresses.
Remove your information now to prevent this.
How to opt out of Social Catfish
Use the dropdown menus to refine your search by state, city and age range, continuing as you go.
You'll get a list of records. Find the one matching yours and right-click the See Complete Results button and copy the link. Make sure you're copying the link, not clicking on it to open another page.

If you're on mobile, tap and hold the button and copy the link.

Now go to socialcatfish.com/opt-out.
Paste the URL you just copied from your profile in the field marked Enter the URL Here.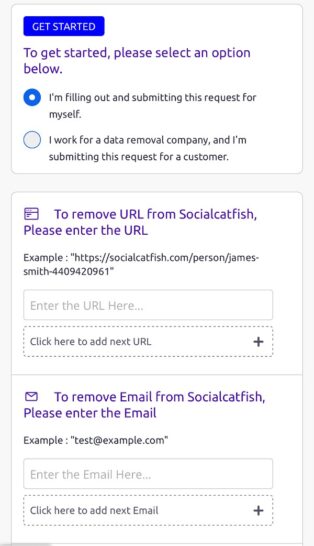 Enter your email address at the bottom of the page and complete the Captcha.
Select Remove This Listing and you'll be taken to a confirmation page.
Check your email for a message from the sender SocialCatfish with a link to confirm the removal.
Select the link for final confirmation. Allow a week or so for your information to be removed from the site.
Go to the contact page at socialcatfish.com/contact and fill in the form if you have any additional questions or concerns.
Keep reading
Protect your privacy, your cell phone number and email address