Companies are collecting data on you if you use the internet. This information targets you with ads or is sold to third parties.
Getting hit with an ad that relates to something you were searching for is creepy, but sometimes they get it wrong. This can be damaging to your mental health. For example, if you're a recovering alcoholic, you don't need to see ads for local bars. Tap or click here to opt out of advertising for any topic on Google-based platforms such as Gmail, YouTube and Instagram.
People search sites collect your personal information and make it available for anyone who cares to look. For this week's Opt-Out Tuesday, we'll show you how to remove yourself from peekyou.
Here's the backstory
Before we get to the steps, here's a quick reminder: Don't ever pay for any people search service. Many of these sites are scammy in nature. You may think you're paying for one report and find that you've been roped into recurring charges.
Don't pay to remove your information from any site, either. This process must be provided for free.
Finally, be very careful which links you click. They're often ads that lead you to another site that requests payment. We'll provide accurate links to remove yourself from these sites with each Opt-out Tuesday report. If a button or link redirects you to another site, your best bet is to close out and start again.
It's legal
People search sites collect and sell every detail they can find online. This includes basic information such as your name, address and phone numbers. They can dig deeper to get your birthday, education and employment histories, property records, financial details, court records and more.
Since this information is readily available from public records and data brokers, it's all legal. Drat! Thankfully all is not lost. You can request to remove your information from these sites.
RELATED: How to remove your address and phone number from Google search results
Stop peekyou from peeking at you
As with any people search site, peekyou advertises its services as a convenient way to find your friends and relatives. We know better. We know that hackers, scammers, stalkers and anyone with a connection to the internet can use this information to do as they please.
People search sites should have a process to remove your records, though it's not always straightforward. You might have to repeat the process if your records appear under different names (due to changing your name or a typo). You may also have to repeat the process multiple times before your information stops appearing in searches.
Removing yourself from peekyou
While there is an opt-out page on peekyou, you'll want to find yourself in the search results to make sure you're removing your actual information:
Go to peekyou.com and enter your first and last name and state, then click the search button.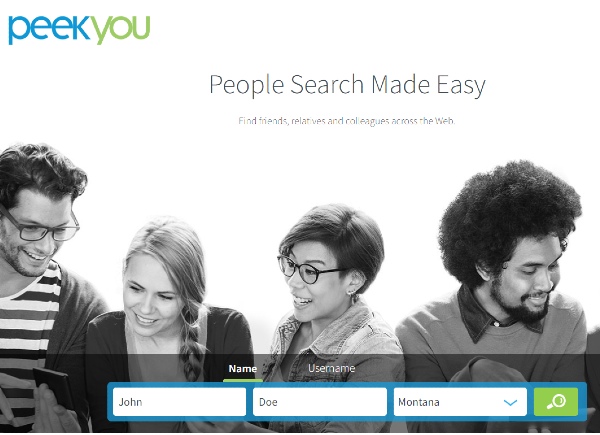 You'll get a list of matches near the top of the page. Click on the match that applies to you.
On the next page, click Opt Out in the upper-right corner of the box containing your information. It's gray and hard to see, but it's there.
You'll be taken to an opt-out form with a Unique ID for the profile you selected already filled in.
Enter your email address and complete the CAPTCHA.
Read and confirm the agreements and click submit.
You'll get an email with a confirmation link. Click the link and you'll be taken to a confirmation page.
Alternatively, you can go to peekyou homepage and scroll down to the bottom of the page and select Do Not Sell My Personal Information. From here, you can enter your personal information and URLs linking to any matching profiles on the site. Use the above steps to complete your opt-out request.
If you need to contact peekyou, send an email to info@peekyou.com.
Keep reading
One tool to keep your online activity PRIVATE and opt out of intrusive cookies
Opt-Out Tuesday: Remove yourself from creepy people search sites