While tech companies collect your data to build an online profile and track your shopping and browsing habits, other companies sell it to whoever is interested.
People search sites search public records to get information on you. This includes your full name, address, phone number, family history, employment information and more. Tap or click here for our growing list of invasive people search sites.
For this week's entry in our Opt-Out Tuesday series, we'll show you how to remove yourself from MyLife.
Avoid people search sites at all costs, especially if it costs you
Don't ever pay for any people search service. Most of these sites are scammy in nature. You may think you're paying for one report and find that you've been roped into recurring charges.
And never pay to remove your information from any site. This process must be provided for free.
When opting out of a people search site, be careful which links you click. They're often ads that lead you to another site that requests payment. We'll provide accurate links to remove yourself from these sites with each Opt-out Tuesday report.
Do you have older relatives who may not know about these sites? While you're opting out yourself, why not do the same for them? Just type in their information as you would your own, and follow our steps to completion.
RELATED: Data-hungry apps: These are the worst for your privacy
How MyLife came to life
MyLife launched in 2008 due to a merger between two other search sites: Reunion.com and Wink.com. The site states that it "currently has over 325 million Reputation Profiles with information about almost everyone in America, 18 years old and over."
MyLife also boasts a Reputation Score feature, which assigns a number based on how you're presented online to anyone who cares to look. This includes information from background details, personal reviews and social media posts.
You can look up your score, but you'll have to give up some combination of personal information and payment. Better to remove yourself entirely from the site.
Delete your information from MyLife
As with many people search sites, you must search for your information before opting out. Don't worry. We'll show you how to get your data off this site step-by-step.
Here's how to get started:
Go to mylife.com and select the Do Not Sell My Personal Information button at the bottom of the page.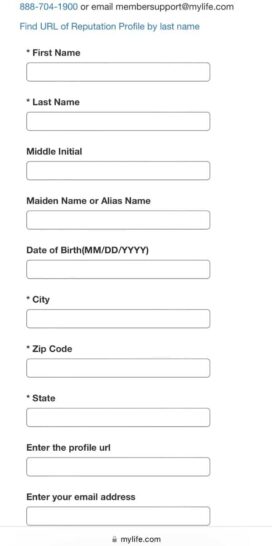 Fill in the required starred information.
Select Find URL of Reputation Profile by last name and then select the first letter of your last name.
You'll have to go through quite a bit of narrowing down to get to a list of profiles that match yours.
Once you find your profile, copy the URL and paste it into the field marked Enter the profile URL on the opt-out page.
When you're finished, select Opt Out at the bottom of the form.
A message appears that states your request will be processed within 15 business days.
If you need customer support, call 888-704-1900 or email membersupport@mylife.com.
Keep reading
3 slim RFID blocking wallets to protect your cards from data theft
Sick of Google's tracking? DuckDuckGo just added all these privacy features