People are tracking you online. Whether they're trying to scam you or serve you with ads, privacy is not something you can take for granted.
Between your emails, cookies (the tracking kind, not the delicious kind) and nosy apps, you're being watched without even knowing it, but don't despair — you can take back your privacy in a few steps. Here's how to fight back against Big Tech.
Do you keep a low profile online? That's great, but it doesn't completely protect you. People search sites scour the internet for publicly available information and give it to anyone looking for it. For this week's Opt-Out Tuesday, we'll show you how to remove yourself from Instant Checkmate.
Avoid people search sites at all costs, especially if it costs you
Don't ever pay for any people search service. Most of these sites are scammy in nature. You may think you're paying for one report and find that you've been roped into recurring charges.
Don't pay to remove your information from any site. This process must be provided for free, as you can see in the steps below.
Do you have older relatives who may not know about these sites? While opting out yourself, why not do the same for them? Just type in their information as you would your own, and follow our steps to completion.
RELATED: What to do if a drone is spying on you
People with bad intentions mostly use people search sites
People search sites exist to gather your name, address, birthday, marital status, education level and financial records, employment information and more in neat little packages. They get this data from publicly available sources and data brokers.
These sites advertise their services as an excellent way to locate friends and relatives, though there's no stopping bad actors from accessing the information.
The worst part? This is perfectly legal.
Remove yourself now
Instant Checkmate boasts more than 1.4 billion searches on its website. Well, that's not good.
Instant Checkmate is part of PeopleConnect, which has several people search sites under its umbrella, such as US Search, TruthFinder and Intelius. All these sites and more now use the same opt-out processes.
The old opt-out link for Instant Checkmate now leads you to the PeopleConnect suppression tool. Let's start with that:
Enter your email address, read through the privacy policy and terms of service and hit Submit.
Check your inbox for a confirmation email from no-reply@verifications.peopleconnect.us. Tap the Verify Email button in the message.
Enter your name and email address and scroll down and hit Save when you're done.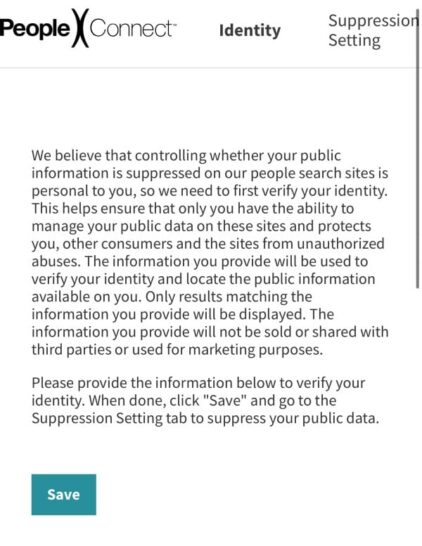 Go back to the top of the page and select the Suppression Setting tab and wait for your information to show up.
If the information matches yours, select the Visibility Setting dropdown menu and select Suppressed.
If you can't locate your information, select the Identity tab at the top to go back to the previous page.
Hit the Edit Identity button and enter more information, such as another email address you use. Verifying more of your information may help to locate your matching profile on the site.
NOTE: PeopleConnect pushes the suppression tool as the best way to stop people from finding you on its sites, but there is also an option to delete. Before you do so, know that PeopleConnect states that deleting your data will also delete your suppressions.
With that in mind, here's how to delete your data:
Go to suppression.peopleconnect.us/privacy-center and scroll down to the Right to Delete section.
Enter your email address (if you followed the suppression steps above, your information may already be in the system and you won't have to enter your email address again).
Hit the Delete My User Data button. You'll get a message saying you have to complete the process via a link in your email.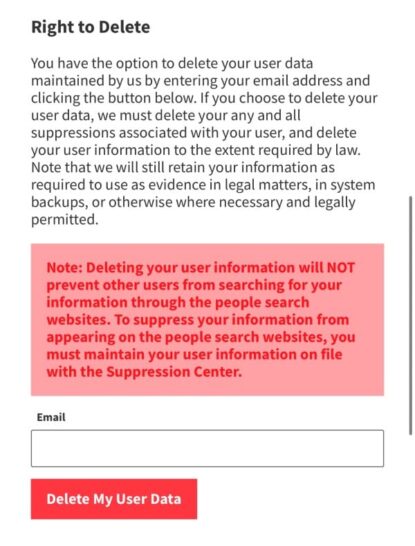 Check your inbox for a message from privacy@verifications.peopleconnect.us. Tap the link at the bottom to permanently delete your account data.
You'll be taken to a confirmation page. Keep an eye out for another email message confirming your deletion.
NOTE: If you've already gone through the PeopleConnect deletion process for Intelius or another site, you'll get an email stating no record is associated with your email.
If you have trouble completing these steps or need more information, write to privacy@peopleconnect.us or call 888-245-1655.
Keep reading
Protect your privacy, your cell phone number and email address
Using free antivirus? Beware of companies that sell your data or even plant malware