If you're lucky enough to hit it off with someone you meet on a dating app, they'll probably ask for your phone number. It's a sign that the person you matched with is interested and wants to get to know you by calling or even video chatting. Speaking of which, here are a few ways to look your best in video meetings.
Before giving your phone number away, remember that it can do a lot of damage when in the wrong hands. Someone could use your number to connect you to a leaked password or even intercept two-factor authentication codes. It's a significant cybersecurity risk, so you should take extra precautions.
Sure, you can tell the person you're talking to that you aren't comfortable giving away your number yet. But they might take that the wrong way, thinking you're being suspicious, or you have something to hide. If someone you meet on a dating app wants to talk over the phone, consider giving them a secondary phone number.
There are a lot of reasons why a burner phone number is so useful
It's easy to get a second phone number. You can use it for shopping, social media, business, and other purposes. But in the tricky world of online dating, it's precious.
Here's why this is such a good idea. You never know who you're talking to online; people often misrepresent themselves to set false expectations. Meet them in person, and they might look totally different than their photos.
RELATED: Online dating and romance scams are on the rise in America
Even worse, they might put on a sweet façade over the phone, only to be nasty and cruel in real life. Some matches can be fatal. According to Rolling Stone, a 25-year-old man died after a deadly hookup with a cannibal on Grindr.
Of course, there are many regular and well-adjusted adults looking to find love on dating apps. Keep swiping and stay hopeful but take precautions for your safety. One way to set yourself up for success is by following our seven steps to successful online dating.
Here are three ways to get a second phone number on the same phone. If you're using this in an online dating context, give the person you're talking to this burner phone number when they first want to call or text.
Once you become closer, you can give them your actual phone number and explain you gave out the burner number out of caution. They'll understand your vigilance if they're the right fit for you. (They might even be impressed by your tech-savviness!)
1. Get a free phone number with Google Voice
This free service gives you an extra phone number you can use any way you like. It works for phone calls, texts and voicemails — and it works domestically and internationally. You can use it on your iPhone, Android or even your computer.
You need a Google account to get started. Follow these steps for your free second number:
To download the app on your computer, head to voice.google.com/u/0/signup. You can also download the app for iOS or Android.
Then, sign in to your Google account.
After you review the terms, continue to the next step.
You'll see a list of phone numbers. Select the one you want. (You can look for phone numbers from specific cities or area codes.)
Then, verify the number and enter a phone number you can link to your Google Voice account.
Lastly, you'll get a six-digit verification code. Enter it and you're all set!
If this sounds good to you, here's another tip to check out. Tap or click here for five ways to make the most out of your new Google Voice account. Of course, if you want another option, here are two other ways to get a free phone number online for texting, calling and more.
2. Download TextNow on iOS, Android or Windows
You can also use a free app called TextNow, which lets you pick from a list of free phone numbers. You can talk and text with this number, but you can't video call over the app. The developers support themselves through ads, so you'll have to deal with banner ads at the bottom of your conversations.
You should also consider the possibility that TextNow might make money by selling your info. In the App Privacy section of the App Store, the developers disclose that it may collect the following information:
Purchases
Contact info
User content
Location
Contacts
Identifiers
Diagnostics
Although TextNow is transparent about what it collects, many apps aren't as upfront. Tap or click here for a few apps that secretly collected data from millions of people. Check the list to see if someone exposed your private information.
One of the coolest features of TextNow is that you don't need an active mobile plan to use it. You can sign up with your email address or Facebook account to get a number. You can call or text any number, and your text will look like a regular text on their phone.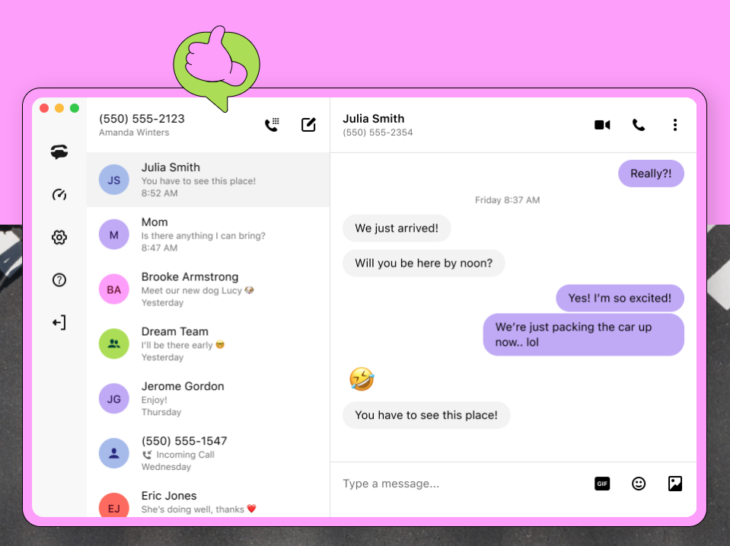 You can also send texts and have video calls over your computer. TextNow has that base covered, too. Click the link here or below to get a free phone number online for texting or calling from your laptop or PC.
3. TextPlus is another way to get a burner phone number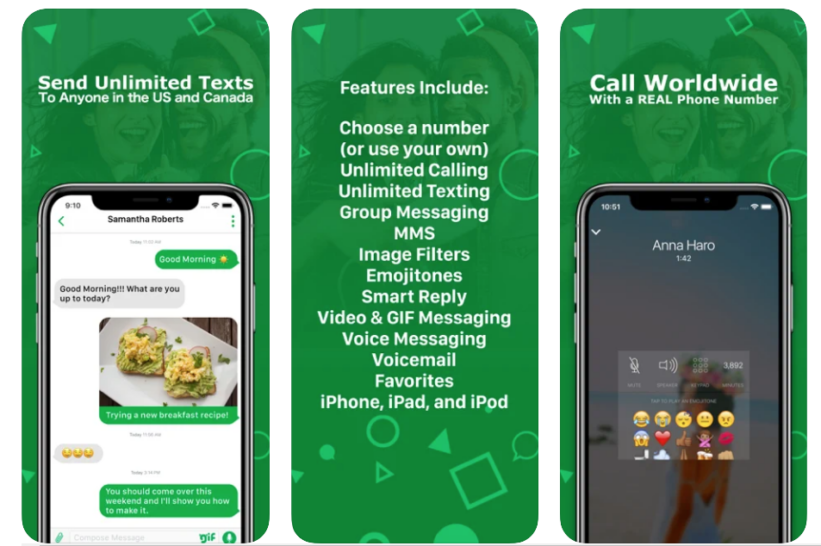 With TextPlus, all you need is a username. It's even less demanding than TextNow, which requires an email address. Like TextNow, it comes with ads, but you just need to spend a few cents to remove them.