Your parents or grandparents may have told stories about looking for work. How they marched out there and knocked on doors until they were hired. Well, it hasn't worked that way in quite a while. In fact, you'll be stopped by security in most office building lobbies before you can get anywhere.
The process of landing a job — being prepared, and having a good resume and experience — hasn't changed. But you can now search hundreds or thousands of positions at once, thanks to job search sites. Since first impressions are everything, you'll want to look your best. Tap or click here for tips on taking the perfect profile photo.
With more than 875 million members worldwide, Microsoft-owned LinkedIn is the world's largest professional network. While this offers a wealth of opportunities for job seekers and recruiters, it also makes the site a prime target for hackers. LinkedIn just announced new features to help remove fake profiles and threat actors.
Here's the backstory
Scammers often impersonate well-known brands and companies to gain their victims' trust. Social networks provide a platform for crooks to spam countless people with messages containing malicious links and malware.
Recent research shows that LinkedIn is the most impersonated brand for phishing attacks, accounting for nearly half of these cybercrimes globally. Tap or click here for our report of the top 10 brands to watch out for.
In a recent blog post, LinkedIn announced its plans to tackle fraudulent activity. The company is testing three new features that are designed to help keep you safe. The changes will roll out over the next several weeks, so you may not see them immediately.
1. Learn more about a profile
LinkedIn is adding a new feature that lets you verify a profile's authenticity. By going to a profile and tapping the three dots, then About this profile, you'll get more information, including the following:
When the profile was created.
When the profile was last updated.
Whether the member has verified a phone number.
Whether the member has a work email associated with their account.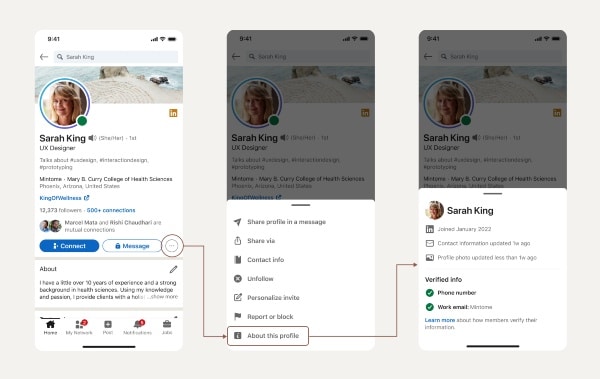 Scammers don't take the time to keep their profiles up to date, especially since they're constantly creating new ones to target fresh victims. And without access to a company email, scammers can't verify that information.
Use this information when deciding to accept a connection or message.
2. Fighting fire with fire
AI-based image generators can create quality profile photos that aren't real. Scammers can use this technology for fake profiles to make them appear more convincing.
LinkedIn will use its artificial intelligence to check profile photos for subtle artifacts that indicate a synthetic image. The deep-learning model performs this search without using facial recognition or biometric analysis. The fake accounts are then removed.
3. Warnings for suspicious messages
LinkedIn will send you a warning when somebody messages you to take the conversation elsewhere. This is a red flag in many circumstances, including social media and dating apps. Tap or click here to stay safe while online dating.
The scammer wants to get you to a chat app where they can get to work on stealing your information. They may send you a link to a messaging app that installs malware on your device.
Looking to hire?
Small businesses have unique needs, and it's more important than ever to have the right people on your team. That's why Kim trusts our sponsor LinkedIn Jobs to help. LinkedIn Jobs matches your open role with qualified candidates and puts your post in front of members daily so you can hire the right person faster.
Find the perfect fit for your business with LinkedIn Jobs. And, for a limited time, post a job for free — just visit LinkedIn.com/kim to get started today!
More tips to stay safe
Safeguard your information — Never give out personal data if you don't know the sender of a message or can't verify their identity.
Always use 2FA — Use two-factor authentication (2FA) for better security whenever available. Tap or click here for details on 2FA.
Avoid links and attachments — Don't click on links or attachments you receive in unsolicited messages. They could be malicious, infect your device with malware and/or steal sensitive information.
Red flags — Watch out for spelling and grammar errors indicating a scammer.
Use strong, unique passwords — Need help creating better passwords? Tap or click here for ways to secure your online accounts.
Antivirus is vital — Always have a trusted antivirus program updated and running on all your devices. We recommend our sponsor, TotalAV. Right now, get an annual plan with TotalAV for only $19 at ProtectWithKim.com. That's over 85% off the regular price!
Keep reading
Watch out for this clever LinkedIn phishing attack