Have you ever been frustrated by slow internet speeds on your smartphone? You pay a boatload of cash to your mobile provider and then your connection is spotty and slow. It can be really frustrating.
There are many things that could be causing sluggishness in your connection speed. It could be a combination of factors like poor reception, router misconfiguration or worse, security issues.
But did you know that one setting on your smartphone can boost its connection? Yep, it's known as your Domain Name System (DNS) server. And rejoice, setting up your smartphone's DNS server is easier than ever, thanks to this newly released app.
Read on and learn why your DNS matters and why this new app can boost your internet speed, privacy and security.
Cloudflare's DNS service is now available for iOS and Android
Internet services company Cloudflare is now extending its free DNS service to mobile gadgets via its new iOS and Android apps it calls "1.1.1.1: Faster Internet" (also known as "1.1.1.1: Faster & Safer Internet" for Android).
Cloudflare's free DNS service was launched back in April and like the app's name suggests, it uses 1.1.1.1 for its DNS servers. The service promises faster internet speeds and improved browsing security for regular consumers like you and me.
This is great news since it simplifies the DNS changing process for smartphones. Although it was possible to specify an iPhone's DNS server via its settings, there was no easy way to do it on Android.
Now, with Cloudflare's 1.1.1.1 apps, it as simple as tapping a button.
But first, what is DNS?
Do you know what DNS stands for? A DNS or domain name system is often called the phone book for the internet. It's actually a critical component of how the whole internet works and it can dictate how fast and secure data is delivered to you.
Here's a simple way of putting it. A DNS server translates the IP addresses of websites to domain names that are easier to read and remember (for example, Google.com is translated to the IP address 74.125.239.2 and vice-versa).
The communication between your computer and a DNS system is critical in order to correctly direct your web traffic.
Why your DNS server matters?
While having your ISP assign you your DNS servers automatically is convenient, it opens up its own set of issues. Depending on your provider, their DNS systems can be slow and inefficient, gumming up your internet speeds.
Another issue is security. Using your ISP's DNS servers allows them to track your internet activity like searches and the sites you visit, opening up all sorts of privacy issues.
To address these concerns, Cloudflare opened its own speedy and secure DNS system to the public. The company is already known for optimizing business internet services and protecting websites against Distributed Denial of Service (DDoS) attacks but it's great that it has offered its expertise to the general public.
Why is 1.1.1.1 more secure?
With 1.1.1.1 and 1.0.0.1, Cloudflare is also aiming to protect its DNS system users' security and privacy by promising to erase all of its DNS logs within 24 hours and by not recording IP addresses. It is also promising not to monetize DNS browsing data by using it for targeted ads, for example.
Cloudflare's DNS servers also support upcoming modern protocols like DNS-over-TLS and DNS-over-HTTPS, which will improve overall security and privacy.
Why is 1.1.1.1 faster?
Cloudflare's infrastructure and internet optimizing expertise are solid foundations in creating a speedy DNS service.
The company's main business is its content delivery network and it's in its best interest to speed up and secure the internet, both for its clients and the general public. In fact, the company is building more data centers around the world to reduce the latency of its DNS servers even further.
How fast is it? According to tests, Cloudflare's DNS server's global response time averages at around 14ms. Compare that to Google's at 34ms and OpenDNS at 20ms and Cloudflare appears to be the fastest DNS resolver right now.
In fact, Cloudflare claims that its 1.1.1.1 DNS server is 28% faster than any other DNS resolver available right now.
How to set up the 1.1.1.1 app on your smartphone
Ready to speed up your smartphone's internet? Download 1.1.1.1 now from the Apple App Store iOS or the Google Play Store.
Once it's installed, the app will prompt you to add the 1.1.1.1 VPN Configuration to your phone. Go ahead and tap "Allow" (the app won't work without it.)
Note: You may need your phone's passcode to change this setting.
After adding the VPN configuration, you can now enable or disable Cloudflare's 1.1.1.1 DNS routing service by tapping the app's switch. It's that easy!
Bonus: How to set up Cloudflare's DNS server on a PC or Mac
Cloudflare can be also accessed by changing your computer's DNS server address to 1.1.1.1 or its alternate 1.0.0.1.
HOW TO SET CLOUDFLARE'S DNS ON WINDOWS:
1. Pull up Network Connections by right-clicking on the Start menu.
2. Now click on "Change adapter options." You'll see your current network; right click and choose Properties.
3. Select Internet Protocol Version 4 (TCP/IPv4) and click on Properties.
4. On the Preferred DNS server field, type in 1.1.1.1 and 1.0.0.1 on the Alternate DNS server field, then click OK.
Mac users, don't despair. Here are the steps to change your DNS settings on a MacOS:
HOW TO SET UP CLOUDFLARE'S DNS ON A MAC:
1. Open System Preferences, then select Network. Click on the Advanced button.
2. Next, go to the DNS tab.
3. Click the plus (+) sign on this tab, then type in 1.1.1.1. and 1.0.0.1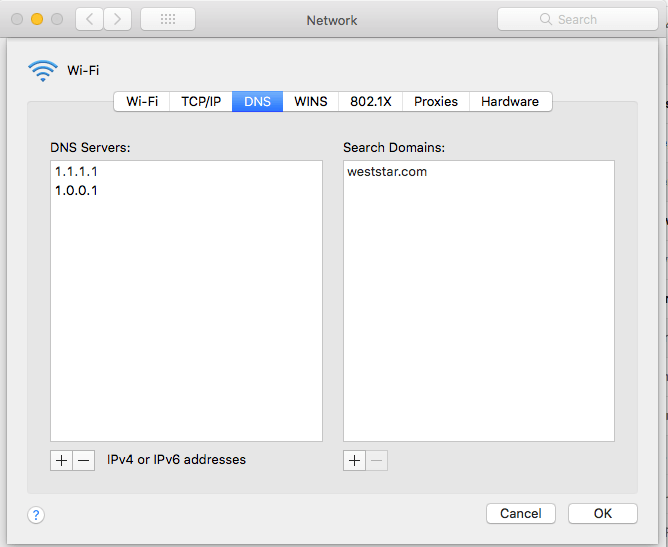 4. Press OK and you're set!
Note: You'll need administrator rights to make these changes.