With the prevalence of data breaches, tech giants like Google need to constantly upgrade the security of their platforms. After all, the last thing most of us need is to discover that some cybercriminal has gained access to our accounts.
Aside from setting up traditional security options like alternate email recovery and two-factor authentication, Google is also constantly updating the features of its popular Chrome web browser to protect its users from getting victimized by online crooks.
Now, a new Chrome Web Store extension from Google can notify you if your password has been compromised in a data breach.
Password Checkup Tool
Google just launched its new Password Checkup Chrome extension that will alert you if any of your website credentials have been detected in a data breach.
This means that the extension will monitor the saved usernames and passwords in your Chrome profile. If they're part of over 4 billion credentials that have been compromised so far, the tool will give you an automatic warning and prompt you that you change your password.
For example, if you've used your username and password combo for a particular service, say, Kim's Club, and it's included in any of the data breaches uncovered so far, Password Checkup will automatically suggest that you change your password immediately.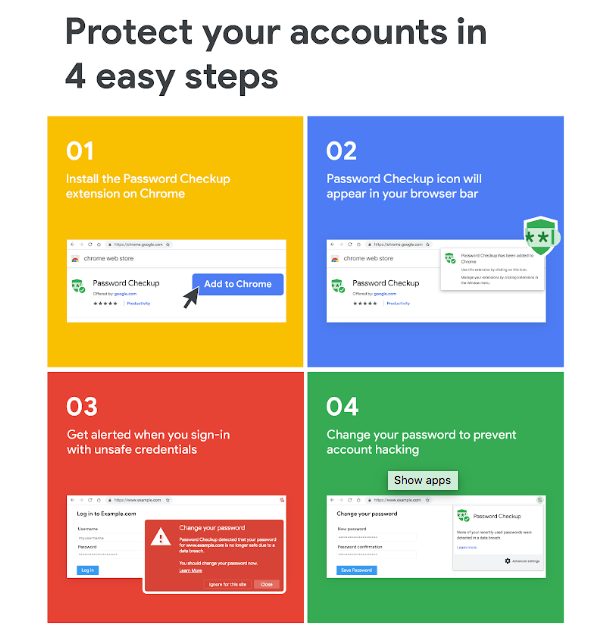 Hopefully, this free tool will help curb the threats from password reuse and credential stuffing attacks. This is when someone feeds the credentials to an automated program that tries them all out on various websites, hoping that people have reused their passwords on multiple services.
And with all the massive data breaches that are happening on a regular basis, stolen credentials are now being freely distributed online.
Your privacy matters
With this password monitoring tool, you're probably concerned about your privacy, huh?
Don't worry, Google said it designed the Password Checkup tool with key privacy principles in mind:
Alerts are concise and actionable
The tool will never reveal your passwords to Google
It only alerts you when necessary
Here's Google's technical writeup about the Password Checkup tool.
How to install the Chrome Password Checkup extension

To add the Password Checkup extension to your Chrome browser, visit the official Password Checkup page on the Chrome Web Store (alternatively, you can search the store for "Password Checkup.)
On its page, click the "Add to Chrome" then the "Add extension" button to install it.

Once installed, a green Password Checkup icon will appear on the right side of your Chrome menu bar.

Click it to check if any of your currently saved passwords were detected in a data breach. That's it!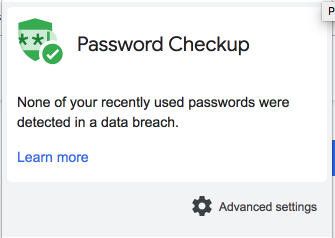 As always, as Google's tool reminds us, use unique passwords for all your accounts and never ever reuse the same password for multiple online services and websites.
Need help crafting the perfect password? Here are new ways to come up with a secure password.