Won't you be my neighbor? Not in this crummy neighborhood.
The "neighborhood" is actually in your phone's text messaging service. There are reports of people being lured into group chats with strangers who're pretending to be their neighbors.
Most of the scam group chats lead to sexually explicit websites that may be compromised. Click here to see how hackers are infesting Androids with malware using text messages. 
Do I know you?
If you have a family or are part of a tight group of friends, you're used to being included in group chats. But when you get messages that start like this, watch out: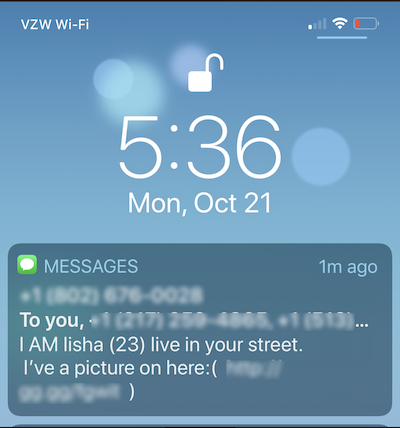 This latest group text scam, "Live on Your Street," involves scammers trying to lure members of the group to click on links that take them to sexually explicit websites. If someone fails to heed the cyber golden rule and clicks on the group text link, the site they get sent to could flood their phone with malware and/or steal vital information.
Not all group chats start like a letter to Penthouse. Some seem quite legitimate. For instance:
Others may offer cash prizes.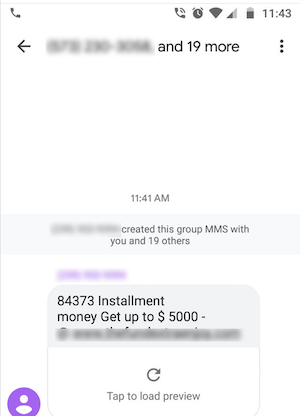 Sex? Check. Curiosity? Check. Greed? Check. Group text scammers hit just the right notes to get people to click their links.
These messages also get the attention of the Federal Trade Commission (FTC). The FTC says scams such as "Live on Your Street" are really spam. In fact, all the examples shown above exemplify text spamming and the FTC says it's illegal.
The FTC calls text spamming a "triple threat" because it can be used to steal information and drop malware, lead to unwanted charges on your cell phone bill and slow down your phone's performance.
Texts are phishing bait
Besides spamming, these group texts are also phishing. But bad actors don't need a group to go phishing — it's just more convenient.
Click here to learn why cybersecurity firm Sophos is warning consumers to also be on the lookout for single person texts that seem legitimate. You could receive a text with a link that looks to be from your carrier telling you something went wrong with your billing. Tap or click here to see how easy it is for hackers to forge bill notifications. Our natural response is to click the link, but don't do it!
Pay close attention to the URL. If something looks off, don't click it — in fact, don't click any links at all. But if you must, you could end up on a spoof site that looks very much like your carrier's site. So if you put in your user ID and your password, you could be handing over the keys to your account to a scammer.
Click here to get more details on tips Komando.com offers to help you handle text spamming. Here are some safety rules to live by:
Delete text messages that ask you to confirm or provide personal information.
Don't reply and don't click on links provided in the message.
Treat your personal information like cash.
Place your cell phone number on the National Do Not Call Registry.
If you're an AT&T, T-Mobile, Verizon or Sprint subscriber, you can report spam texts to your carrier by copying the original message and forwarding it to the number 7726 (SPAM), free of charge.
Review your cell phone bill for unauthorized charges and report them to your carrier.
Hello neighbor
While most texts from strangers are scams, there is a game where people text strangers who have almost the exact same phone number. Texting your "number neighbor" is not a new idea. It's been happening since at least 2016, but recently became popular again. Click here to learn more about the "number neighbor" game.
Here's how it works: Say your number is 555-555-5552. All you do is text 555-555-5553 and say hello to your number neighbor, then sit back to see what happens.
While some people are spooked by the text, many others have decided to engage in conversations, especially now that the game has gone viral. In most cases, number neighbors hold amusing conversations, share memes and jokes, and pull harmless pranks on one another.
However, the number neighbor game can have a dark side. A woman in Los Angeles wanted to get in on the game, but instead of having a light-hearted conversation with a stranger, she ended up terrorized and cyberstalked. The stranger began threatening the woman's life and sending her videos of someone loading a gun. They also called her 70 times.
Blocking numbers and changing your own are two good preventative first steps. Here are a few more ways to protect yourself, not just from bad number neighbors, but also from phone stalkers in general:
Phone calls: Use an encrypted social media app like Facebook's WhatsApp to make calls.
Text messages: Use encrypted social media apps like WhatsApp or Apple iMessage to chat.
GPS location: Turn off your smartphone if you think someone's stalking you, and use Wi-Fi connections whenever you can.
Komando.com wants to make sure you are up to date on all the possible dangers out there in cyberspace. So tap or click here to sign up for Kim's Fraud & Security Alerts newsletter and be the first to learn about product recalls, data breaches and breaking tech news.