I'm sure you've had this happen to you more often than not – online ads that follow you around, nagging you to "don't forget to buy me, please!"
Say you decided that you need a new pair of running shoes. You browse for a few models at your favorite brand's website, pick the pair you like the most, add them to your cart and you almost buy them.
Now, guess what will happen next? Ads about those running shoes you almost bought will start following you online, enticing you to go back to the website and settle your unfinished shopping cart business.
These are called "reminder ads" and although they're not malicious, everyone knows they can be downright annoying.
Silence those reminder ads
In the next few days, Google will start rolling out a new control that allows users to mute reminder ads in apps and websites that use Google Ad services for up to 90 days. The muting tool will also roll out to other Google services like YouTube and Gmail soon.
"Today, we're rolling out the ability to mute the reminder ads in apps and on websites that partner with us to show ads," Google's Jon Krafcik wrote in an official blog post. "We plan to expand this tool to control ads on YouTube, Search, and Gmail in the coming months."
Why just 90 days? Google explains that advertisers typically show reminder ads for just a month and they never go beyond 90 days. Muting will work on all websites (even non-Google websites) that use Google Ad services.
However, Google stated that its reminder ad muting will still not work everywhere. Keep in mind that websites and apps that do not use Google Ad services are not covered and may still show reminder ads from advertisers.
Ad muting expansion
Google is also improving its ad muting feature by allowing the tool to sync all your ad muting preferences across every device where you are signed in to your Google account. This means if you mute a specific brand's ad on your phone, it will also be muted on your desktop or laptop.
Furthermore, aside from Google products, Google is expanding its Mute This Ad tool to include more apps and websites that use Google Ad services.
How to mute reminder ads: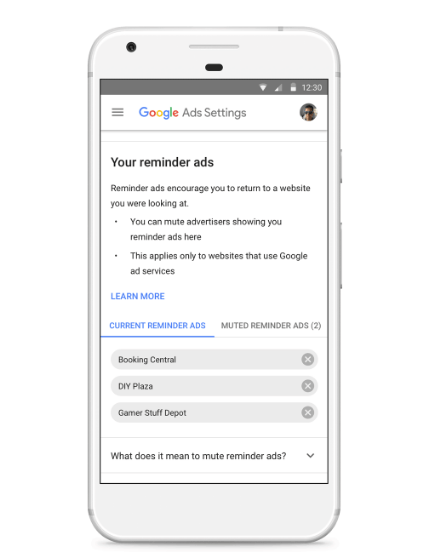 Ready to mute the nagging ads? Once it rolls out to you, here's how you do it:
To mute reminder ads:
Sign in to your Google Account.
Go to "Personal info and privacy" section then click "Ads Settings."
Scroll down to "Your reminder ads."
Click or tap the X next to an advertiser whose reminder ads you'd like to remove.
To read the official Google blog post about ad muting, click here.
Have a question about ad tracking? Kim has your answer! Click here to send Kim a question, she may use it and answer it on her radio show. The Kim Komando Show is broadcast on over 450 stations. Click here to find the show time in your area.
Firefox also has a plan to protect your privacy
Mozilla also updated its Firefox web browser with privacy and anti-tracking tools. Click here to read more.