Is your computer running at a snail's pace? Before you drop a chunk of cash on a new one, clear out some space from the hard drive. Tap or click here to remove the clutter that's slowing you down.
Sometimes the problem runs deeper than that. Your computer might not even turn on, or it's performing erratically. That's when you may need to reach out for help.
Best Buy's Geek Squad offers services ranging from computer repair to TV installation. The popularity of the service makes it a ripe target for scammers. Be very careful if you get a message or pop-up from Geek Squad out of the blue.
Here's the backstory
Cybercriminals wield the Geek Squad name in various scams, knowing that some people will take the bait. Crooks often impersonate well-known brands and services as a form of social engineering. You trust these names, so you're likelier to fall for a trick.
Scammers can contact you via phone call, text, email or even a pop-up on your computer. Here are five Geek Squad scams that you need to watch out for.
RELATED: Tech support scam targets PC users — Here's what to look for
1. Phishing emails
Phishing scams are among the most common criminal campaigns, and email makes for a perfect delivery system. Crooks can send thousands of messages at once, and even a tiny percentage of success can net them big bucks.
Let's say you get an email claiming that your annual Geek Squad security services plan has been renewed at $400 or more. But wait, you didn't have a subscription to begin with!
The message uses eye-catching words, such as "charged," "transaction" and "payment mode," among others. It goes on to say that the renewal charge will be deducted from your account. The message could look something like this.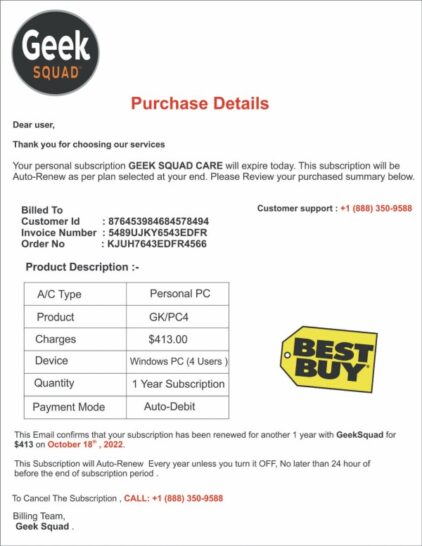 The thieves behind the email hope you click the included links or call the included phone number to try and resolve this confusing issue. But if you do, they will ask for personal and possibly financial information to commit identity theft or even steal from your bank accounts. So do NOT click the link or make the call!
2. Pop-up scams
You're browsing the web and you get a pop-up claiming that your computer has been infected with malware or a virus. There's a number to call the Geek Squad and have them come to the rescue.
Well, guess what? The pop-up and the number are both phony. Call them and you'll be handing over personal and financial information to a scammer.
Komando Content Director Allie recently got a similar pop-up from McAfee claiming her subscription expired. She was also warned about being exposed to viruses and malware. Tap or click here for the full story behind that scam.
3. Remote access scam
When you have a problem with your computer, tech support can remotely access it to diagnose and fix it. This is a very risky move. If you let the wrong person in, they'll have free rein to do whatever they want on your computer.
Scammers will tell you that Geek Squad needs to access your machine. They'll provide a link that will either open the door to your system or implant malware that gives them access to everything.
4. Refund scam
You'll get a message saying you overpaid for a service or have money owed to you for some reason. You call the provided number and the person claims you need to pay a fee to unlock the funds you have coming to you. They'll often ask for payment in gift cards.
One thing you should know: when you hear the words "gift card," get your guard up. It's more often than not a scam.
5. Ransomware/recovery scams
Once you've fallen for their tricks, scammers will go a step further and ask for payment to get back access to your own files. They'll either reveal they're crooks or continue posing as Geek Squad technicians.
They'll demand money in exchange for your stuff or (you guessed it) ask for payment in gift cards.
Here's what you can do about it
Geek Squad scams don't differ much from other scams of this type. All scammers need to do is change the name to another company like Microsoft, Norton, Google or Apple.
Here are some tips to stay safe:
Safeguard your information — Never give out personal data if you don't know the sender of a text or email or can't verify their identity.
Always use 2FA — Use two-factor authentication (2FA) for better security whenever available. Tap or click here for details on 2FA.
Sense of urgency — Here's a red flag: Any message that tells you to "act now!" or makes you feel rushed and anxious. That's exactly what the scammers want you to feel.
Follow up on all requests — Never trust a cold call or message. Whether they ask for money or information, don't hand it over. Call the company directly on a trusted number if you're concerned.
Avoid links and attachments — Don't click on links or attachments you receive in unsolicited emails. They could be malicious and infect your device with malware and/or steal sensitive information.
Antivirus is vital — Always have a trusted antivirus program updated and running on all your devices. We recommend our sponsor, TotalAV. Right now, get an annual plan with TotalAV for only $19 at ProtectWithKim.com. That's over 85% off the regular price!
Tech help from experts Kim trusts
Finding tech support online is risky. That's why Kim partnered with top tech experts to give you 24/7 live support you can trust. They'll fix your problem or there's no charge.
Whether it's a problem with your Wi-Fi, printer, smartphone, computer, TV, smart speaker or another connected device, the experts at GetKimsHelp.com fix most issues in 10 minutes or less.
High-tech troubleshooting tools like virtual house calls let them resolve even the most complex issues quickly. So stop Googling and get your problems solved right now at GetKimsHelp.com.
Keep reading
Phone scam warning: Hang up if you get one of these calls