We all use Facebook for connecting with our friends and family, or engaging with peers online. It is a great system for most, but also having tragic consequences of bringing out some of the worst in our society. Hackers, foreign governments, and even false advertisers take advantage of the great networking capabilities Facebook offers to cause harm in as many ways as you can think of.
Facebook has its feet to the fire lately in regards to security concerns. The media giant has come under heavy criticism for everything from national security and fake news, to individual account security and the prevalence of hacking and phishing scams.
As part of Facebook's new focus on security they are unveiling several features that can help users avoid having their account information stolen by hackers.
Avoid getting scammed
A common scheme employed by hackers is called phishing. It involves pretending to be someone else to con people into providing the hacker with a password, credit card, or other useful information. These can often be extremely tricky to recognize, and have even been known to fool those at the highest levels of government.
Facebook is a very common platform for these types of offenses to occur, so they have put together a new security feature that should help users identify most fake messages.
To use this feature, go to your Facebook's Settings > Security and Login > then scroll down to "See recent emails from Facebook."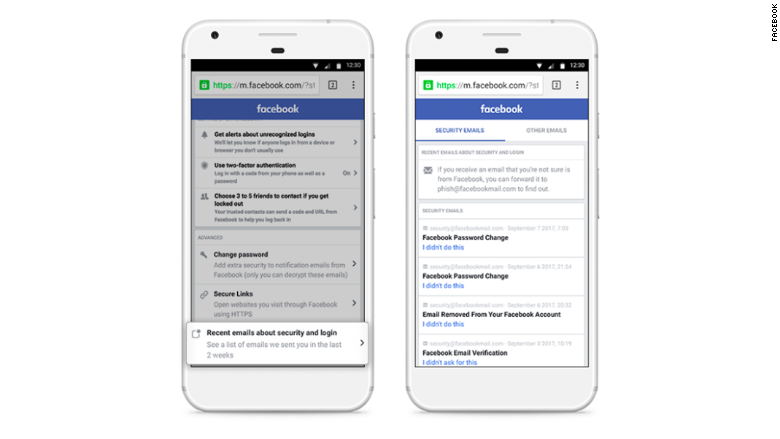 If you've received an email and it's not on this list, then it is a likely a phishing attempt. You can report that it's fake to "phish@fb.com."
Facebook security emails always come from the same domain, 'Facebookmail.com'. If you receive an email from an address other than that one, it is highly recommended that you check it to the security database and report it if it is not listed.
Stay vigilant and make sure to keep up on all the new Facebook security changes that are sure to be released in the future.
Use Facebook snooze on annoying friends
Tired of being spammed with a new post every-time that annoying friend of yours takes a selfie. You don't have to delete them, try this instead.
Click here to learn how to put the snooze on frequent posters