Search engines can be portals for scammers to slip malware into your devices. Some searches are more dangerous than others. Cybercriminals use popular software searches as avenues to infect your devices.
To be clear, these apps and services aren't dangerous, but searching for them is. That's because scammers often impersonate them. Cybercriminals love to leech off the credibility of well-regarded companies, so if you type one of these terms into Google Search, you might find scams at the top of your search results.
Or maybe you don't find anything related to your search, which is the case for 30% of people who look stuff up on Google. Tap or click here for five ways to find what you're looking for more quickly. Scroll down to see which types of popular software are the most dangerous to search for.
Here's the backstory
A simple Google search can help you find any program you need. For instance, type "video editing tools" into the search engine and you'll find links to download Premiere Pro or Corel VideoStudio Pro. If you're looking for a cheap alternative, check out the best free video editors for Windows and Mac.
There are countless apps, programs and services you can download online. Many of us find the software we need through Google searches. Scammers know this, so they'll use all the tools at their disposal to appear at the top of your search results. It's more common than you'd think.
According to SurfShark, one in three software-related search results include malware. Researchers analyzed the search results when looking up the most popular digital products. Then, they split their findings into different categories. Here is the most dangerous browser software to search for online: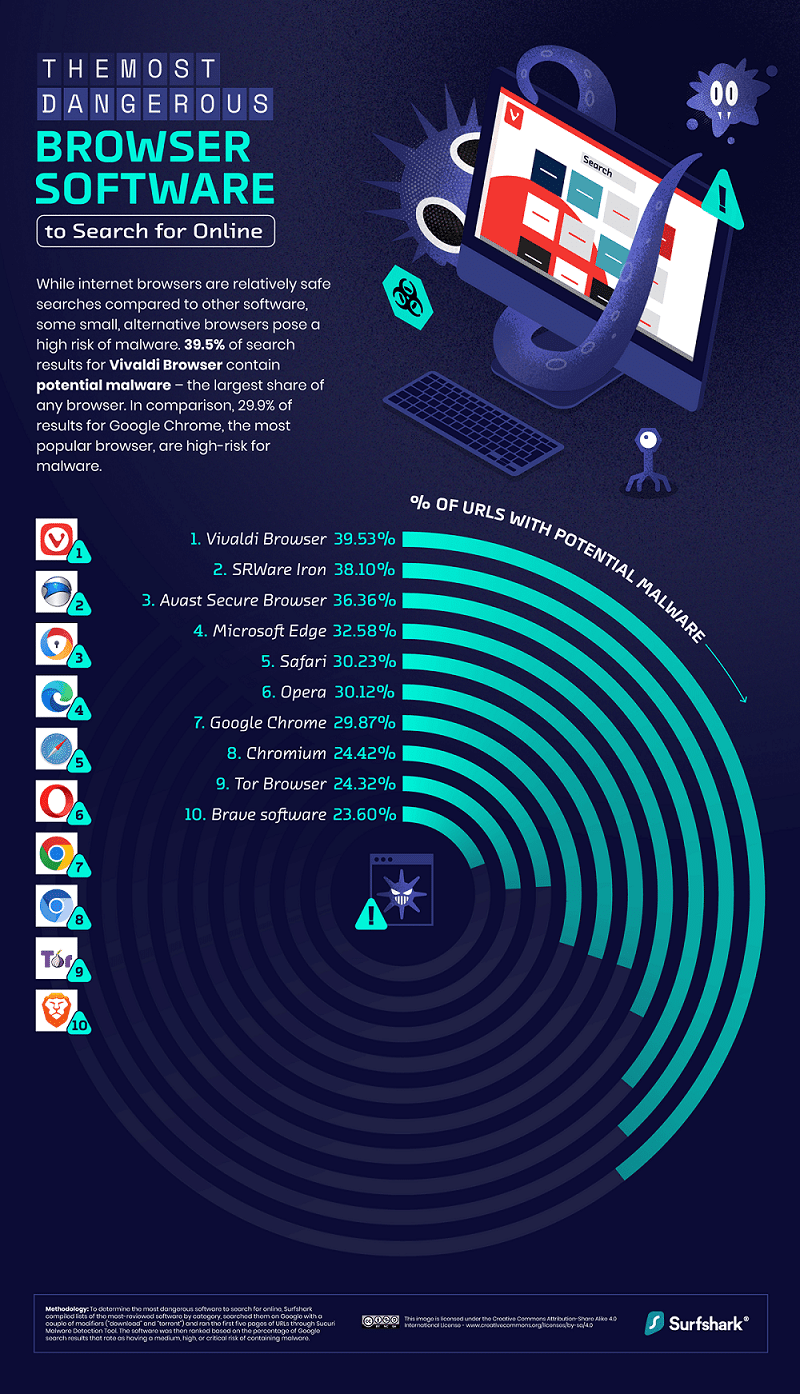 Most dangerous software of all types
Software that is easy to find and download online comes with risks. Researchers split their findings into five categories.
Most dangerous creative software to research: Avid software.
Most dangerous browser software to Google: Vivaldi Browser.
Riskiest crypto wallet software to research in 2022: Lumi Wallet.
The riskiest social media marketing software to look for: Twitter.
Looking up this small business software is risky in 2022: Hubstaff.
One program stood above all else as the riskiest to research. Avid Technology was No. 1 both in the creative category and overall. The study found that 64% of search results may introduce you to malware.
This company creates Pro Tools, a popular music production program that lets you create professional songs and sounds. So if you're a musician, be careful when looking up tools online.
Don't let that dissuade you, though: You can find many reliable resources. You can even use Google to tune your guitar and keep time while playing.
These were the top five most dangerous software to search for online. But they were far from the only risky programs to research. If you want more details, check out this interactive graphic from SurfShark:
Now that you know which search terms are high-risk let's pivot to some cybersecurity strategies that will keep you safe. Luckily, we've written many guides to keep you secure while surfing the web. Check them out!
Read more
Cybersecurity 101: What you need to know to stay safe online
Use this easy, free check to see if a site or file contains malware