You're not going to believe this one. One of the most audacious and incredible robocall scams is apparently making a big comeback.
Remember the Chinese Consulate or Embassy robocall scam that spread across the U.S. last year?
Well, we thought it died a natural robo-death but don't look now, apparently, the scammers behind it are picking it up from where they left off — persistent (and annoying) as ever.
Phone call from 'Chinese Consulate' is a fake
Here's a quick refresher of how the ploy works. Fraudsters are using legitimate-looking numbers (most likely spoofed) to call potential victims. Masquerading as officials from the Chinese Consulate or Embassy, they then claim that a package was found with either your passport, Social Security card or credit card.
You are then passed to an "investigator" from Chinese law enforcement who will, as usual, bully you into transferring funds to fix the "issue." If you don't comply, you will be threatened with jail time or in some cases, deportation.
Other variations of the scam will request for your personal information and credit card or banking information. Some will even ask for cryptocurrencies as a form of payment to "settle" the matter.
In other extreme cases, the scammers will hit the victims again by faking a kidnapping and calling the victim's relatives for a ransom. Talk about double dipping!
But need I say more? It doesn't matter which scenario you're told, never ever fall for it. Avoid getting shanghaied, it's a TRAP!
Robocalls target citizens of Asian descent or visitors
According to the FBI, typical victims are usually of Asian descent or are U.S. visitors from China. Since 2017, around 350 complaints about this scam have been reported with the scammers managing to bamboozle their way to a whopping $40 million! The average take per incident? $164,000.
Although the Chinese Embassy or Consulate scam may have peaked in 2018, fresh reports with new variations are still being reported this year.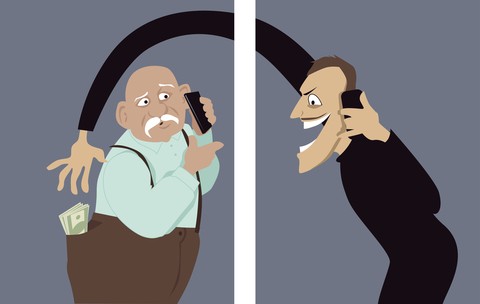 How to protect yourself from the Chinese Embassy scam
In response to these types of scams, the FTC advised to never send money to anyone who calls and asks you to send it.
Never give your Social Security number, bank or credit card number, or other critical data to anyone who calls and asks for it. Same thing if they email or message you through social media.
And here's another vital piece of information to remember. Never will the real Chinese Consulates, or the Chinese Embassy, call you to ask for money.
If you receive a call or message like this, report it to the FTC. Click here to report it.
However, if it's too late and you realize that you've been scammed out of money, there's no time to waste. Contact the financial institution you used and check if it can still stop the transaction.
If you've purchased gift cards — another perennial scammer favorite — contact the company that issued the cards to see what they can do. Next, aside from the FTC, you should also contact law enforcement — local police or even the FBI — and file a report that you might need later to make a claim.
Free podcast: FCC gets tough on robocalls
Consumers are answering about five billion robocalls a month. Under pressure from the FCC, mobile carriers are now doing something about it. Why are the FCC and carriers taking so long to tackle robocalls?