Ohhh don't you hate waiting for a page to load, or pictures to download? Maybe you want to download a movie for later, but it's taking FOREVER! I know, we are living in a world of instant gratification and it can be so frustrating when our internet won't indulge us! That's where a DNS comes in.
Do you know what DNS is? A DNS or domain name system is often called the phone book for the internet. It's actually a critical component of how the whole internet works and it can dictate how fast and secure data is delivered to you.
Here's a simple way of putting it. A DNS server translates the IP addresses of websites to domain names that are easier to read and remember (for example, Google.com is translated to the IP address 74.125.239.2 and vice-versa). The communication between your computer and a DNS system is critical in order to correctly direct your web traffic.
There are various DNS services out there. Typically, your internet service provider automatically assigns its own default DNS server to your service but you change your system's DNS settings to other services like Google (8.8.8.8), OpenDNS (208.67.222.222), or Dyn (216.146.35.35).
Why your DNS server matters?
While having your ISP assign you your DNS servers automatically is convenient, it opens up its own set of issues. Depending on your provider, their DNS systems can be slow and inefficient, gumming up your internet speeds.
Another issue is security. Using your ISP's DNS servers allows them to track your internet activity like searches and the sites you visit, opening up all sorts of privacy issues.
To address these concerns, this popular web optimizing company has opened its own speedy and secure DNS system to the public.
Cloudflare's new DNS service
Internet services company Cloudflare just launched its very own free DNS service, promising faster internet speeds and improved browsing security for regular consumers like you and me.
Cloudflare is already known for optimizing business internet services and protecting websites against Distributed Denial of Service (DDoS) attacks but it's now bringing its expertise to the general public.
With the cooperation of APNIC (the Asia-Pacific Network Information Centre), Cloudflare's DNS service is now available via 1.1.1.1 and 1.0.0.1.
Why is 1.1.1.1 faster?
Cloudflare's infrastructure and internet optimizing expertise are solid foundations in creating a speedy DNS service.
The company's main business is its content delivery network and it's in its best interest to speed up and secure the internet, both for its clients and the general public. In fact, the company is building more data centers around the world to reduce the latency of its DNS servers even further.
How fast is it? According to tests, Cloudflare's DNS server's global response time averages at around 14ms. Compare that to Google's at 34ms and OpenDNS at 20ms and Cloudflare appears to be the fastest DNS resolver right now.
Why is 1.1.1.1 more secure?
With 1.1.1.1 and 1.0.0.1, Cloudflare is also aiming to protect its DNS system users' security and privacy by promising to erase all of its DNS logs within 24 hours and by not recording IP addresses. It is also promising not to monetize DNS browsing data by using it for targeted ads, for example.
Cloudflare's DNS servers also support upcoming modern protocols like DNS-over-TLS and DNS-over-HTTPS, which will improve overall security and privacy.
Ready to try Cloudflare's fast and secure DNS servers? Here's how:
HOW TO SET UP CLOUDFLARE'S DNS
Cloudflare can be accessed by changing your computer's DNS server address to 1.1.1.1 or its alternate 1.0.0.1.
HOW TO SET CLOUDFLARE'S DNS ON WINDOWS:
1. Pull up Network Connections by right-clicking on the Start menu.
2. Now click on "Change adapter options." You'll see your current network; right click and choose Properties.
3. Select Internet Protocol Version 4 (TCP/IPv4) and click on Properties.
4. On the Preferred DNS server field, type in 1.1.1.1 and 1.0.0.1 on the Alternate DNS server field, then click OK.
Mac users, don't despair. Here are the steps to change your DNS settings on a MacOS:
HOW TO SET UP CLOUDFLARE'S DNS ON A MAC:
1. Open System Preferences, then select Network. Click on the Advanced button.
2. Next, go to the DNS tab.
3. Click the plus (+) sign on this tab, then type in 1.1.1.1. and 1.0.0.1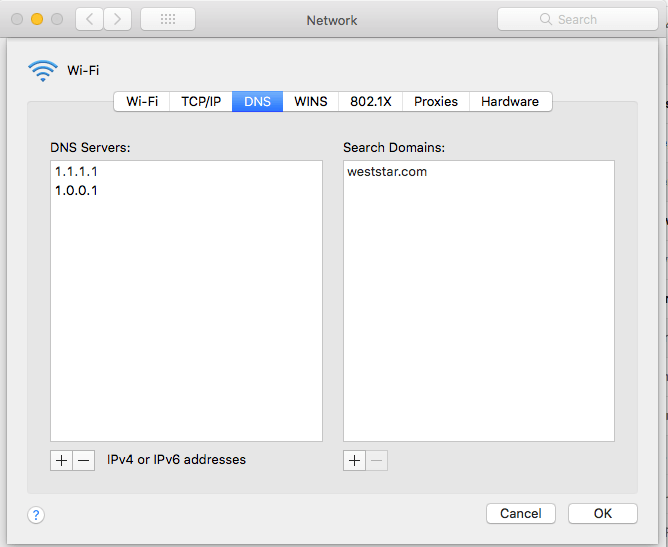 4. Press OK and you're set!
Note: You'll need administrator rights to make these changes.
HOW TO SET UP CLOUDFLARE'S DNS ON AN IPHONE:
1. Open your Settings app then tap Wi-Fi
2. Tap your preferred Wi-Fi network to access its setting
3. Tap Configure DNS then select Manual
4. Delete your existing DNS servers by tapping the minus sign then "Delete" button
5. Tap the "+ Add Server" button then type 1.1.1.1
6. Tap "+ Add Server" again then type 1.0.0.1
7. Tap Save to lock in your settings
HOW TO SET UP CLOUDFLARE'S DNS ON AN ANDROID:
Changing the DNS settings on an Android gadget is harder than on an iPhone but you can download and use a free but ad-supported app called DNS Changer.
1. Once DNS Changer is installed, open the app, choose "Custom DNS (Enter manually)" in the drop-down box.
2. Type 1.1.1.1 on DNS 1 and 1.0.0.1 on DNS 2.
3. Click Start and the app will connect to the internet via a local VPN network using the specified DNS servers.
YOUR ROUTER NEEDS THIS ONE THING MANUFACTURERS DON'T TELL YOU
Checking for updates is a critical step to your computer, gadgets and installed software and applications. The reason for this is two-fold. First, you can take advantage of all the new features and improvements to the new version.
Second, your system is updated for security. Click here to learn how.