If you decided to skip fighting the crowds this Black Friday, you're not alone. According to RetailNext, store visits over the weekend dropped 4.2% from last year.
But that doesn't mean people didn't shop. Many chose to take advantage of Cyber Monday and do their Christmas shopping from the comfort of their own homes. Adobe said U.S. shoppers spent a total of $9.4 billion in online sales on Cyber Monday.
That's a lot of packages to be delivered. And you know what that means; here come the porch pirates. Keep reading and we'll tell you how to keep your deliveries safe.
What are porch pirates?
Porch pirates are crooks who roam through neighborhoods stealing packages that have been delivered right from people's porches.
This is a problem across the U.S. year-round, but with all the online holiday shopping deliveries, there are more packages for criminals to rip off. If you've ever been a porch pirate victim, there are ways to get refunded for your losses. Tap or click here to learn what to do if your packages get stolen.
5 ways to keep your deliveries safe
With more and more people choosing to shop online, we can expect the number of stolen packages to climb. To help combat porch pirates, here are five ways to avoid having your packages ripped off.
1. Ship packages to the office
One trick is to ship packages to your work address instead of your home. This is a great option if you know no one will be at the house when things are delivered during the day.
The only issue with this option is if a package is delivered after work hours. Sometimes Amazon deliveries can show up after 8 p.m.
If you want to set up office deliveries through Amazon, it's really simple. Just visit the "Manage Addresses and 1-Click Settings" in Your Account.
Click "Enter a new address" and put in the details. For security reasons, you will be asked to confirm your credit card each time you place an order using a new or edited address.
You might also like: Watch how this man gets revenge with a genius prank on porch pirates.
2. Take advantage of Amazon Key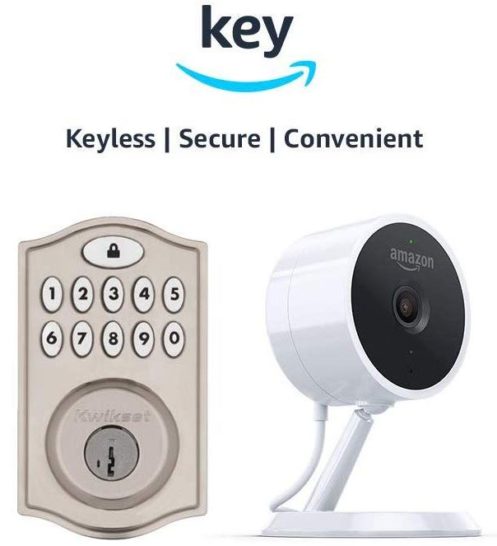 Amazon's simple solution to the porch pirate problem is a service called Amazon Key. This will literally open your front door and allow delivery drivers to drop off your packages inside your home.
Amazon Key requires an Amazon Key In-Home Kit, which includes the Amazon Cloud Cam and a compatible smart lock from Kwikset or Yale. The entire setup will cost you a little over $200 with expert installation.
Here's how Amazon Key works:
Place an Amazon order then select "FREE in-home delivery" at checkout. On delivery day, you'll receive a phone notification in the morning and another one when the delivery person arrives at your address.
The delivery person will always knock at your door first, then request access by scanning the barcode, sending the unlock request to Amazon's servers.
Amazon verifies the delivery person's identity, turns on the Cloud Cam to record then opens your door to grant access. At this point, you can also watch the whole delivery process live.
The delivery person will then drop your package just inside your front door. Once the drop-off is complete, another request is sent to relock your door.
When the delivery person confirms your door is locked, Amazon will send you a notification that the delivery is complete.
If the idea of having a complete stranger open your front door creeps you out, or if you have pets, then this service is probably not for you.
3. Amazon offers a safe location for deliveries
Here's a safe way to receive packages — you can ship them to a nearby Amazon Locker.
What are Amazon Lockers? They're basically self-serve delivery kiosks located in thousands of spots across more than 900 U.S. cities. You can ship an item to an Amazon Locker of your choice and pick it up at a time that's convenient for you.
To ship to an Amazon Locker, simply find your closest Locker location while logged in to your Amazon account and add it to your shipping address book. Now, each time you purchase an item, you can select your chosen Locker as your shipping address.
Once an item has been delivered to the Locker, Amazon will email you the unique six-digit code you'll use to retrieve it. Just enter the code on the Locker's touchscreen interface, wait for the door to open then simply pick up your package.
Note that although most items can be shipped to Amazon Lockers, there are still size and weight restrictions and you only have three calendar days to pick it up or it will be returned to Amazon for a refund.
There is no additional cost for using an Amazon Locker either, but standard shipping rates (including free Amazon Prime shipping) still apply.
If you're ordering from a different retailer than Amazon, see if it has an in-store pick-up option. This is another way to avoid long lines at the store. Just place your order online, head to the retailer and pick up your stuff. Most stores have a special pick-up location that is significantly less crowded than checkout lanes.
4. Ask your neighbors for help
There's nothing like a community effort to stop thieves from targeting your neighborhood. If you trust your neighbors, you can ask them to look after your packages.
Even better, if you have a neighbor who works from home, ask them if you can ship packages to their house directly. More and more people work from home these days and if you are friendly with each other, this is a great opportunity to take advantage of.
Related: Watch out for scammers 'Nextdoor' and other places you don't expect
5. Choose your delivery day
Many of us have a Monday through Friday job that keeps us in the office during the day when packages are delivered. This is one reason porch pirates are so successful. They know that package is going to be on your doorstep unattended until you get home from work so they strike in the light of day.
Instead of having packages randomly delivered on any given day of the week, choose which day they should be delivered. That way if you always have Tuesdays off from work you can be home to accept deliveries.
If you don't have a day off during the week and are ordering from Amazon, you can select Saturday as your delivery day. It's a feature that was recently added called Amazon Day.
Here's how it works. The next time you order something from Amazon, you will see a "Choose your Amazon Day" button at checkout under the Review items and shipping section.
Select this option to choose the default day packages will be delivered. Schedule deliveries for days you know someone will be home, cutting down the chance of theft. You can choose from Monday through Saturday. Sunday is the only day that's not available.
Once you've selected the day that works best, you can order items throughout the week and select Amazon Day delivery during checkout. Your items will be delivered on that day, every week. If possible, Amazon will put multiple orders in the same box, which can also help cut back on clutter.
But if there is an order you need right away, you don't have to choose Amazon Day. You will still see the other delivery options, like one-day, two-day or two-hour where available.
Now that you know how to outsmart porch pirates, you can get online and finish your Christmas shopping worry-free!