How many times have you landed on a website and things just didn't seem right? There could have been subtle clues like spelling or grammatical errors. There might have been no contact information, or the linked social media account doesn't exist anymore.
It's usually a good idea to go with your instinct when things are not the way you expect them to be. Scammers will often spoof legitimate websites and bury malicious code inside that will steal your details. Booking travel? Scammers are creating fake sites to lure you in.
If you're worried about visiting a malicious site by mistake, help is on the way. We've found a tool that will check websites for you and look for malware. Keep reading to find out how it works.
Here's how the tool works
We share content with friends and family all the time, but are you sure the link you received isn't hiding anything nefarious? It can be difficult to spot fake or dangerous sites, and it can be made worse if the webpage has been seemingly designed by a professional.
For those instances, online security company Sucuri developed a checker that will tell you if a website is harboring anything that can harm you.
By simply entering the URL of any website, SiteCheck will scan as much information on the page as possible. It checks for the usual online suspects like known malware, viruses, blacklisting status, website errors, out-of-date software and malicious code.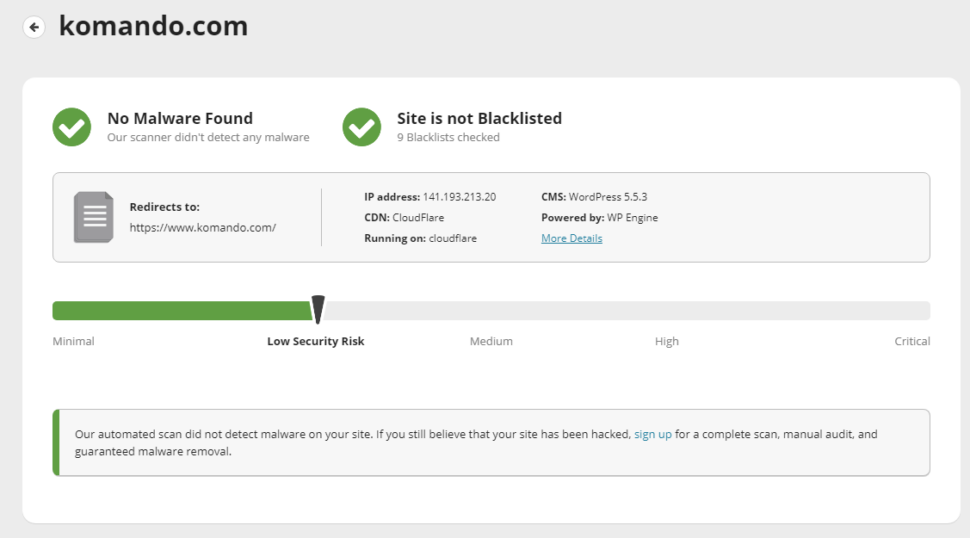 Once the URL is entered, results will be displayed in seconds. It provides you with a general overview of the site's security and alerts you if there are any issues.
As part of the scan, the checker goes through several online blacklists to compare it to. These include domain scans from Google Safe Browsing, McAfee, ESET, and Sucuri Labs' own database.
Under the Website Malware & Security option, it displays any problems or things to be aware of. This includes internal server errors, defacements, injected spam or if the website's backend is up to date.
When a site is unsafe
If it returns with an unsafe warning, you should avoid that site. You should also advise the person who sent you the link to steer clear of it.
There could be several reasons why a site is flagged as malicious. In the case of a fake website for an Android version of the Clubhouse app, the scan failed – which is automatically a problem.
A failed scan immediately places the website in the Medium Risk category, but in this case, it also failed the domain test from Google Safe Browsing and McAfee. The domain has been blacklisted by those services, which means it can be a malicious site. Spoiler alert: it is malicious.