You can never be too safe from cybercriminals, and you need all the help you can get to avoid becoming another victim among countless others.
Run a small business? You're even more exposed to cybercrime. Imagine your hard work being held at ransom by a hacker or your data falling into the hands of the competition. Tap or click here for three security steps every small business needs to take.
I'm going to go over a few steps you can take to protect your accounts and personal/financial information. Your best protection is to use all of them.
1. Two-factor authentication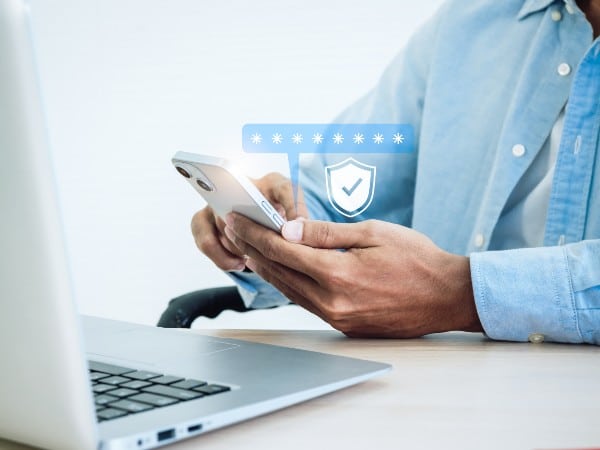 Two-factor authentication, or 2FA, is an easy way to bolster cybersecurity. It can be something only you know (an answer to a question), something you have (your device), or who you are (a fingerprint, voice pattern or facial scan).
You enter the temporary code, and voila — you're in. Because most hackers can't access your phone, your account should be safe.
Let's go over how to set up 2FA for some of the world's most popular operating systems:
Microsoft
Go to the Security basics page in your Microsoft account at account.microsoft.com/security.
Select Advanced security options.
Verify your identity as directed.
Under Additional security, you'll see an option to turn on Two-step verification.
Click the Next button and follow the onscreen instructions.
macOS
Choose the Apple menu, then System Preferences.
Click Apple ID, then select Password & Security in the sidebar.
Click Set Up Two-Factor Authentication, then click Continue.
Answer the verification questions and click Verify.
Enter your phone number for verification, select a verification method, then click Continue.
Verify your identity with the six-digit verification code sent to your trusted phone.
iOS
Go to Settings > [your name] > Password & Security.
Tap Turn On Two-Factor Authentication.
Tap Continue.
Enter the phone number where you want to receive verification codes when you sign in. You can choose to receive the codes by text message or automated phone call.
Tap Next.
Enter the verification code to verify your phone number and turn on 2FA.
Google
Open your Google Account at myaccount.google.com.
In the navigation panel, select Security.
Under Signing in to Google, select 2-Step Verification, then Get started.
Follow the onscreen steps.
To help protect your account, Google will ask that you complete a specific second step. We recommend using Google prompts. Follow the instructions for setting up prompts for your Android, computer or iOS device.
2. Go a step further with authenticator apps
Two-factor authentication is a good step toward securing your accounts, but the problem is your phone or SMS can be hacked, giving access to that code to an unwelcome party. This is where authenticator apps come into play.
An authenticator app generates one-time passcodes every 30 seconds. The code expires after just half a minute, so if someone manages to get a hold of it, it won't work after that time has passed. You don't need to provide a phone number to the app, which is unique to your phone.
Setting up an authenticator app with a site usually consists of scanning a QR code with the app to save a secret key. Afterward, whenever you log in to that site, it sends a code to your app generated from the initial secret key and the current time.
The best authenticator apps securely back up your account info in case you lose or replace the device you installed it on. Not all apps are compatible with all platforms, so that's a factor to consider. Let's check out some of the more popular ones.
Microsoft
Microsoft's authenticator app works on iOS and Android. It securely backs up your account data to the cloud so you can use it and add it to multiple devices.
If you use this app with your Microsoft accounts, you can access them with one tap, thanks to the app's built-in password manager.
Google
Google's Authenticator app is simple, easy to use, and works on iOS and Android. Setup is as easy as taking a picture of a QR code.
Google Authenticator's simplicity comes at the expense of some features. It doesn't back up your account codes online. You can't lock the software, so if someone unlocks your phone, they can access your codes.
If you need to set up Google Authenticator on a new device, you'll have to go through the setup process and add all your accounts again.
Stay one step ahead of cybercriminals
I've got steps you can follow to create a second number that directs calls and texts to your primary cellphone. Secondary numbers are common among freelancers and small business owners, who don't necessarily want to carry around multiple phones.
When you are setting up 2FA, your secondary number keeps your primary phone number safe. If you lose your phone, switch carriers, or your number gets compromised, your secondary number will remain separate. Your 2FA texts will still be accessible via a web browser or another phone.
3. Get a secondary "burner" number
Google Voice is a free service that gives you a phone number to be used as you desire. It works for domestic and international phone calls, texts and voicemails. Besides 2FA security, having multiple numbers is necessary, so you don't have to give out your personal number.
Whether you're online dating, buying and selling on Craigslist, or traveling, it's wise to have a secondary number to give out.
Google Voice is available for iOS, Android and your computer. All you need is a Google account to get started.
Here's how to up a Google Voice number:
First, download the app for iOS or Android. Go to voice.google.com/u/0/signup to get it for your computer.
Next, sign in to your Google account.
Review the terms of privacy and proceed to the next step.
Choose a phone number from the list. You can search by city or area code.
Verify the number and enter a phone number to link to your Voice account.
If you're going to use the Google Voice number for 2FA, you'll need to go back and disable call forwarding. You can't use Google Voice for both 2FA and to receive calls and texts. It's an either-or thing
You'll get a six-digit code to enter for the next step. That's it. You're finished.
From now on, instead of using your phone number for that second level of identity verification, you can use your Google Voice number.
NOTE: There's one downside to this method. Since your Google Voice number is tied to your Google account, if hackers manage to compromise your Google account, you're back to square one because they'll also have access to your 2FA codes.
RELATED: 5 hidden ways Google Voice can make your life easier
4. A good antivirus solution is critical
Cyberattacks are on the rise, and the more we rely on our devices for work, school and our personal lives, the more we have to lose. Whether it's bank accounts, personal data, photos or conversations, there's just so much to preserve and protect. That's why I recommend TotalAV.
TotalAV's industry-leading security suite is easy to use and offers the best protection in the business. In fact, it's received the renowned VB100 award for detecting more than 99% of malware samples for the last three years in a row.
Not only do you get continuous protection from the latest threats, but its AI-driven Web Shield browser extension blocks dangerous websites automatically, and its Junk Cleaner can help you quickly clear out your old files.
Right now, get an annual plan of TotalAV Internet Security for only $19 at ProtectWithKim.com. That's over 85% off the regular price.
You may also like: Necessary 60-second security checks: 4 quick cybersecurity steps to take NOW