Most of us head to social media when we want to share photos with friends and family. It's super convenient since, with a click of a button, you've shown everyone your pictures. At any rate, it's much easier than setting up group chats or, worse, sending pictures through email.
When attaching pictures to emails, you have to worry about the dreaded "Your file sizes are too large" message. No one wants to waste time editing and resizing photos you'd rather share in a snap of your fingers. Luckily, we found a few easy solutions. Tap or click here for five ways to share files that are too big to email.
There's a problem with sharing pictures on social media: Constant privacy invasions. Creeps from every corner of the globe can crawl down your page and save your pictures. Even if you privatize your page, it's exposed to the world if the platform gets breached. That's why you should try one of these private ways to share photos.
1. Share a folder through Google Photos or iCloud
These are two snappy ways to show your photos to faraway friends and family members. First, Google Photos is pretty easy to use. Thanks to its simple site design, you can easily find the Upload button and add pictures from your computer.
Just tap on My photos, which takes you to a new page with all your pictures. Select the photo you want to share. Here's an example of what your screen will look like:
Selecting the photo provides a fullscreen view. Hit the Share button, which looks like this: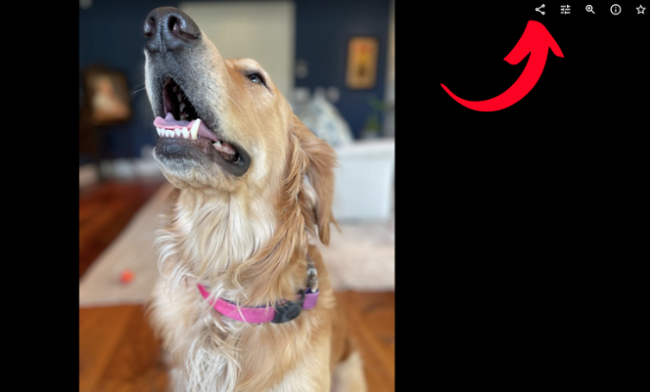 In a new pop-up window, search for people you've previously interacted with on Google. You can also add Facebook or Twitter contacts or just use a link. The pop-up looks like this:
Prefer Apple to Google? We've got you covered.
How to share through iCloud
You'll need to turn on Shared Albums. This is easy: Find Settings on your iPhone, iPad or iPod touch.
Select iCloud and then Photos. There you can turn on Shared Albums.
Working on a Mac? Follow these steps:
Open the Photos app
Check out the menu bar at the top of the screen and select Photos
Click on Preferences
Select the iCloud tab
From there, turn on Shared Albums
Just like that, you've ensured that only the people you shared your photos with will see them. No social media stalkers can prowl through your pics!
2. Want to get away from Google and Apple? Try Dropbox
After reading the first step, you might be thinking, "Wait, this isn't 100% private. Google or iCloud can still peek over my shoulder and see my photos." That's fair.
The above option does kick out random people who want to look over your feed, but you still have to worry about Big Tech looking over your shoulder. They have personal profiles detailing your likes, dislikes and a lot more. Tap or click here to see what information Big Tech companies know about you.
Dropbox offers 2 GB of free space. Need more than that? It has a few paid tiers that provide up to 2 TB of space.
Once you're logged in, click the Upload icon to plop your pictures into albums. On the left-hand side of your screen, select Photos to see all the images you uploaded to Dropbox.
Once you've selected them all, tap Share at the top of the screen, which pulls up a new box. Here you can enter the contact information of the folks you want to share with. You can also grab a link. Tap Send, and you're good to go!
Dropbox not catching your fancy?
You can also check out Box.com and Microsoft's OneDrive, two secure cloud storage options that are pretty similar to DropBox. If you're running low on space, signing up for more than one free storage service is a nifty hack that saves cash.
3. Take a dive into IDrive
If you're looking for Cloud storage, this is one of the most secure options you'll find. Everything is encrypted, and our sponsor IDrive makes it easy to share photos.
That's because all of your videos and pictures are automatically backed up — even if you take them from different devices. Even better, IDrive's Timeline feature sorts them into descending order. Tap or click here for more on how IDrive helps you reflect on the good times.
Right now, you can save 90% on the cloud service Kim trusts. Save a whopping 90% when you sign up at IDrive.com and use the promo code "Kim" at checkout.
4. Know someone who isn't good with tech? Share with a smart frame!
Digital photo frames are the perfect example of how tech upgrades can breathe new life into old items. Sure, traditional frames are sweet — but you can make slideshows on digital frames. You can even share new pictures in real-time.
Here's how it works. Say you know someone else who has a digital photo frame. If their device comes with an app, you can download new photos there.
Through a shared folder, you can send the snaps over to anyone — even people who aren't very good with technology. When you share, the photos automatically pop on your friend or family member's digital frame. Tap or click here to make this work for you.
5. Show your pics to everyone in your circle. Well, your PhotoCircle
This is one app that prioritizes privacy, all the way down to the design. PhotoCricle generates a private code you can share with friends and family. It even has an in-depth privacy policy that explains what data is stored, how it's collected and more.
Plus, there is no limit to the number of photos or videos you can add. You can also share your PIN-protected albums with an unlimited amount of friends.
One app store reviewer said she used it after traveling overseas with friends. "We all uploaded our photos during our trip," she said. "It is fun to go back and look at our memories in one private album only we see. Since then, I have become a huge fan and use the app to share photos with my family living far away privately."
6. FamilyAlbum is a free app that's honest about how it makes money
Both on The Kim Komando Show and the website, we'll often tell you that free apps often aren't really free. After all, there's no such thing as a free lunch. When you're using an awesome tool or website for free, that means you're the product.
Not so with FamilyAlbum, which is transparent from the get-go. The website makes money in two ways, according to the blog post: Through premium subscriptions and product purchases. As you can imagine, we appreciate websites that are honest about where revenue sources.
On another note, FamilyAlbum is packed with helpful features. You can do a ton of stuff, like:
Upload unlimited photos and videos
Control visibility (For example, you can share a whole album or just share it with your spouse)
Invite up to 50 people to view an album
Pick your favorite photos and videos for easy access later on
You can also comment on photos and videos. The founder, Kenji Kasahara, says this feature helped in his own family. His father-in-law passed away, but he often commented on family photos. Now, his daughters can read over the comments he made and remember how much he loved them.
7. Try an encrypted messaging platform like WhatsApp
Encryption is a great way to stop interlopers from poking their noses into your business. Basically, that means your messages, including photos and videos, are encrypted as your data travels from your phone to your friend's device. The encryption turns your message into scrambled text, which can only be decoded with your friend's key.
Tap or click here to stop hackers from intercepting your messages. Not only do encrypted messenger apps protect your privacy, but they're also just flat-out easy to use.
Think about it this way. Let's say you use an Android and your friend has an iPhone. When you're sharing images or videos, they might be decompressed or oddly formatted. That's because of a few key incompatibilities between different devices.
An app like WhatsApp puts your devices on equal ground. Photos and videos look much nicer, and you can share them in a snap of your fingers!