With iOS 16.2, Apple rolled out Freeform, a whiteboard app that lets you collaborate on journals, mood boards, games, notes and more with others. Tap or click here for more information about this inspiring app.
Apple released iOS 16.3 this week, adding security features and cosmetic options. Here's what's new.
Support for physical security keys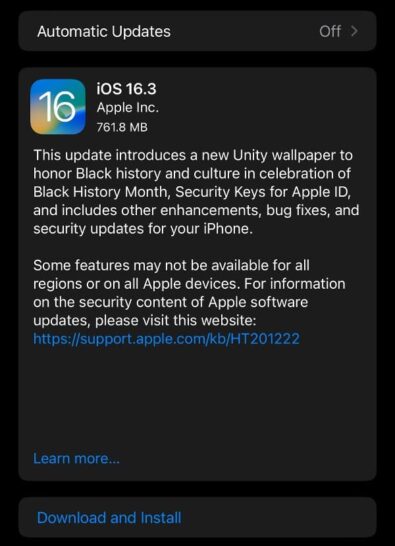 Apple is adding a Security Keys feature, which allows you to use third-party physical security keys to strengthen its two-factor authentication.
These security keys look like a thumb drive or tag and are used for verification when signing in with your Apple ID. You need two pieces of information for 2FA. In this case, the first will be your Apple ID password, and the second will be a physical security key. This provides extra protection from targeted cyberattacks.
Apple requires FIDO (Fast IDentity Online) certified security keys, which can connect to your device via NFC (near-field communication) and USB-A, USB-C and Lightning ports. You must add and maintain at least two security keys.
Here's how to set up Security Keys for your iPhone:
Open Settings and tap your name.
Tap Password & Security > Add Security Keys.
Follow the onscreen instructions to add your keys.
Review the devices associated with your Apple ID, then choose to stay signed in to all active devices or sign out of the ones you don't want accessing your account.
Other fixes
Apple listed a dozen security fixes involving apps such as Mail, Maps, Safari and Weather. More fixes addressed exploits that can lead to arbitrary code execution and denial of service.
Emergency SOS has been updated to prevent accidental emergency calls. You still have to hold the side buttons to place the calls, but now they must be released as well.
Emergency SOS is on our list of settings you should check on your iPhone now.
Bug fixes
Here are the bugs Apple squashed with the latest version of iOS:
Fixed an issue in Freeform where some drawing strokes created with an Apple Pencil or your finger may not appear on shared boards.
Addressed an issue where the wallpaper may appear black on the Lock Screen.
Fixed an issue where horizontal lines may temporarily appear while waking up your iPhone 14 Pro Max.
Fixed an issue where the Home Lock Screen widget does not accurately display the Home app status.
Addressed an issue where Siri may not respond appropriately to music requests.
Resolved issues where Siri may not understand requests made in CarPlay.
More support
iOS 16.3 also adds support for Apple's second-generation HomePod, which will be released in early February. The refreshed smart speaker adds a backlit touch surface, room-sensing acoustics and a new built-in temperature and humidity sensor.
Also, Apple added a new Unity wallpaper to celebrate Black History Month.
Update your iPhone now
Updating your iPhone is as easy as going to Settings > General Software Update and selecting Download and Install.
You may also like: How to prevent cross-site tracking on your iPhone, iPad and Mac